6 Key Elements of a Successful Cloud Migration Strategy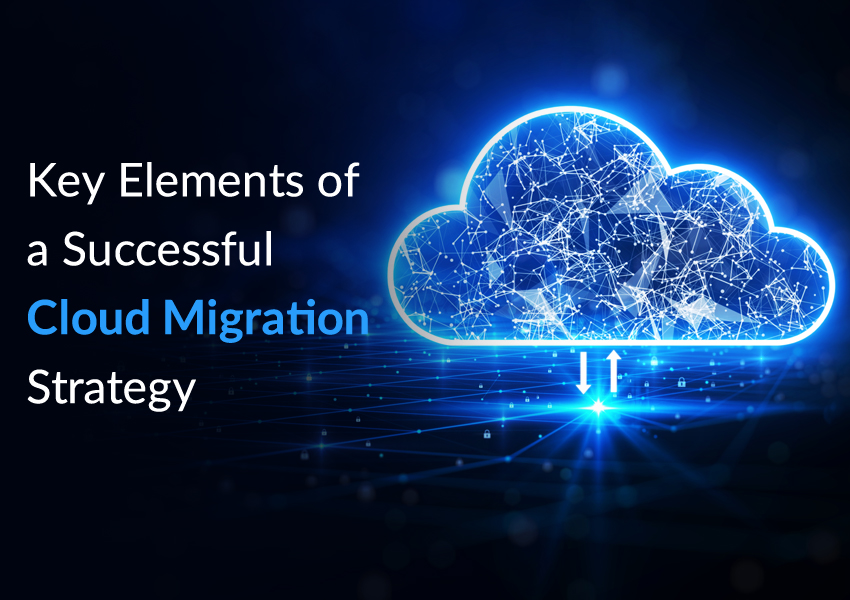 Cloud adoption has become critical to IT optimization as more and more organizations continue to grow their cloud investment to drive their business forward. Cloud migration enables businesses to become more nimble, reduce inefficiencies, and improve customer experiences. The need for stability and adaptability has never been greater than it is now.
Adopting a cloud infrastructure, on the other hand, does not have to be an all-or-nothing approach for organizations concerned about downtime. By combining apps into a hybrid cloud model, businesses can start enjoying the benefits of cloud technology while continuing to run assets on current on-premises systems.
Migrating to the cloud can boost operational performance and agility, as well as workload scalability and security. Businesses can shift workloads to the hybrid cloud from nearly any source and start reaping the benefits right away:
Greater agility with on-demand IT resources, allowing businesses to scale amid unexpected spikes or seasonal usage trends.
Shifting from an operational expenses model to a pay-as-you-go approach allows for lower capital investment.
Enhance security across the stack, from physical hardware and networking to software and people, with a variety of solutions.
What is a Cloud Migration Strategy and Why Does it Matter?
The majority of businesses believe that cloud migration entails just moving to the cloud. Cloud migration, on the other hand, is an iterative process. It is necessary to perform it on a regular basis in order to optimize your IT infrastructure. This will assist you in lowering the costs of the cloud and realizing the full potential of cloud solutions. It will have a significant impact on every part of your business. High performance, remote work, agility, scalability, and cost-effectiveness can all be enabled by the cloud.
A cloud migration strategy is a high-level strategy for moving on-premise and/or co-located applications to the cloud. It's intended to serve as the "wireframe" or "pillars" for the implementation. It could be something as easy as a "lift and shift" or something as complex as a business transformation. A successful cloud ERP adoption relies on a well-defined cloud migration strategy.
Best Practices for Cloud Migration
Before embarking on the cloud, use the steps below to obtain a comprehensive understanding of what's involved.
1. Create a strategy
Before you start your journey to the cloud, make sure you know exactly what you want to achieve. To map workloads to your assets and applications, start by capturing baseline IT infrastructure metrics.
Establishing cloud migration key performance indicators (KPIs) such as page load speeds, response times, availability, CPU consumption, memory usage, and conversion rates will be easier if you have a baseline understanding of where you stand.
These indicators will allow measurement across a variety of areas. Formulating a cloud migration strategy should be done early and in a manner that prioritizes business objectives over technology.
2. Identify the right applications
Not all apps work well in the cloud. Some applications function better on a public cloud than on a private or hybrid cloud. Some may only require small adjustments, while others may require extensive code modifications. It is easier to do a thorough analysis of architecture, complexity, and implementation prior to the move than afterward.
Keep these questions in mind when you decide which applications to migrate to the cloud:
Which apps can be moved as-is, and which will need to be redesigned?
What is the level of complexity required if a redesign is required?
Is there any service provided by the cloud provider that allows workloads to be migrated without having to be reconfigured?
What is the expected return on investment for each application you'll migrate, and how long will it take?
Which form of cloud environment is appropriate for applications where shifting to the cloud is regarded as cost-effective and secure – public, private, or multi-cloud?
Analyzing your architecture and taking a close look at your applications will help you determine whether or not it's time to migrate.
3. Choose a proven Cloud Service Provider
Selecting a cloud provider who can assist with the cloud migration process during the shift and afterward is a critical component of optimization. The following are some important questions to consider:
What tools, including third-party ones, does the partner have at its disposal to make the process go more smoothly?
What is the company's level of expertise?
Is the cloud service provider capable of scalability in public, private, and multi-cloud environments?
How can the partner assist you in dealing with complex interdependencies or obsolete and redundant technology?
What level of assistance can they offer during the migration process?
It is not easy to migrate to the cloud. The service provider you choose should have demonstrated experience managing the complicated processes involved in cloud migration.
4. Ensure data integrity and operational reliability
It's crucial to manage risk because sensitive data can be exposed during a cloud migration. Validation of business processes after the migration is essential to guarantee that automated controls produce the same results without disrupting normal operations.
5. Follow an end-to-end strategy
To address every part of the migration process, service providers should have a comprehensive and proven approach. This should contain a framework for consistently managing complicated operations on a global scale. Make sure to include all of this in the service-level agreement (SLA), along with agreed-upon progress and performance milestones.
6. Put your cloud migration plan into action
This final step should be quite simple if you've followed the previous steps carefully. However, the complexity and architecture of your applications as well as the architecture of your data will play a role in how you migrate to the cloud.
You can migrate your entire application to the cloud, test it, and then switch your on-premises traffic over. Alternatively, you can take a piecemeal approach, gradually transferring customers over, validating them, and repeating the process until all customers have been moved to the cloud.
Conclusion
Digital transformation is fueled by IT optimization. The benefits of IT optimization, such as faster adoption, lower costs, and more scalability, will aid corporate innovation and digital transformation. Companies can achieve these benefits without disrupting business operations by taking a phased approach to cloud adoption and carefully selecting which applications and workloads to migrate. To know more about successful cloud migration, drop us a line.