Solve Unique Construction Challenges with Cloud-based Construction Software ProjectPro powered by Business Central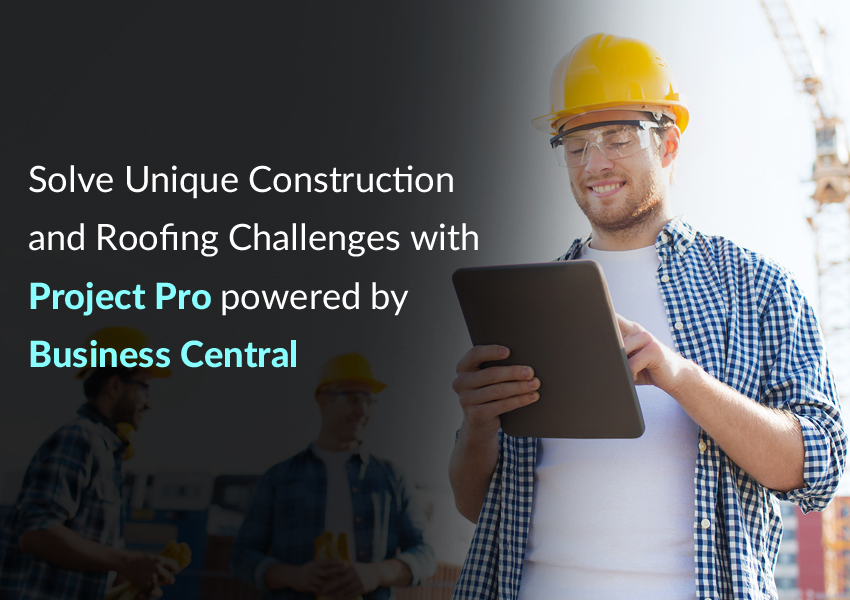 With the fast-changing business landscape, using a robust Enterprise Resource Planning (ERP) system has become a business imperative. A cloud-based ERP solution streamlines operations reduces redundancy, optimizes processes, and cuts down operational costs significantly. While all businesses, big and small are investing in cloud-based ERP solutions to enhance agility and tackle disruption in the light of the pandemic, construction businesses are no different.
The construction industry has seen a major shift in the last few decades. From the time when contractors used to call for bids, to now, where they are utilizing the internet to find the best contractors for their projects. With so many technological advancements taking place, it is important that you adopt new technologies for continued success. Construction companies are now switching to cloud-based construction software for managing their projects right from bidding, managing materials, and labor, scheduling tasks, etc.
The major benefit of using cloud-based construction software is Cost savings. The average contractor spends about 30% of his or her time on data entry which can be eliminated with cloud-based technology.
The reason you should move to cloud-based construction software is that construction involves tracking data, keeping tabs on emails and spreadsheets. Making real-time decisions from disjointed processes can be hectic.
The industry has been trending towards a cloud-based application for a while now, but there are still many in the industry that don't know how it could help them in the long term. Cloud-based construction software is a way of digitizing your workflow in order to make it smoother and more efficient.
In this blog, we break down the benefits of cloud-based construction software so you have a better understanding of why this choice might be worth it for your business or company.
In the past, construction data was largely confined to an office, but today it is now possible to have access to this data at any point in time as long as the field employee has a laptop or mobile device. With this, it is easier to bridge the gap between the office and the field. Nonetheless, the real power lies in the cloud as roofing contractors get quick access to data that helps them make decisions.
ProjectPro with Business Central is an all-in-one construction software that helps roofers improve and simplify their workday by providing one platform for project management, estimating, invoice management, job scheduling, and more.
ProjectPro is the first Construction Management Software that offers real-time insights into your construction business. It also helps you keep track of all the information on your construction projects.
ProjectPro is perfect for any size of the company, even if you are just starting out on your roofing business. It provides you with quick and easy ways to manage your roofing contracts, monitor materials, or even communicate with the team members.
This blog will provide 6 key benefits of cloud-based construction management software:
Roofing contractors are experiencing a boom in the industry. With ProjectPro's roofing construction software, you can create accurate bids, monitor your workflow, and stay on top of your deadlines.

ProjectPro with Business Central gives contractors access to real-time data and information which is great for them because it can lead to higher productivity. Roofers are able to scrutinize their workflow which could lead to better management skills as well as meeting deadlines more frequently.
A comprehensive cloud-based system can help construction companies stay ahead of the game by providing them with real-time data and updates.

The need for construction contractors to modernize their operations is now greater than ever before. The current process is too time-consuming, inefficient, and costly. Contractors must provide real-time data and updates which are accessible on the dashboard. A comprehensive cloud-based system can help construction companies stay ahead of the game by providing them with real-time data and updates.
The move to the cloud is a major one for any type of contractor. But the benefits are worth it. The use of cloud-based technology can have a significant impact on your business, from project management to job performance.

There are some ways that Cloud technology can be an asset for roofing contractors. Cloud-based technologies offer new ways to communicate with customers and suppliers, create product lists, and track inventory. This will not only change how you do business but eliminate many of the hassles that get in the way of running a successful company.
Construction businesses often have to rely on paperwork because they don't have a proper ERP system in place. The good news is that construction software equipped with project management capabilities or an on-premise ERP can help these companies get significantly more digitized. These types of systems allow you to leave a lot of the cumbersome manual processes behind and focus more energy on what you need for success – creativity and building relationships with customers.
A lot of businesses are moving their data to the cloud, and for good reason. With a cloud-based solution in place, you won't have to worry about a lot of things in your business. This is because it provides a safer environment for your data and will minimize downtime when it comes to cybersecurity.
A cloud-based software suite is a big investment but in the long run, it can be a huge help. It manages all your business needs and makes sure you always stay on top of your work. A software suite will save you on time and cost, and let you focus on more important aspects of your business. Do not be afraid to invest in a cloud-based solution that will generate savings in the long term.
Conclusion
ProjectPro powered by Microsoft Dynamics 365 Business Central is the most powerful cloud software solution. It's designed to help companies manage their projects more effectively.
This solution is designed to help companies with project management, resource management, and time tracking. It also has an integrated project portfolio management module that provides visibility of all projects across business units. ProjectPro is a great fit for any type of company looking to boost productivity, efficiency, security, and access.