Why choose Microsoft Dynamics 365 as your CRM in 2022?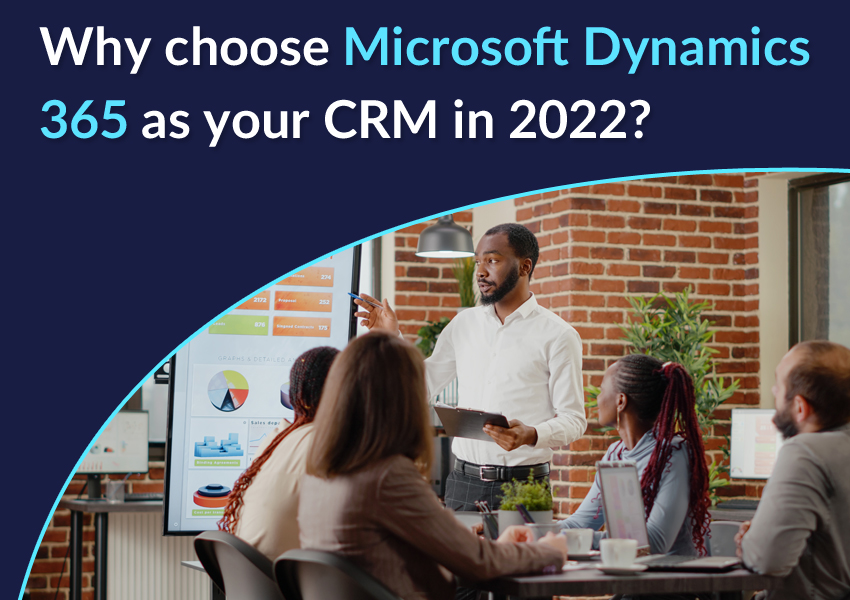 A CRM system (also known as a Customer Relationship Management system) is one of the most crucial tools for SMBs and enterprises alike. Not only can a CRM system strengthen your productivity and business relationships, but it can also help you grow your company.
According to a recent study by a major CRM provider, a properly utilized CRM system can boost sales by 29%. This is due to the fact that they can assist you in keeping track of client lists, managing pipelines, and streamlining sales processes. For every dollar spent, CRM returns $8.71. CRM software is used widely by 46% of sales teams today.
Dynamics 365 is more than just a CRM system; it's a comprehensive solution that spans CRM, ERP, and office capabilities to cover all of your company's processes. By integrating Dynamics 365 with your business processes, you can manage and run your company more efficiently. Among the many additional wonderful advantages are:
Fantastic sales, marketing, and customer service integration.
Dynamics 365 and Office 365 work seamlessly to boost efficiency.
Improved reporting and business insights, allowing for better and faster decision-making.
A platform for business growth and processing that is fully scalable.
Microsoft stated in 2016 that Dynamics CRM and Dynamics ERP would be combined into a single adaptable, highly customizable solution. With nine dedicated business apps, Dynamics 365 is an end-to-end cloud-based platform that manages your whole organization, including sales, marketing, service, operations, and commerce.
Dynamics 365 is a highly adaptive, flexible CRM software system that is perfect for small businesses looking to expand as well as large international corporations with complex operations.
The way we think about client relationship management has changed dramatically thanks to Microsoft Dynamics CRM. Sales, Marketing, Customer Service, Field Service, and Project Service Automation are the five applications that make up the system. With rising client expectations, a greater emphasis is being placed on more value-added engagement.
What are the benefits of utilizing Microsoft Dynamics 365 as a CRM platform?

All customer data is centralized in Dynamics 365, and all customer action, such as estimates, orders, e-mails, and phone calls, is recorded. Dynamics 365 provides tools to improve sales, marketing, and service operations and is designed to assist businesses to improve how they conduct business with their consumers. It boosts overall productivity and teamwork, thanks to its seamless integration with Microsoft Office 365. This robust, scalable, and cost-effective solution will help you optimize operations and enhance daily business processes in a measurable and consistent way.
Dynamics 365's scalable, modular-based, custom-built business apps cover every business process and may be used as stand-alone solutions or as part of an end-to-end solution. Since organizations are not required to purchase a certain number of apps, they can just pay for the modules they utilize. This enables individuals to have a closer grasp on their financial situation
With Microsoft AppSource, the online marketplace for all 3rd-party created Dynamics 365 add-ons, it's also simple to install industry-specific and company-specific 3rd-party applications to better extend the capabilities of these modules.
How Can Dynamics 365 CRM Help Your Business?
Dynamics 365 integrated modules provide businesses with a scalable, efficient, and well-supported CRM solution.
a) Get to Know Your Customers Better
Give your customers a consistent experience with guided workflows and intelligent automation that delight them and make it easier for users to capture important data and make smarter business decisions.
With a unified location for all your business data, users will have a better understanding of their customers, will be able to customize interactions, and will be able to create stronger relationships with them. If you have a single source of truth, you can also deliver faster service and anticipate needs better.
b) Automate Your Processes
Microsoft Dynamics 365 lets you automate tedious manual activities in addition to providing built-in intelligence and advanced analytics. Triggers can be used to automate processes such as email notifications, create rules for common workflows, and set criteria for qualifying leads.
c) Safeguard Your Company's Information
Data saved in spreadsheets, offline documents, and many independent apps presents a data security challenge because it's more difficult to control their use, back up data, and verify that the appropriate security measures are in place. Dynamics 365 with Microsoft Power Platform consolidates data in a single, secure cloud location, providing for more control over data security, compliance regulations, and user access permissions.
Microsoft spends more than $1 billion a year on research and development to guarantee that all of their products are secure across the board, with flexible security models that can be tailored to specific business requirements. You can regulate user access and privileges in Dynamics 365 using role, record, and field-based security controls, all the while knowing that your data is safe and secure in Azure's data centers across the world.
d) Transform the way you report
You can create a data-driven culture that maximizes business results with Dynamics 365 and Power BI, whether you're measuring sales performance, customer satisfaction ratings, marketing campaigns, or lead conversions.
When all of your data is in one place, it's easier to query data in real-time, discover insights via visualizations, and make informed decisions. Rather than spending time gathering data from many sources to generate reports, this allows for quick decision-making based on reliable facts.
Within Dynamics 365, you can view native, configurable dashboards to track key indicators. You can take it a step further with Power BI and generate rich dynamic visualizations to help you discover trends and highlight actionable insights so you can follow up proactively.
e) Seamless Integrations
Microsoft Dynamics 365 interacts effortlessly with other platforms to improve company processes and individual productivity. Word, Excel, Outlook, Skype for Business, SharePoint, Power BI, and Power Apps are among such platforms.
The benefits of seamless integration with the full Office 365 Suite are unrivaled. It's possible to switch to Outlook for email marketing, Power BI for customer insights, and SharePoint for collaboration and communication.
f) Take Advantage of Flexible Pricing
You can make sure you're only paying for what you need using a variety of licensing options. This offers the ability to acquire a combination of user licenses across a variety of subscription terms.
Select the CRM modules you require, and then determine the level of access capabilities required for each user on a per-user basis. A standard Team Member license may be sufficient for infrequent users or those with just minimal usage requirements, resulting in significant cost savings.
g) Do Business Anywhere
As the pandemic shifts company cultures to remote working, Microsoft Dynamics 365 is an excellent option for you to do business from anywhere. Any device, such as a tablet or smartphone, can sync with the app (Android, iOS, or Windows).
As a result, you won't need your computer to keep track of sales performance, and complete functionality will be available on the go.
h) Regular Updates
You'll never have to wonder if the Microsoft Dynamics 365 features you're using are up to date. Microsoft Dynamics is constantly innovating and expanding the functionality of its features, with weekly updates and two major releases each year.
Leveraging Microsoft Dynamics 365 is an added benefit because the company invests heavily in research and development.
Conclusion
Your team will benefit greatly from the capabilities and features of Dynamics CRM. Whatever your customer relationship management requirements are, you can find a module that will perfectly meet your unique needs and make working with clients easier than before.
At DynamicsSmartz, our seasoned consultants have a wealth of experience in both understanding and recommending Dynamics 365 solutions that best align with your long-term business goals. Drop us a line to know more.