Business Central VS MYOB Advanced – Your Go-To Guide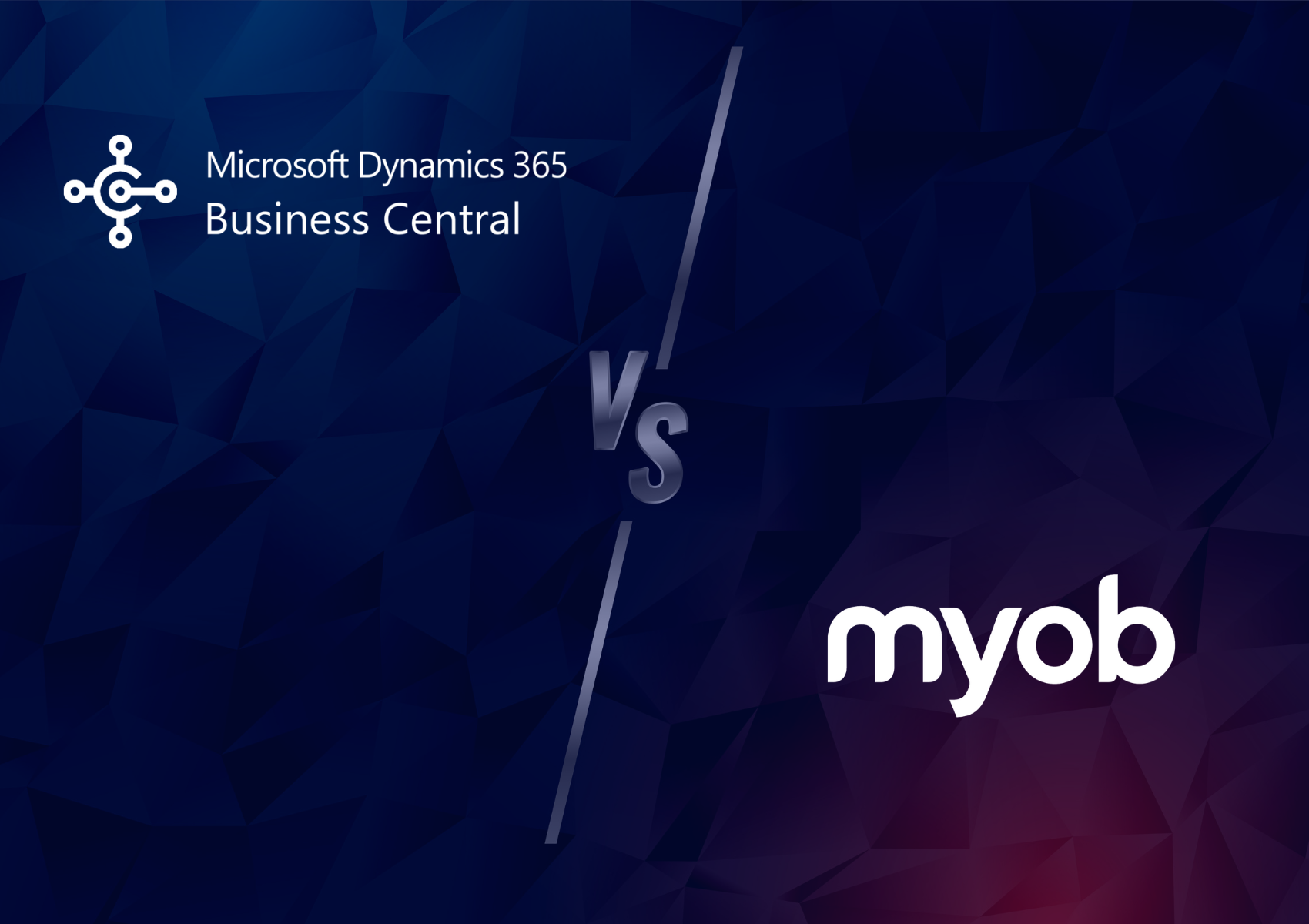 Small and medium-sized businesses (SMBs) seeking efficient and comprehensive cloud-based business management solutions consider Microsoft Dynamics Business Central and MYOB Advanced.
Around 64% of SMBs have already adopted cloud-based software solutions for their business operations.
Regarding the options we will discuss, both platforms offer various features to help SMBs manage their operations effectively. In this article, we'll compare the key differences in features, pricing models, ease of use, and customer support between Business Central and MYOB Advaned, empowering SMBs to make informed decisions.
Understanding Dynamics Business Central
Microsoft Dynamics Business Central is an all-in-one cloud-based ERP (Enterprise Resource Planning) system designed for small to medium-sized businesses. As part of the larger Microsoft Dynamics suite, Business Central offers integrated modules for financial management, sales, service, operations, and project management. Its user-friendly interface and seamless integration with Microsoft's other productivity tools, like Microsoft 365, have made it a popular choice for businesses seeking to boost their efficiency and productivity.
An Overview of MYOB Advanced
MYOB Advanced, on the other hand, is a cloud-based ERP solution provided by MYOB, a leading accounting software provider in Australia and New Zealand. Aimed at mid-sized to large enterprises, MYOB Advanced offers modules for finance, inventory management, project accounting, customer relationship management (CRM), and more. As a comprehensive solution, MYOB Advanced caters to the complex needs of established businesses that require robust functionalities to manage their operations efficiently.
Drawing the Line
Features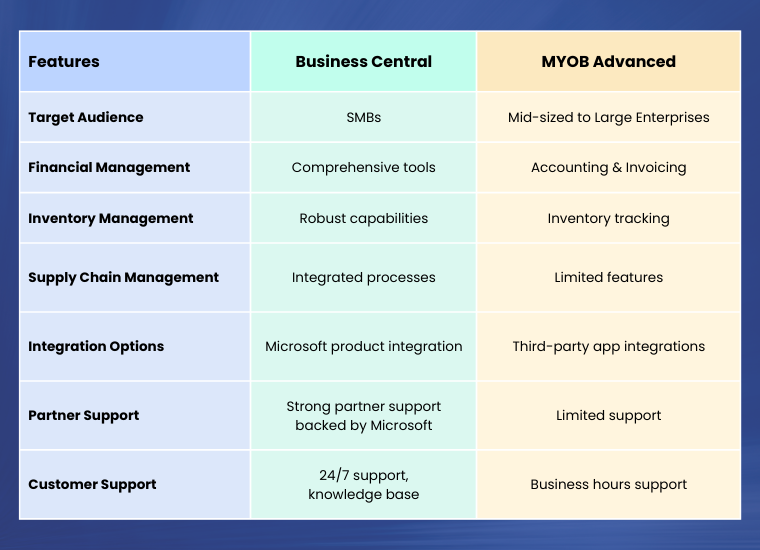 Business Central:
It offers many features, including supply chain management, manufacturing, and human resources management.
Seamless integration with other Microsoft products, such as Office 365 and Power BI, ensures a unified ecosystem for businesses already using Microsoft applications.
MYOB Advanced:
Focuses on financial management, project management, and inventory management.
Offers a broader range of integrations with third-party apps, providing flexibility for businesses with diverse software needs.
Pricing
Business Central:
The subscription-based pricing model determines costs by the number of users and the required features.
Starting price of $11 per user per month, providing scalability for growing businesses.
MYOB Advanced:
Offers subscription-based, catering to businesses with varying preferences.
At $30 per user per month, MYOB Advanced provides access to various features.
Ease of Use
Business Central:
It is known for its user-friendly interface and modern design that facilitates easy navigation.
Provides wizards and templates to assist users in getting started quickly and efficiently.
MYOB Advanced:
Offers a more traditional user interface that may be familiar to users accustomed to other accounting software.
Some users find the platform more clunky and challenging to navigate than Business Central.
Customer Support
Business Central:
Boasts excellent customer support with 24/7 availability via phone, email, and chat.
Offers an extensive knowledge base and a vibrant forum community, ensuring users have access to self-help resources.
MYOB Advanced:
Provides customer support during business hours through phone, email, and chat.
Offers a knowledge base, though less comprehensive than Business Central's, which could limit self-help options for users.
To Sum Up
Choosing the right cloud-based business management solution for your organization can significantly impact productivity and efficiency.
Both Business Central and MYOB Advanced are excellent ERP solutions for SMBs. The best platform for your business will depend on your specific needs and requirements.
If you are looking for a platform with a wide range of features, good integrations, and excellent customer support, then Business Central is a good choice. If you are looking for a platform that is easy to use and affordable, then MYOB Advanced may be a better option.
To make the best choice, it is crucial to assess your business needs thoroughly, consult with stakeholders, and, if possible, take advantage of free trials or demos to experience each system firsthand. Ultimately, the right choice will empower your business to thrive and grow in the ever-evolving landscape of modern business management solutions.
I hope this article has helped you compare Business Central and MYOB Advanced and decide which platform is right for your business. And if you're going with Dynamics Business Central, DynamicsSmartz can help you upgrade, migrate, or implement the famous cloud-based ERP platform. To know more, get in touch with our experts!