How upgrading from Dynamics NAV to Business Central can boost your business efficiency?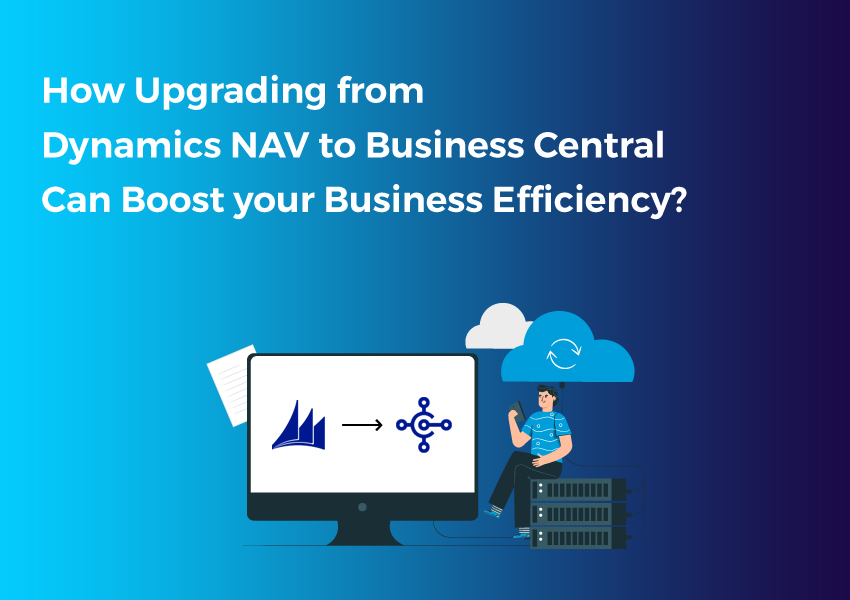 Cloud-based solutions are quickly gaining popularity among businesses of all sizes. While many businesses are hesitant to adopt cloud technology, cloud deployments are becoming the norm, while on-premise deployments are becoming an exception.
Business Central is a cloud-based business management solution that connects your employees, business processes, and data through a single, easily accessible platform, making it ideal for a wide range of growing businesses across all industries.
Microsoft Dynamics Business Central is the perfect choice for growing businesses looking for a comprehensive business management solution that is both flexible and powerful to handle complex processes. It is quick to implement, easy to customize, and simple to use.
Dynamics NAV was originally written in C/AL, but Microsoft has adopted AL as its own programming language, which is the reason organizations would require to upgrade from Dynamics NAV to Business Central in the near future. Compared to previous versions, AL is more responsive, open-source, cloud-enabled, and efficient.
Business Central is Microsoft's focus and primary ERP solution for small-to-midsized businesses that integrates the finest Microsoft technologies. It is not your average financial system; it is built on Microsoft Azure and uses the scalable architecture of Dynamics NAV.
Business Central encompasses all facets of an organization:
It's a cost-effective financial management solution for a growing SME.
It's a robust inventory management system for a multinational manufacturing company.
It's a scalable ERP that will expand your business to new heights.
It's a connected sales tool that every agile sales team dreams of.
Choosing all of the business apps that make up your ERP system can be a little daunting for small to medium-sized business owners planning to deploy or upgrade to a new ERP system.
That's the reason Business Central was created by Microsoft. Business Central is a solution that combines all of the functionality you need to manage financial data, sales, service, and operations from the Dynamics 365 apps into one bundle.
As a cloud-based ERP system, Business Central delivers cost, efficiency, and availability advantages straight out of the gate. All you need is a web browser and a reliable internet connection. It's simple to set up, easy to access, and updates automatically. There are no upfront hardware costs and it has built-in enterprise-level security.
Top reasons why upgrading from Dynamics NAV to Business Central can boost your business efficiency
1. Microsoft Cloud
Data security is of utmost importance to most IT professionals. Reliability and security are well-known strengths of the Microsoft Cloud. Microsoft is a leader in the industry for identifying, preventing, and resolving cyberattacks.
Your IT department can be more productive with so many IT experts on hand to manage servers or stay on top of constantly evolving security laws.
2. A Cutting-edge Platform
Because Dynamics Business Central has a familiar look and feel with other Microsoft products, customers will save time and money in training.
Additionally, Business Central can be accessed at any time and from any place, giving users the flexibility to work from anywhere.
3. Increased Functionality
By introducing new features like focus mode, late payment prediction, fuzzy search, and more, Business Central expands the fundamental capabilities of Microsoft Dynamics NAV. Through the addition of new apps and add-ons to AppSource, Dynamics Business Central's functionality grows every day.
4. Localization and Customization capabilities
There are currently 25 languages supported by Business Central with localization options and no-code user interface changes. Additionally, the system provides a number of pre-built workflows that can be customized to meet unique business requirements. To customize these workflows to your specific requirements, you can add new fields and create new objects in the system by using the in-built tools.
5. Provides real-time actionable insights
With Business Central, users have real-time dashboards and KPIs specific to their roles. The user will be able to create and modify reports easily without any technical knowledge. In addition, the software allows these reports to be delivered quickly without the assistance of the IT team or consultants. It offers actionable insights and helps users work more efficiently.
Conclusion
Upgrading from Dynamics NAV to Business Central can help your business keep up with rapid advancements and accelerate digital transformation.
At DynamicsSmartz, we understand the challenge of switching from Dynamics NAV to Business Central. Nevertheless, our Gold Certified Dynamics Consultants can assist you in making the transition smoothly. Drop us a line for a quick consultation or a personalized demo of Business Central.