Microsoft Dynamics Influencer Insights
Q&A with Managing Director at VeriPark: Wim Geukens
There is no denying that Partner synergy is critical for success in the Microsoft Partner Ecosystem. The DynamicsSmartz Partner Program is designed to assist Microsoft Partners in collaborating on joint go-to-market initiatives in order to shorten time to market, increase sales, and boost revenue.
With the increased push for digital, our key focus at DynamicsSmartz has been on partnering with the right companies across several verticals and promoting partner enablement. In today's chapter on Influencer Insights, we will speak with Wim Geukens on how to leverage the true potential of partner initiatives.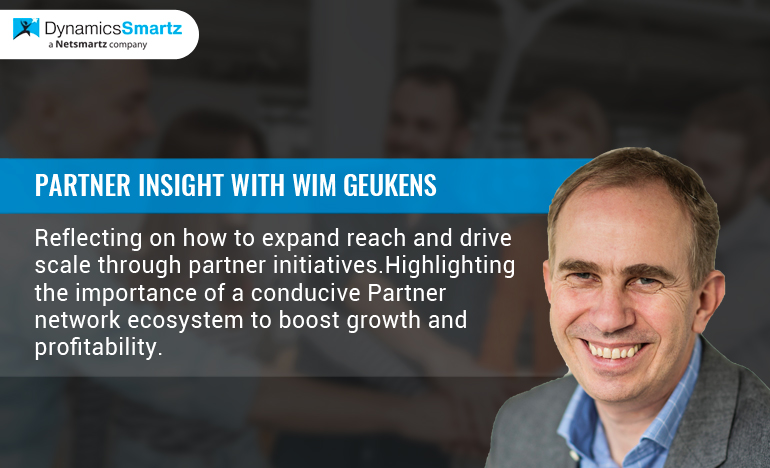 Who did we interview?
Wim Geukens is a highly motivated entrepreneur and the Managing Director at VeriPark Europe. He is a seasoned professional in the enterprise market with more than 23 years of experience in ICT, Management roles, Business Development, Business, and Sales Strategy. Wim has a wide spectrum of industry experience and a strong passion for Microsoft platforms, services, and ecosystems
Let Us Quickly Get To Our Expert's Point Of View.
Question 1- How big is the market opportunity for Microsoft Partners?
Microsoft Partners have a huge market opportunity that is ever-evolving with the pace of change. We are a global ISV specializing in the financial services industry. Banks and insurance companies make up the majority of our market. We assist those banks and insurers with their digital transformation journey.
Question 2: What are the partner benefits of pursuing Digital Transformation?
There are a number of benefits. By establishing a mutually collaborative environment, you can fully realize the potential of Microsoft's Cloud ERP and CRM services. Partner initiatives have resulted in increased ROI, improved marketing, and more sales, to name a few benefits.
Question 3: How do you benefit from partner-to-partner relationships?
We're always on the lookout for new ways to collaborate with other companies. Working with ISV partners has benefited us greatly thus far—we do have some P2P relationships, for example, for integrating OEM solutions, for SIs that implement our solutions, for other ISVs to extend our solution, and so on.
Question 4: What are your thoughts on the DynamicsSmartz Partner Program? How important is it for you to foster partner-to-partner relationships?
Providing dedicated resources with D365 expertise seems like a good business. We have collaborated with other partners in the past and witnessed measurable results.
The DynamicsSmartz Partner program is adaptable and flexible- P2P initiatives allow you to create new channels and routes to market, shorten time to value for both you and your customers, and boost revenue.
Question 5: A piece of advice that you'd like to share with our readers?
If you are too small to have enough resources to cover all the skills and capabilities that you need, extend your team with external specialists. Leverage the power of partner channels and unlock new avenues for your business.
More Details
Wim is passionate about entrepreneurship and innovation, as well as start-ups, the financial services industry, and cutting-edge technology. He is really enthusiastic about Partner Relationship Management, CRM, and Microsoft services and ecosystem.