Microsoft Dynamics Influencer Insights
MCT, Speaker, and Solution Architect Expert, Wesley Lombardi's take on Dynamics 365 and Power Platform
There is no denying that Partner synergy is critical for success in the Microsoft Partner Ecosystem. The DynamicsSmartz Partner Program is designed to help Microsoft Partners collaborate on joint go-to-market strategies to reduce time to market, increase sales, and boost revenue.
With the increased push for digital, our key focus at DynamicsSmartz has been to partner with the right companies across industry verticals and promote partner enablement.
In our segment, Influencer Insights, we invite top industry experts to discuss emerging tech trends, P2P relationships, and Microsoft Business Solutions. In today's chapter, we will speak with Wesley Lombardi about Dynamics 365 and Power Platform solutions.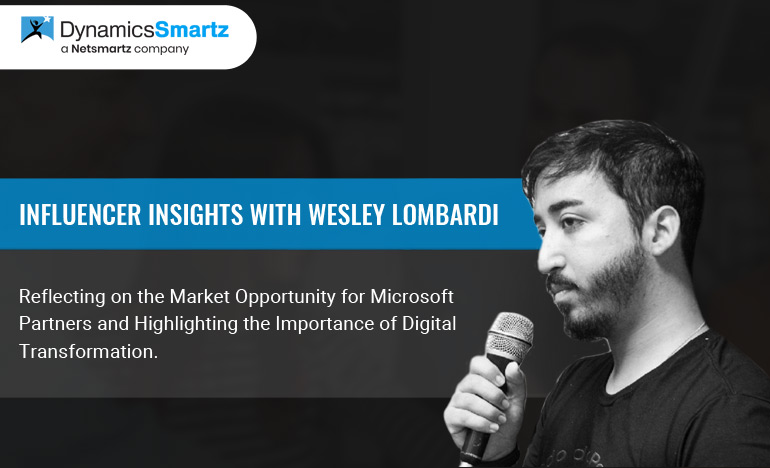 Who did we interview?
Wesley Lombardi is an MCT, Speaker, and Dynamics 365 & Power Platform Solution Architect Expert with a diverse industry background and a strong passion for Microsoft platforms, services, and ecosystems.
Let Us Quickly Get To Our Expert's Point Of View.
Question 1- What according to you are some of the top Microsoft technology trends to watch out for in 2022?
Low-code platforms (LCP) are here to prove that as technology advances, it becomes easier to use. Due to the wave of development and adoption, I believe the MS Business Applications ecosystem is a trend to keep an eye on since more companies and professionals (including those without IT skills) can easily build complex solutions. I believe, 2022 will be the year of Microsoft Power Pages and Automation (mostly RPA), as well as Azure and cloud computing.
Question 2: What are some opportunities you would be looking at this year?
I enjoy teaching, and all of the opportunities I seek these days revolve around that. In addition to my work, which entails a small amount of training, I organize communities and participate in events, so any work that allows me to assist people and be free to develop solutions, ideas, and initiatives is much appreciated.
Question 3: Would you like to share some tips on Dynamics 365 implementation/migration?
It's a tricky subject to discuss... Because every firm is different in terms of maturity, D365 implementation can be simple or complex, depending on the team or project. However, we do have some recommendations that we refer to as "best practices." If you think about, plan, and develop your project with the future in mind, it can be easy to implement since you and your project are prepared for errors and the unexpected. Your life will be easier if you have project management and organized solution. So think strategically, be aware of current systems, and have someone who knows how everything works.
Question 4: What is the potential for Microsoft Partners in Brazil?
With our existing MS Partners, I don't believe Brazil is a strong country. I mean, we have a lot of wonderful partners and customers because a lot of firms have adopted the solutions, but it's a small niche for experts, and I think business application professionals are distinct from other IT professionals. Many partners are young and unable to mature for a variety of reasons (or just because they do not want to).
I believe that the key to success in the current scenario is to think about "own products" rather than merely implementing "native" D365 with a few customizations, so if you keep an open mind and are willing to put in the time to develop new ideas, I'm confident that you will be able to achieve more. Also, consider becoming a Microsoft Learning Solutions Partner; there are a lot of professionals coming in and a lot of demand, therefore they need to be trained because the knowledge gap is widening as a result of all the possibilities and updates.
Question 5: A piece of advice that you'd like to share with our readers?
Know the fundamentals and go over them again every now and then. It doesn't matter if you're a professional or the CEO of a company; if you understand the fundamentals, trends are simple to understand and implement on a daily basis. It works for projects, brainstorming, leadership, and any other situation when we need to learn something new or figure out why something isn't working. Experiment a lot. The field of information technology is concerned with research, communities, and the development of people as well as digital solutions. Many professionals can't advance because they don't understand or aren't up to speed on the fundamentals, and companies can't think of new ideas because they're locked in an outdated mindset. Even if technology gives you some peace, be cautious; you might become too comfortable.
Get to Know Our Influencer
What is the best event that you attended recently? What were your key takeaways?

When someone says "Wesley, your talk opened my mind" or "Wesley, your talk benefited me a lot" and things like that, it makes the event the best event of the moment. I don't look for numbers, collabs, or "do because I have to" but for the impact and freedom of content creator. It's always a pleasure to collaborate as a speaker at various events but doing it for my own usually...hits different. My takeaways are that people who are just starting their careers are really more interested in the topics than those who have more experience. It's good that they want to know more, but the whole picture isn't balanced, which isn't good.

What's your success mantra?

"The level and way of knowledge are not the same around the world and for each person". Knowing this, I strive to be a good leader at work and reach out to as many people as possible at events.