Microsoft Dynamics Influencer Insights
Microsoft MVP, Steven Renders's take on the potential of Dynamics 365 Business Central and Power BI
Fostering partnerships is unquestionably essential for business expansion. Considering the scale and speed of innovation within the Microsoft ecosystem, businesses must specialize in providing high quality services.The DynamicsSmartz Partner Program allows partners to collaborate with other partners to provide the best possible levels of customer service and experiences.
At DynamicsSmartz, our main goal has been to promote partner enablement, work with industry leaders, and partner with the right businesses.
As part of our Influencer Insights segment, we discussed the top Microsoft technology trends like Power BI and their implementation. In today's chapter, we will speak with Steven Renders on Microsoft Dynamics 365 migration and implementation.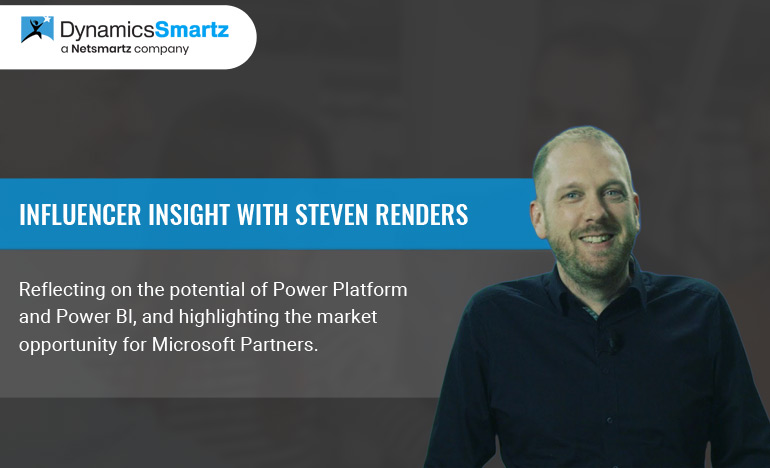 Who did we interview?
Steven Renders is a trainer/consultant with skills spanning business and technical domains, with more than 20 years of experience. He provides training and consultancy focused on Microsoft Dynamics 365 Business Central and Power BI. Steven has received the Microsoft MVP Award, an award given to exceptional technical community leaders who actively share their high-quality, real-world expertise with others.
Let Us Quickly Get To Our Expert's Point Of View.
Question 1- What according to you are some of the top Microsoft technology trends to watch out for in 2022?
The Power Platform
Power BI is becoming more and more adopted by a lot of Business Central customers and partners. Microsoft adding the Business Central connector to Dataflows will boost performance and data management possibilities in that area. Power Apps and Power Automate are also evolving rapidly. They were "neglected" by many consultants, usually because they lacked knowledge or feared learning something new.
I see end users, key users to me, more specifically, starting to investigate the possibilities of Power Automate and Power Apps, which can trigger these technologies to become more popular so that consultants can't ignore them in the future. Furthermore, I see a lot of customizations being offered (and billed) to customers that could have been done a lot faster, better, and cheaper using the power of the power platform.
Question 2: What are some opportunities you would be looking at this year?
We are working hard to add new content to Business Central Booster to offer our customers complete learning journeys. Many companies are experiencing a lack of resources and find it challenging to attract new talent.
A learning journey is a total of what a business central developer or consultant must learn and can choose to learn during their career. The learning journey includes becoming proficient, transforming, progressing, and specializing. This way, we guide new hires and experienced developers in their skills development.
Question 3: Would you like to share some tips on Dynamics 365 implementation/migration?
Training! Consultants and developers need to be trained and the end-user organization. In many implementations or migrations, the end users receive maybe 2 or 3 hours of training before they go live. They then must work with a new system; they are not proficient in and at the same time still deliver the same business results. This usually results in end users returning to their 'good old' excel sheets instead of using Business Central functionality they are unaware of.
Question 4: What is the potential for Microsoft Partners in Belgium?
I believe the potential is very high. Many companies have not upgraded to Business Central (Saas or On-Prem) using old versions of Dynamics NAV, with many old-style customizations.
Besides that, there is also an excellent market to attract and implement companies in the SMB market looking for a perfect Saas-based ERP system.
And the power platform also has excellent potential. Instead of developing AL-based apps, which can only be installed on Business Central, the Power Platform can be a good alternative for partner solutions. Using Dataverse, they can be connected and integrated with almost every system, which expands their potential enormously.
Question 5: A piece of advice that you'd like to share with our readers?
Don't get stuck on what you know. Be open to learning something new. Challenge the way you do things. Technology is evolving, and you should see too…
Get to Know Our Influencer
What is the best event that you attended recently? What were your key takeaways?
Because of COVID, there were not many live events I attended. Directions EMEA in Milan was the first event I heard about in a long time, and it was very nice. We presented about six sessions, so I had to run a lot from one to the next, but it was an excellent experience. I was meeting people face-to-face again, networking, and discovering Milan.
What's your success mantra?
I don't have a success mantra. My only recommendation for success is: 'Like what you do!' The only way to become good at something is to be motivated every day; the only way to do that is to love what you do.