Microsoft Dynamics Influencer Insights
Discussing Partner Relationships with Cloud Transformation Specialist, Stacy Tatem
There is no denying that Partner synergy is critical for success in the Microsoft Partner Ecosystem. The DynamicsSmartz Partner Program is designed to help Microsoft Partners collaborate on joint go-to-market strategies to reduce time to market, increase sales, and boost revenue.
With the increased push for digital, our key focus at DynamicsSmartz has been to partner with the right companies across industry verticals and promote partner enablement. In today's chapter on Influencer Insights, we will speak with Stacy Tatem on how to leverage the true potential of partner initiatives.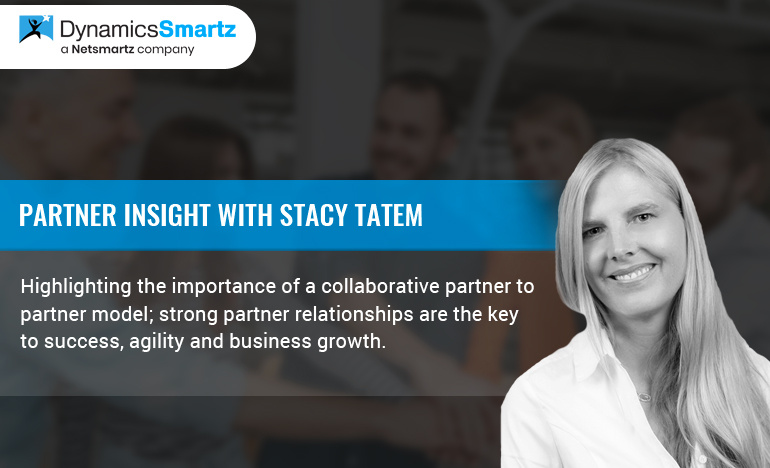 Who did we interview?
Stacy is a Cloud Transformation Specialist, helping companies manage their data and transform digitally. She is a former Microsoft North America Partner Account Manager, World Wide Learning. She assists in the development of close strategic relationships with partner channels to increase revenue. She has extensive experience in sales, business development, marketing, territory management, account management, customer service, and new product launches.
Let Us Quickly Get To Our Expert's Point Of View.
Question 1- How big is the market opportunity for Microsoft Partners?
It's massive. Microsoft Partners have access to a multibillion-dollar market opportunity. Depending on your areas of expertise as a partner, there are millions of potential customer businesses with hundreds of millions of end-users who utilize Microsoft Business Solutions.
Question 2: What are the partner benefits of pursuing Digital Transformation?
Digital transformation is more than a trend; it is the future of how we will do business in any vertical. There are still companies that are starting or expanding their digital transformation journeys, which presents a big opportunity for partners to benefit from being a part of that journey.
The pandemic accelerated digital transformation for businesses and opened doors for others that might not have considered digital transformation prior to the pandemic.
Question 3: How do you benefit from partner-to-partner relationships?
Technology and innovation evolve quickly in today's competitive business landscape, and partner-to-partner (P2P) relationships are one of the best ways to successfully navigate this landscape. By creating mutually beneficial partner relationships you can be more competitive and fill gaps that a company alone might not be able to address.
Question 4: What are your thoughts on the DynamicsSmartz Partner Program? How important is it for you to foster partner-to-partner relationships?
I believe the partner to partner relationship is one of the key factors to success and this is a brief response to a much longer discussion. Great partner programs that help facilitate better partner connections are the key to increasing the effectiveness of growing a stronger partner to a partner relationship.
Question 5: What are your views on Microsoft Partner opportunities in the US?
Microsoft Partner opportunities in the United States are continuing to expand as a result of Microsoft's sustained development and innovation, which has accelerated under Satya Nadella's executive leadership. He has invested in developing and growing Microsoft Partner Programs by leading with inclusivity and collaboration.
Question 6: A piece of advice that you'd like to share with our readers?
Never underestimate the value of a collaborative partner to partner model. In many of the other work I do with organizations outside of my corporate role I like to say, "We are stronger together" and this is true as well in building strong partner to partner relationships.
More Details
Stacy has a wide spectrum of industry experience and a strong passion for Microsoft platforms, services, and ecosystems.