Microsoft Dynamics Influencer Insights
Microsoft 365 Consultant & Trainer, Sara Fennah's take on Microsoft Viva and Teams
There is no denying that Partner synergy is critical for success in the Microsoft Partner Ecosystem. The DynamicsSmartz Partner Program is designed to help Microsoft Partners collaborate on joint go-to-market strategies to reduce time to market, increase sales, and boost revenue.
With the increased push for digital, our key focus at DynamicsSmartz has been to partner with the right companies across industry verticals and promote partner enablement.
In our segment, Influencer Insights, we invite top industry experts to discuss emerging tech trends, P2P relationships, and Microsoft Business Solutions. In today's chapter, we will speak with Sara Fennah about Teams and Microsoft 365 solutions.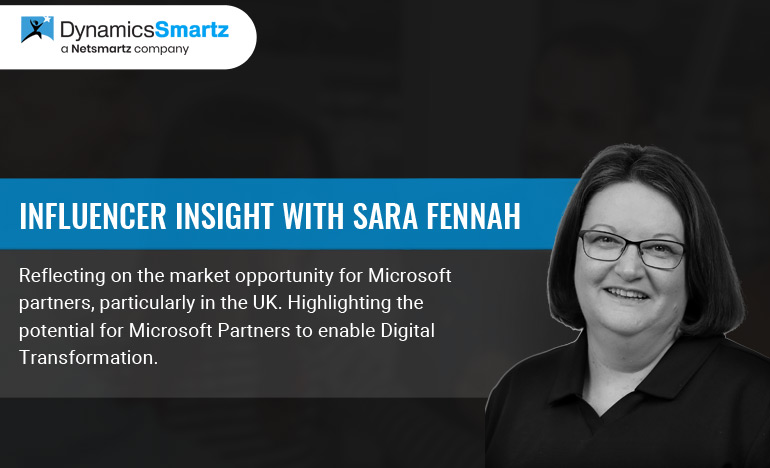 Who did we interview?
Sara Fennah is a Microsoft 365 Consultant, Trainer, and Teams Superfan. Her professional goal is to help make technology more accessible by boosting understanding and eliminating fear. She has over 20 years of training expertise.
She specializes in Teams, Microsoft 365, Office 365, SharePoint, and Project, including Project Server, and has extensive expertise in blending business processes into system training, notably in the Project Management arena.
Sara has a wide spectrum of industry experience and a strong passion for Microsoft platforms, services, and ecosystems.
Let Us Quickly Get To Our Expert's Point Of View.
Question 1: What according to you are some of the top Microsoft technology trends to watch out for in 2022?
As the world adapts to integrate the best of remote working, which we've had to embrace for the past two years, with more traditional in-person work circumstances, 2022 will be all about hybrid working. I'd like to call attention to three areas that promote hybrid work and should be monitored. As we all adjust to the shift to flexible hybrid work, Microsoft Teams remains an essential tool. Plus, with one of the highest numbers of in-development entries on the Microsoft 365 Roadmap, it continues to be a hotbed of innovation.
With modules that support many aspects of remote and hybrid work, Microsoft Viva is also gaining traction. Viva Goals is the fifth module in the Viva series, and it adds target and goal-setting tools that assist employees to understand their value and role in achieving business goals. Another area of growth for technology professionals to be aware of is the rising usage of Microsoft Security and Compliance Tools, which enables employees to function safely in the hybrid world.
Question 2: How big is the market opportunity for Microsoft Partners?
I focus on adoption and training. There is a high demand for qualified workers in the industry, particularly in these rapidly evolving technologies. As a result, there is a tremendous demand for highly qualified, good quality trainers. Customers want the best, which includes a variety of delivery alternatives as well as quality service. So, whilst there are lots of opportunities, it is more of a quality game than quantity.
Would you like to share some tips on Microsoft 365 implementation?
Successful adoption is just as critical as technical execution in an implementation project. Take advantage of this time to think about user pain points; if your Microsoft 365 implementation can address them, you'll have user buy-in and goodwill right away. Regardless of whether this is possible or not, effective user communication is critical.
Question 3: What is the potential for Microsoft Partners in the UK?
Organizations are being urged to modernize their IT infrastructure as a result of hybrid work. The United Kingdom is one of the most forward-thinking countries in this regard, and its legislation does not pose the same impediments to cloud adoption as other countries'. Many large and medium-sized companies are still in the early phases of cloud adoption, therefore this is still a rapidly growing sector.
Question 4: A piece of advice that you'd like to share with our readers?
Early on in a project, getting professional assistance can save you a lot of time and frustration down the line. Particularly when it comes to designing SharePoint and Teams structure.
Get to Know Our Influencer
What is the best event that you attended recently? What were your key takeaways?

I'm on my way to my first IRMS conference as we speak. In-person events are my favorite, especially in the IT industry. It's more about the people you meet than the content for me. I'd suggest attending an event focused on the aspect of Microsoft 365 that most interests you because that's where you'll meet the most fascinating people.

What's your success mantra?

An outcome other than the desired one is a learning opportunity, not a failure. And always be kind to yourself.