Microsoft Dynamics Influencer Insights
Discussing Microsoft 365 and Teams with Microsoft MVP, Paul Keijzers
The workplace of today is significantly different from the workplace of the last decade. Due to the rapid growth of technology and a change in social norms, business leaders must continually adapt to a new manner of managing and supporting talent.
Organizations are scrambling to find solutions that will enable them to cooperate more effectively, maintain their competitive edge, and move quickly to meet the requirements of both customers and employees if they are to thrive in this constantly evolving work environment. This has given rise to the digital workplace.
Companies now have a better and more streamlined foundation for workplace collaboration, and Microsoft continues to expand product capabilities to address expanding needs of the digital workplace.
It's crucial to understand these capabilities and how they interact with one another as Office 365 transitions from being merely a platform of standalone tools to a platform of integrated capabilities.
In our segment Influencer Insights, we invite top industry experts to talk about new technological trends, Microsoft Business Solutions, and P2P relationships. In today's chapter, we will speak with Paul Keijzers on how to leverage the true potential of Microsoft 365.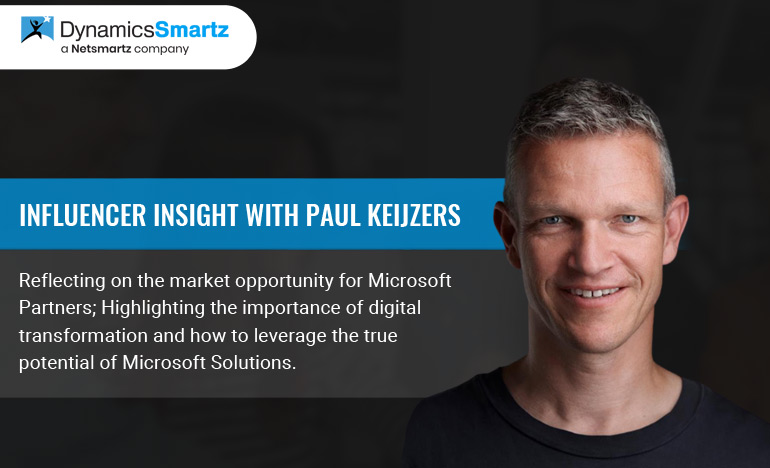 Who did we interview?
Microsoft MVP, Paul Keijzers is an expert on Microsoft Teams and SharePoint. He assists businesses in making the most of Microsoft 365 and staying current with new features. He focuses on teamwork and collaboration within Microsoft 365 and is extremely passionate about Microsoft's platforms, services, and ecosystems.
Let Us Quickly Get To Our Expert's Point Of View.
Question 1: What according to you are some of the top Microsoft technology trends to watch out for in 2022?
The Microsoft Viva suite, in my opinion, is the most revolutionary. In addition, I love Microsoft Teams, and it's getting lots of wonderful new features. Additionally, you'll want to keep an eye out for AI.
Question 2: What are some opportunities you would be looking at this year?
Personally, I want to use Viva in combination with Microsoft Teams more often.
Question 3: Would you like to share some tips on Microsoft 365 implementation?
Communication is, in my opinion, the most important tip. Keep your users informed. The second element is the technique, and it is typically relatively simple to solve.
Question 4: What is the potential for Microsoft Partners in the Netherlands?
Since most apps don't support Dutch and are usually set to English by default, I think there is room for collaboration to build solutions that help Dutch companies.
Question 5: How can we leverage Microsoft 365 and Power Apps for improved collaboration?
I believe there is a lot to learn about this side because many tasks are still done by hand but could easily be automated, which would save a tonne of time. For instance, a system for booking a room that enables you to specify the type of meeting, if more time is required to set up the space or order refreshments. Or a way to quickly develop servers with lots of innovative ideas that will benefit your business.
Get to Know Our Influencer
What is the best event that you attended recently? What were your key takeaways?
Ignite was, in my opinion, the best event to date. However, I really like the local Ignites that have been held in the past where you can learn in 2 days if you cannot afford the cost of flying to Ignite. Talking to people on the ground and learning from their experiences are my main takeaways.
What's your success mantra?
Oh, that is a hard one. I think it is: Feel the fear and do it anyway.