Microsoft Dynamics Influencer Insights
Discussing Teams and Power BI with Microsoft MVP & Solution Architect, Norm Young
Partner synergy is critical for success in the Microsoft Partner Ecosystem. As a Microsoft Gold Partner, working more closely with other partners allows us to observe and learn how they function.
The DynamicsSmartz Partner Program is designed to assist Microsoft Partners in collaborating on joint go-to-market initiatives in order to shorten time to market, increase sales, and grow revenue.
In our segment, Influencer Insights, we invite top industry experts to discuss emerging tech trends, P2P relationships, and Microsoft Business Solutions. In today's chapter, we will speak with Norm Young on how to leverage the true potential of Microsoft 365 and Power BI solutions.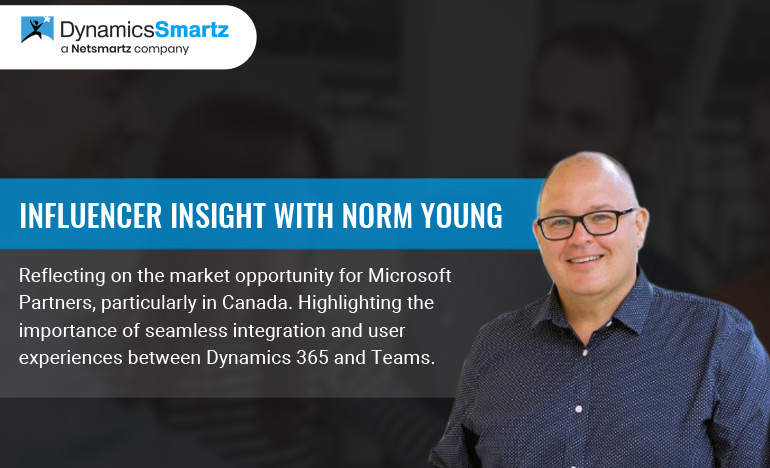 Who did we interview?
Norm Young is a Microsoft 365 Evangelist with a diverse background in the industry and a strong passion for Microsoft platforms, services, and ecosystems. He is a Microsoft MVP, Solution Architect for SharePoint, Power Automate, and Power BI, as well as a blogger and speaker.
Let Us Quickly Get To Our Expert's Point Of View.
Question 1- What according to you are some of the top Microsoft technology trends to watch out for in 2022?
It is exciting to see a renewed focus on integrated user experiences across the Microsoft stack, especially with Microsoft 365 and the Power Platform. Although it will take many forms, the integrations between Dynamics 365 and Teams are extremely exciting. By providing information and decision-making in the context of where users are working, the user experience improves dramatically.
Integration will simplify the user experience by blurring the line between applications and will allow users to focus on their actual tasks instead of their tools.
Question 2: What are some opportunities you would be looking at this year?
I'll be exploring the capabilities of Adaptive Cards built for Viva Connections and Microsoft Teams using data from the Power Platform and other apps and services. The opportunity here is to prioritize information delivery over platform management. In this case, I have the data and now I would like to use it to enrich the user experience by sending relevant information to the user based on where they are and what they are working on.
Question 3: Would you like to share some tips on Microsoft BI Implementation?
Like most large initiatives it is key to have an executive sponsor who is invested in and empowered to help realize the goals of the project. It's been my experience that successful Business Intelligence implementations are less about technology and more about outcomes. Knowing what problems, we are trying to solve will help set priorities and timelines, and justify effort and expense.
For first-time implementations, it is key to focus on the core building blocks of data that can serve as the cornerstone for further improvements in the future. Think of a sales solution with customers, products, and sales. An initial solution might have basic customer, product, and sale transaction attributes. Adding demographic information to the customer or manufacturing information to the product tables will allow us to advance our first offering with richer analytics with little comparative investment.
Question 4: What is the potential for Microsoft Partners in Canada?
The pandemic accelerated a number of cloud initiatives and not every move to the cloud was done with the degree of maturity that organizations are accustomed to. Microsoft Partners can help correct these issues by implementing deeper, more refined adoption, training and governance programs. Doing so helps their customers realize a greater return on their cloud investments and evolve their modern working habits.
Question 5: A piece of advice that you'd like to share with our readers?
It is very easy for us as technology advocates to put our platforms and solutions in front of our customers' needs. This isn't always in their best interest. Empathize with your customers, listen to learn about their situation and requirements, and ask questions to understand "why" with a challenger mindset. This will help customers think through their problems and consider things they may have never otherwise considered.
Get to Know Our Influencer
What is the best event that you attended recently? What were your key takeaways?

At Microsoft Build we saw some of the upcoming integrations between Dynamics 365 and Teams. I look forward to this level of integration in my own work, where I can stay in the context of a Teams meeting and have Dynamics 365 information available either as an app or card allowing for a more seamless user experience.

What's your success mantra?

I have two!

Own your own career: No one is going to do it for you.
Always be learning: If you want to be relevant, you need to be current.