Microsoft Dynamics Influencer Insights
In Conversation with Nikola Ilic, Microsoft Data Platform MVP and MCT, about the Power Platform
Many businesses and IT leaders worldwide are replacing aging on-premises systems with flexible, scalable, and economical cloud computing capabilities. This will not only provide these companies with compelling benefits but will also cut IT costs to accelerate innovation.
And, to understand how Microsoft technology is revolutionizing and what are the top trends, we interviewed Nikola Ilic.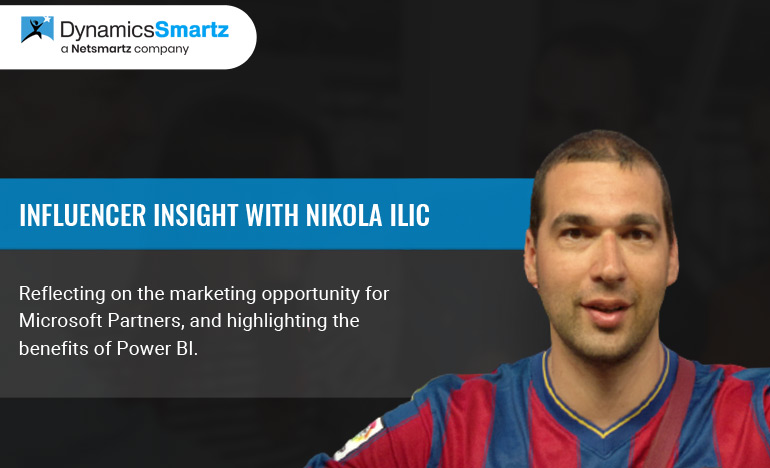 Who did we interview?
Nikola Ilic is an independent Microsoft Data Platform consultant and trainer. He is a Microsoft Data Platform MVP, MCT, Pluralsight author, and a public speaker at the world's largest data conferences. Nikola has extensive experience working with the complete Microsoft Business Intelligence stack, including SQL Server, SSIS, SSAS, and Power BI.
Let Us Quickly Get To Our Expert's Point Of View.
Question 1- What according to you are some of the top Microsoft technology trends to watch out for in 2022?
In my opinion, complete integration between various Microsoft data products through their platforms is essential. For example, the Power Platform rapidly changes monthly, and new features become available. At the recent Microsoft Build event, there were a lot of massive announcements that should enable tight integration between different Microsoft products.
For instance, you can now integrate Microsoft Power BI reports into PowerPoint presentations. Or, you may empower your business users with their own data storage by leveraging the latest datamart feature in Power BI. Overall, the Power Platform is now a focal point for integrating various components of Microsoft data products.
Question 2: What are some opportunities you would be looking at this year?
Try to get more involved with the Power Platform in general, not only with Microsoft Power BI. As they are being integrated tightly, if you only work with Power BI, you need to learn more about the other components of the platform, such as Power Automate.
Moreover, I find it easy to connect with others in the Power Platform community these days. It's also easy to find excellent learning resources, which makes the learning process much more comfortable.
Question 3: Would you like to share some tips on Microsoft BI implementation?
Carefully evaluate various offerings when starting your projects. Many different products may satisfy your specific needs, but not each of them would be the best choice for you. You need to work closely with the client and identify the critical requirements before making a final decision.
Take your time and focus on building scalable and long-lasting solutions. To be more specific, if we're talking about Power BI, spend some time on proper data modelling, as you will reap the benefits later when developing the final solution.
Question 4: What is the potential for Microsoft Partners in Austria?
The Austrian market is in an excellent state regarding its partnership with Microsoft. Many medium-sized companies are working on Microsoft solution implementations and providing consultancy services related to the Microsoft data platform.
Question 5: A piece of advice that you'd like to share with our readers?
Connecting with as many people from your area of interest as possible is good practice and will build your network of like-minded individuals. That means, not just connecting with other professionals on social media, such as LinkedIn, but also getting involved in your local community and user groups. Almost every city, or region, has its own Power Platform or Power BI user group, so this may be an excellent opportunity to get more involved.
Get to Know Our Influencer
What is the best event that you attended recently? What were your key takeaways?
I recently attended the Data Grillen conference in Germany. It was a great experience, not just because I got the chance to learn from other industry experts but also because it provided an informal, casual atmosphere, where you could chat with all these fantastic individuals, having beer and sausages. That's the real power of the community.
What's your success mantra?
Never stop learning. Literally... Never! Be humble, stay curious, and take advantage of every learning opportunity. Even though you "know" a certain topic, you will get a different perspective.