Microsoft Dynamics Influencer Insights
Q&A with Global Head of Business Applications at Ingram Micro Cloud: Mathew Batterbee
At DynamicsSmartz, we believe that Partner synergy is crucial for success in the Microsoft Partner Ecosystem. Working more closely with other Microsoft Partners allows us to observe and learn how they function. The DynamicsSmartz Partner Program is meant to help Microsoft Partners collaborate on combined go-to-market efforts to reduce time to market, improve sales, and grow revenue.
P2P empowers you to expand reach and drive scale through your partnerships. In today's chapter on Influencer insights, we will talk with Mathew Batterbee, a certified Dynamics 365 Partner Development Expert on how to leverage the true potential of partner initiatives.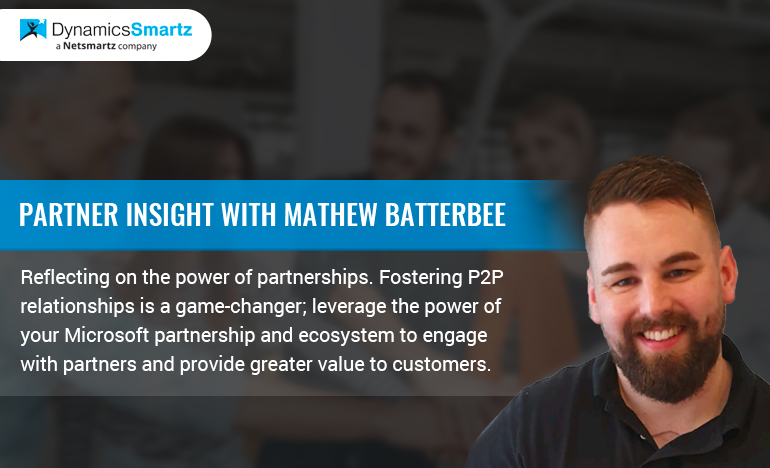 Who did we interview?
Mathew Batterbee is the Global Head of Business Applications at Ingram Micro Cloud. Mathew formerly worked at Microsoft as a Partner Development Manager for Microsoft 365 and Dynamics 365 and is a Dynamics 365 & Power Platform Certified Business Development & Partner Development Professional.
Let Us Quickly Get To Our Expert's Point Of View.
Question 1- How big is the market opportunity for Microsoft Partners?
The market opportunity is rapidly expanding with a current value of $100 Billion (CRM & ERP combined).
Question 2: What are the partner benefits of pursuing Digital Transformation?
I believe there is a multitude of benefits. Reduced customer churn, greater customer ROI, and improved overall value- increased productivity, sales discussions, process automation, and improved user satisfaction, to name a few examples. There is also increased earning potential for partners whilst lowering TCO for customers.
Question 3: How do you benefit from partner-to-partner relationships?
There are many benefits of building long-term partnerships. An increased number of partners transacting Dynamics 365 can make it the fastest-growing Dynamics 365 practice of any Indirect Provider globally in FY21.
Question 4: What are your thoughts on the DynamicsSmartz Partner Program? How important is it for you to foster partner-to-partner relationships?
It's incredibly important since the seat penetration of M365 users into D365 is around 1%. Consider this: Microsoft 365 has over 150 million users, with those utilizing Teams on a daily basis, and just 1% using Dynamics.
99 percent of users are missing out on the great benefits of the Better Together story. If they were using Dynamics 365 alongside Microsoft 365 and the seamless integration that comes with it, it will lead to better digital transformation and faster transformation.
Because there aren't enough Dynamics 365 Partners to meet evolving business demands today, enabling partners with P2P initiatives allows us to support partners in transacting Dynamics 365 like never before and at a faster pace than ever before.
Question 5: A piece of advice that you'd like to share with our readers?
To start a Dynamics practice from the ground up, you'll need a half-million-dollar investment and around two years to build it and get it right, to the point where you're ready to go to market.
I'm not saying you shouldn't do it, but via the Partner-to-Partner (P2P) Program, you wouldn't miss out on a lot of possibilities over the next two years.
I'd recommend you do it now. Start selling today to gain more experience and money while growing your practice, so you can put more money back into the business and continue to provide more value to clients. More partners than ever before are able to transact Dynamics 365 through P2P, and if you don't offer these services to your customers, someone else will.
More Details
Mathew is a self-motivated professional with extensive industry knowledge. He is genuinely passionate about Microsoft platforms, services, and ecosystem. Mathew enjoys tackling business problems and is eager to support partners in establishing a Dynamics 365 practice.