Microsoft Dynamics Influencer Insights
Discussing Community Building and Partnerships with Molly Fuchsel, President of Dynamics User Group
At DynamicsSmartz, we believe that Partner synergy is crucial for success in the Microsoft Partner Ecosystem. The DynamicsSmartz Partner Program is meant to help Microsoft Partners collaborate on combined go-to-market efforts to reduce time to market, improve sales, and grow revenue.
P2P empowers you to expand reach and drive scale through your partnerships. We invite leading industry professionals to speak on P2P relationships, Microsoft Business Solutions, and current technological trends for our segment, "Influencer Insights". We discussed the advantages of a conducive Partner Network with Molly Fuchsel in this chapter.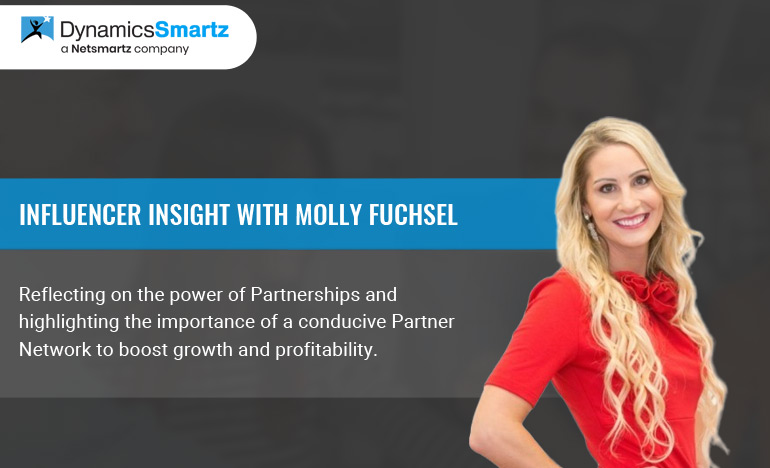 Who did we interview?
Molly Fuchsel is the President of Dynamics User Group. She is a community leader with a strong background in inclusion, training, and operational management. Her passion is building successful teams through effective recruitment, hiring, and training strategies.
Dynamics User Group (DUG) is a user and partner community, independent from Microsoft, focused on personal and professional growth for Microsoft Dynamics 365, Dynamics GP, and Power Platform professionals.
DUG empowers everyday users, administrators, developers, and partners with the tools and information required to excel in their professions.
Let Us Quickly Get To Our Expert's Point Of View.
Question 1- Why is community important for Partners to engage in?
Community is the active and continuous intersection between Microsoft, partners/ISVs, and customers. This collaborative environment allows partners to reach more users, showcase their products in a variety of settings virtually and in-person, and allows partner/ISV members to connect with each other.
Microsoft and user members rely on the community to identify how invested partners are in seeing the success of others, locating new products, and more.
Question 2: How have partners become more creative with informing customers of product updates, etc. after COVID?
Partners have found value in our greater online community and its easy-to-access content, and bridge to customers as a result of the pandemic. There was a need to shift how partners were finding customers and vis versa. Today, you will see partners producing more accessible educational materials and an increase in open discussions with fellow partners in the space.
Question 3: What is Dynamics User Group doing to support the Partners in the community?
Our goal is to elevate partner members in our space through a variety of community programs including online discussion forums, a robust Skill-Up learning platform, live and virtual events, a YouTube Channel, and local Meetups. For partners who invest in our DUG Team-Up Partner Program, we offer a wide range of marketing and speaking opportunities. This program is what allows our community membership to be free for all individuals.
Question 4: What is not working well for Partners these days to capture new sales according to the users?
This is completely just from what I've heard in the community which includes cold calling non-stop and email spamming.
Cold calling still exists, but it is one of the most negatively talked about sales approaches from a customer perspective. The pandemic has taught us to make product marketing available in a variety of ways allowing the customer to absorb the information the way they like to learn. Email campaigns are also taking a turn in tone and frequency. Many customers are gravitating to nontraditional sales approaches with a more informal delivery. As a partner in our ecosystem, do not be afraid to try new sales angles.
Question 5: A piece of advice that you'd like to share with our readers.
Get involved, today. Our greater community offers endless free content to learn, and even greater opportunities to grow. Whether you are looking to build product/service awareness, build your personal brand, or both, the community is ready to welcome you.
Get to Know Our Influencer
What is the best event that you attended recently?
The best event I've attended recently was the Innovia Consulting Customer Conference, where my colleague and I shared what our community-centric organization has to offer.
The purpose of this event was to provide customers with a better understanding of D365 BC, Power Platform, and some of the leading ISV products.
The Innovia team truly believes in not only offering robust content but also many special touches for the entire 2 days. This conference was hosted at the University of Notre Dame, with the famous football stadium right out the wall of windows where sessions were held. The networking, engagement activities, and delicious food sure made these attendees feel like members of the team.
What were your key takeaways? What's your success mantra?
"Don't wish for it, work for it" – this is one of my favorite mantras because I believe in spending less time focusing on what you want or don't have and more time on putting in the effort to achieve those goals.