Microsoft Dynamics Influencer Insights
Take a look at what Mohamad Barada, MCT have to say on Digital Transformation
There is no denying that Partner synergy is critical for success in the Microsoft Partner Ecosystem. The DynamicsSmartz Partner Program is designed to help Microsoft Partners collaborate on joint go-to-market strategies to reduce time to market, increase sales, and boost revenue.
With the increased push for digital, our key focus at DynamicsSmartz has been to partner with the right companies across industry verticals and promote partner enablement. In today's chapter on Influencer Insights, we will speak with Mohamad Barada on how to leverage the true potential of partner initiatives.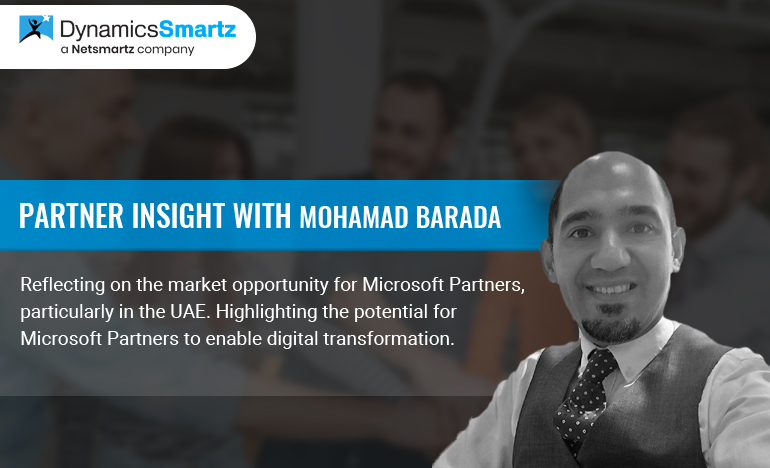 Who did we interview?
Mohamad Barada is a Senior ERP, CRM & BI Consultant, Microsoft Certified Trainer (MCT), and Public Speaker with 20+ years of versatile experience in implementing, training, consulting, and managing complex ERP, CRM, and Business Intelligence solution projects across the Middle East Region.
Let Us Quickly Get To Our Expert's Point Of View
Question 1- How big is the market opportunity for Microsoft Partners?
For Microsoft Partners, the market is vast and rich with opportunities. In my last 6 years in my startup Scroll Up, I never hired a salesperson and we always received calls and sales from referrals (word-of-mouth). The market is strong, but there are many partners willing to offer price concessions in exchange for a lower level of service, making competition difficult and convoluted at times.
Question 2: What are the partner benefits of pursuing Digital Transformation?
Pursuing digital transformation is critical in order to stay current and provide our customers with the best solution possible, employing the most cutting-edge technologies. Otherwise, our proposed solutions will be outdated.
Question 3: How do you benefit from partner-to-partner relationships?
I firmly believe that "Union makes power". Personally, I always seek to work with partners, and I believe that by pooling our resources and experiences, we can make large-scale implementations the most successful.
Question 3: What are your thoughts on the DynamicsSmartz Partner Program? How important is it for you to foster partner-to-partner relationships?
I believe the partner to partner relationship is one of the key factors to success. The DynamicsSmartz Partner Program is an excellent resource for getting started and expanding a Dynamics 365 business, as well as the most rewarding approach to gain access to gold-level expertise. It covers all of the key components of implementing Dynamics 365.
Question 5: What are your views on Microsoft Partner opportunities in UAE?
I'm new to the UAE market. I have been working with Dynamics NAV, AX, 365 in Lebanon for 20 years, providing services to Lebanon and the GCC, but I've never focused on the UAE market like I am now. I've only been in the UAE for four months, but I can already tell you that there are a lot of opportunities but they are not easy to come by because of strong competition, and since we are new to the market, customers will need time to learn about our advantages over other partners.
Question 6: A piece of advice that you'd like to share with our readers?
I always advise working with Microsoft products and selling Microsoft solutions as part of digital transformation. Today Microsoft with Dynamics 365, Microsoft 365, and Microsoft Power Apps, have the best arm to provide the finest solution for any type of business requirements.