Microsoft Dynamics Influencer Insights
CEO at WorldMax, Mary Thompson's take on Power Platform
There is no denying that Partner synergy is critical for success in the Microsoft Partner Ecosystem. The DynamicsSmartz Partner Program is designed to help Microsoft Partners collaborate on joint go-to-market strategies to reduce time to market, increase sales, and boost revenue.
With the increased push for digital, our key focus at DynamicsSmartz has been to partner with the right companies across industry verticals and promote partner enablement. In our segment, Influencer Insights, we invite top industry experts to discuss emerging tech trends, P2P relationships, and Microsoft Business Solutions. In today's chapter, we will speak with Mary Thompson on how to leverage the true potential of the Power Platform.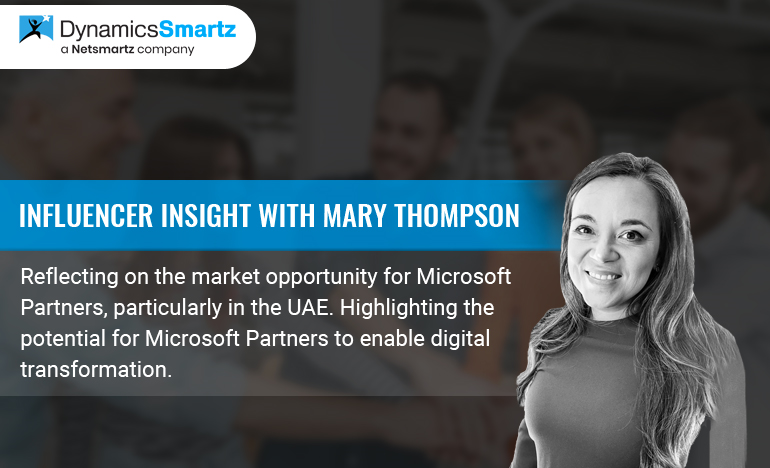 Who did we interview?
Mary Thompson is a leading Tech Evangelist and CEO at WorldMax. She has over 20 years of experience in finance, administration, sales, purchasing, production, and HR. She's had the opportunity to work in a wide range of industries. She is passionate about simplifying technology so that small and medium-sized businesses can benefit from Microsoft Cloud.
Let Us Quickly Get To Our Expert's Point Of View.
Question 1- What according to you are some of the top Microsoft technology trends to watch out for in 2022?
I'm pretty biased but I believe that the Power Platform will continue to be a huge driver and new functionalities of PP will make it more accessible to no-code individuals. Additionally, I think we will see a greater shift towards using the Power Platform for integrations as opposed to traditional development approaches.
Question 2: How big is the market opportunity for Microsoft Partners?
In my opinion, the opportunities for Microsoft Partners are limitless. With 553 standard connectors, partners can capitalize on their specific niches. Make use of the connectors that are available around that product or industry. I believe that the Power Platform will enable partners to differentiate their product offerings far more than the present environment allows.
Question 3: What are some partner opportunities you would be looking at this year? What advancements/changes do you expect in the Microsoft Partner Community?
I believe there is a lot of room for Power Platform and ERP partners to develop a good synergy in their collaboration. They can have a joint selling strategy, where the ERP partners can sell a shinier system without having to worry about how to source the project. The most significant issue I see with Microsoft partners is the difficulty and time it takes to transition everyone from CSP to NCE.
Question 4: How do you approach Migration and Implementations? Your top tips for a seamless transition?
My go-to approach for integrations is to see if the Power Platform can handle it first. With so many out-of-the-box connectors, I can typically get everything I need without any problems. I like to make sure everything is clearly mapped out ahead of time, and not over-engineered. Testing scenarios is key to ensuring a smooth integration in the long run.
Question 5: What are your views on DynamicsSmartz's Partner Program?
I think that this is an interesting initiative and opportunity to establish more partner-to-partner opportunities. The DynamicsSmartz Partner Program is an excellent resource for getting started and expanding a Dynamics 365 business, as well as the most rewarding approach to gaining access to gold-level expertise. It covers all of the key components of implementing Dynamics 365.
Question 6: What is the potential for Microsoft Partners in the United States?
The potential is huge in the US market, but I believe there are more opportunities for ERP and Power Platform partners.
Get to Know Our Influencer
What is the best event that you attended recently? What were your key takeaways?

Directions EMEA conference in Milan provided an excellent opportunity to catch up with Partners and Microsoft. The key takeaways I saw were continued improvements in BC to make customer onboarding quicker, and easier than ever. Additionally, there is a lot of excitement around integrating systems with the Power Platform.

What is your success mantra?

Go Big, or Go Home.