Microsoft Dynamics Influencer Insights
Managing Director, Mark Christie's views on Partner Offerings
Partner synergy is critical for success in the Microsoft Partner Ecosystem. As a Microsoft Gold Partner, working more closely with other Microsoft Partners allows us to observe and learn how they function. The DynamicsSmartz Partner Program is designed to assist Microsoft Partners in collaborating on joint go-to-market initiatives in order to shorten time to market, increase sales, and grow revenue.
P2P( partner-to-partner) empowers you to expand reach and drive scale through your partnerships. In today's chapter on Influencer insights, we will speak with Mark Christie, Microsoft MVP, MCT, and Managing Director at Proximo 3.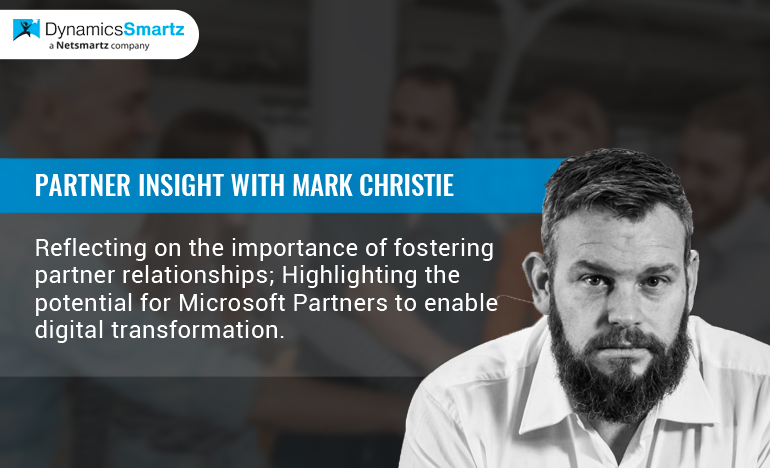 Who did we interview?
Mark is the Managing Director of Proximo 3 and has 15 years of experience with Microsoft Dynamics ERP and CRM technologies. He is a Microsoft MVP, MCT, and an evangelist in the Microsoft community. Mark has lead enterprise-level projects while also working with some great, not-for-profit organizations.
Mark has a wide spectrum of industry experience and a strong passion for Microsoft platforms, services, and ecosystems.
Let Us Quickly Get To Our Expert's Point Of View
Question 1: How big is the market opportunity for Microsoft Partners?
With the recent developments in the world, there is great potential for Microsoft Partners to enable digital transformation for end-users than ever before. Partner prospects on a global scale are immense, worth billions of dollars, due to Microsoft's growing stature and popularity.
Question 2: What are the partner benefits of pursuing Digital Transformation?
If we tell our customers that we need to be at the cutting edge of technology, as partners, we need to do the same.
Collaboration with Dynamics Partners and leveraging distinct competitive advantages is key to achieving exceptional growth and success. Also, individual partners can benefit from access to a global partner network and focus most on developing the solutions that they are passionate about.
Question 3: How do you benefit from partner-to-partner relationships?
We are always on the lookout for new ways to collaborate with other businesses. Working with Microsoft Partners has benefited us greatly so far. The majority of our work is done through P2P; we work with partners to upskill them and directly resolve conflict for them.
Question 4: What are your thoughts on the DynamicsSmartz Partner Program? How important is it for you to foster partner-to-partner relationships?
It's critical to build P2P relationships to win more business. Partner initiatives allow you to leverage additional resources, pre-sales, and marketing to scale Microsoft business units up and down on-demand and gain business outside of your core competency.
The DynamicsSmartz Partner program is a scalable and flexible offering that can help unlock new channels and routes to market, reduce time to value for both you and your customers, and increase revenue.
Question 5: A piece of advice that you'd like to share with our readers?
With the ever-evolving business landscape, we need to be at the cutting edge of technology. Moving to a full cloud and digital workspace will allow you to gauge productivity based on finished work rather than the number of people in a room.
More Details
Mark is a self-driven professional with extensive industry knowledge. He co-hosts a monthly Power Platform Podcast and is a conference organizer for the Scottish Summit.