Microsoft Dynamics Influencer Insights
Leon Tribe, Microsoft MVP, and Business Applications Architect discusses Al and the Power Platform
Throughout the years, our reliance on data has only grown, and businesses are generating more and more data. Artificial intelligence (AI) and machine learning (ML) are leveraging data to improve customer service and drive better decisions.
All this data is inevitable, but its value is intangible unless it can provide companies with insights. With the Power Platform, data democratization can be achieved - allowing non-technical users to access digital information.
To gain more insight into the potential of Power Platform and learn about the latest technology trends, we caught up with Microsoft MVP and Business Applications Architect, Leon Tribe.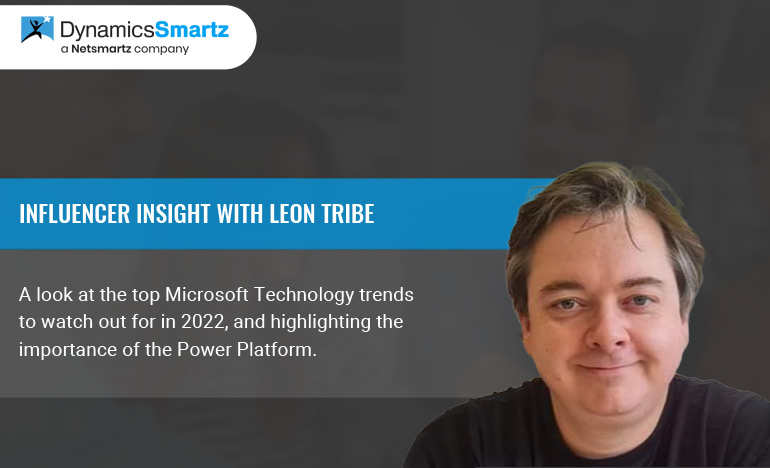 Who did we interview?
Leon Tribe is a Sales and Delivery Practice Lead and a Business Applications Architect with experience in a wide range of industries. A strong communicator and analytical thinker, he builds lateral solutions using his technical and business expertise, creating a vision for success both internally within a company and externally with clients and potential clients.
He was awarded the Microsoft MVP award for his work with Microsoft Business Applications. His experience spans a wide range of industries with a focus on education, financial services, and local government.
Let Us Quickly Get To Our Expert's Point Of View.
Question 1- What according to you are some of the top Microsoft technology trends to watch out for in 2022?
Technology is becoming more and more accessible every day. What was practically impossible to code five or ten years ago can now be achieved in minutes through ticking boxes on a screen. Combined with an exponential increase in the demand for technical solutions we are seeing a shift of putting technology in new hands; non-technical hands.
Microsoft's take on this has been the Power Platform and, while they are not the only player in this space, I really like their approach. The tools of the Power Platform enable you to go far without code but still provide a foundation that coders can manipulate. This gives organizations a choice of using Power Platform as a tool for non-technical makers to solve their challenges, a prototyping tool for those at the coalface so the developers within IT Services can complete the jobs, or as simply a rapid creation tool for IT Services developers. Microsoft provides the 'power' but also the choice on its adoption. I really think this will be compelling for many.
The other trend I see as becoming more and more woven into our world is AI. Even today, for tasks such as image classification and interpretation, a trained AI machine is generally better than its human counterpart and does not get bored or distracted. This will have significant consequences.
For example, rather than sending a health specialist to a remote part of the world to diagnose medical imaging, the images can be uploaded to a cloud AI for review and diagnosis. Rather than reviewing hours of footage in a rainforest to find a new species or count animal populations, a 'bot' can review the same footage in a fraction of the time with better accuracy.
Question 2: What are some opportunities you would be looking at this year?
Following on from my previous answer, both of these technologies have a dark side which consequently provides opportunity.
In the case of low code/no code tools like the Power Platform, there is a risk of them becoming 'just another Excel' in that, without guide rails in place, they enable non-technical users to proliferate applications with little consideration, for example, data sharing outside of the organization.
Microsoft has seen the errors of its ways in enabling 'Shadow IT' in the past and has built Power Platform with the ability to enforce robust governance measures e.g. limiting the movement of data and restricting access to external connections. The opportunity for organizations is to build this solid foundation of governance and enable their organizations to embrace the advantages of the Power Platform safely and securely.
For AI, the machines need to be trained and it is very easy for us to train AI machines with the inclusion of our own biases. If we provide, for example, 15 images of hands for an AI to learn what a hand looks like, are we sure those hands are representative of all hands in the world, or simply our own hands? If we train AI with historical data of, for example, corporate leaders with an idea of predicting future leaders, was historical leadership truly inclusionary, or are we enforcing the biases of the past? Microsoft provides tools to interrogate AI engines to ensure they are free of potential biases.
There is a tremendous opportunity in embracing AI to drive innovation but there is also an opportunity to ensure that innovation is done with consideration and critical thought.
Question 3: Would you like to share some tips on Power BI implementation?
Some things to consider are:
Have a clear picture of what you NEED (not want) to report on and whether Power BI is the right tool. Often, when implementing a new, say, CRM solution, organizations have a laundry list of reports they think they need to create. The fact is the query tools of Dataverse (the data layer of Power Platform and Dynamics 365) mean many queries can be constructed by users when they need them, without the need for expensive Power BI development.
My advice to my clients when implementing a Dynamics 365 application is to only build the reports they absolutely need as part of the initial implementation, wait a few months, and then consider what other Power BI reports they might require. Generally, the list reduces to zero or close to it.
Have a plan for keeping the data clean and up to date. If new data is being generated with the potential of duplicating existing data, have a plan in place to fix it. If relevant data is being updated regularly, make sure this is reflected in the sources used by the reports.
Work with a partner you trust. It is very easy to set up Power BI but setting it up for enduring success is harder. This is where a trustworthy partner comes in. They have already made the mistakes so you do not have to.
Question 4: What is the potential for Microsoft Partners in Australia?
For partners who are not already working with Power Platform, they absolutely should be. Power Platform licensing is being bundled with other Microsoft licensing meaning there is consulting work to be had on products already owned by the clients, even if their clients do not realize it. Moreover, the low code nature of the solutions makes them very easy to learn.
Question 5: How can we leverage Microsoft 365 and Power Apps for improved collaboration?
The two big tools here in Microsoft's tool bag are Viva Engage and Teams. Viva Engage is the new "Yammer experience". As with many first-generation collaboration tools, you can set up Communities and work/play with like-minded folk in your organization.
We are also seeing huge investment by Microsoft in Teams to enhance collaboration which is, in my opinion, going far beyond the collaboration experiences of the past. In fact, it is probably fair to say while many of us spend much of our days in Outlook today, this will soon be replaced by Teams as our primary entry point into the Microsoft ecosystem. As well as conducting online meetings in Teams, we can run projects via Teams and Channels collaborating on documents and chatting about what needs to be done.
Teams also allow other applications to surface within it. This includes the Power Platform. We can embed Power Virtual Agents (chatbots) into Teams to answer our questions and retrieve data, and run applications for data review and processing. We can also surface Dynamics 365 and Model-Driven Power Apps within Teams to access records to inform discussion or to facilitate chat when "Swarming" (the creation of ad hoc teams of experts to solve Customer Service issues)
Get to Know Our Influencer
What is the best event that you attended recently? What were your key takeaways?
As a dedoc voice for people with diabetes, I recently attended one of the largest diabetes conferences in the world (ATTD 2022) in Barcelona, Spain to disseminate the latest findings through social media. Meeting other passionate advocates and listening to the driven researchers has been the highlight of the year.
The biggest takeaway for me is appreciating the role technology can play in helping improve the lives (and in some cases save the lives) of people around the world. I see low code/no code tools like the Power Platform being a big part of that and hope I can play my role in making it happen.
What's your success mantra?
I have a few I try to live by:
Fight the good fight: Try to improve the world through your actions and be ethically doing it.
Never be afraid to try: Some of the moments I am most proud of have been when I have turned off the switch in my head which says "What if…?" and asked myself "Why not…?
Incremental progress is better than waiting for perfection: I usually have at least a dozen pet projects on the go. Chipping away at each of them, as time affords, means there is continual progress and feedback for improvement. Often what I learn from one endeavor informs others. If I focus on just one specific project, I would lose out on this cross-pollination of wisdom, and would likely end up at the wrong destination.