Microsoft Dynamics Influencer Insights
Microsoft MVP and Regional Director, Joel Oleson's views on Digital Transformation
There is no denying that Partner synergy is critical for success in the Microsoft Partner Ecosystem. The DynamicsSmartz Partner Program is designed to help Microsoft Partners collaborate on joint go-to-market strategies to reduce time to market, increase sales, and boost revenue.
With the increased push for digital, our key focus at DynamicsSmartz has been to partner with the right companies across industry verticals and promote partner enablement. In today's chapter on Influencer Insights, we will speak with Microsoft MVP and Regional Director, Joel Oleson.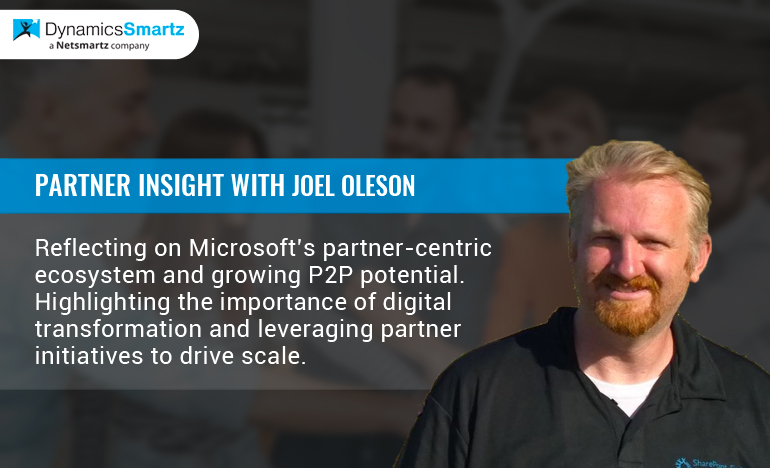 Who did we interview?
Joel is a Microsoft MVP, RD, and a leading Tech Evangelist. He was associated with Microsoft for ten years, where he developed a strong interest in technology, travel, and social interaction.
Let Us Quickly Get To Our Expert's Point Of View.
Question 1- How big is the market opportunity for Microsoft Partners?
Recently shared statistics from Microsoft Teams adoption show that in just over two years, the platform has grown from 5 million active daily users to 145 million active daily users, presenting an incredible opportunity to assist businesses in adopting these disruptive technologies.
Nearly every Fortune 500 company uses Microsoft 365, and thousands of small and medium enterprises are adopting the platform on a daily basis, with a 10x year-over-year increase in the use of third-party solutions delivered by Microsoft 365 partners on Teams.
Question 2: What are the partner benefits of pursuing Digital Transformation?
Digital Transformation is a game-changer because it provides businesses a technical advantage in terms of insights and reduced time to market. The cloud scale that these solutions bring provides ample opportunities to gather knowledge and insights previously not available on a platform designed around the employee experience.
Question 3: How do you benefit from partner-to-partner relationships?
The Microsoft Ecosystem is designed in such a way that there are numerous opportunities to expand, diversify and assist one another. The Microsoft channel partner programs and catalogs can assist partners in staying informed about what each other is up to, enabling them to diversify and partner together on opportunities.
Question 4: What are your thoughts on the DynamicsSmartz Partner Program? How important is it for you to foster partner-to-partner relationships?
It's a brilliant strategy to have partners who can mentor other partners. Dynamics 365 provides numerous opportunities to assist the community, as well as to share and collaborate on differentiator opportunities. The DynamicSmartz Partner Program is a great way to ramp up and learn from a leader in the space.
Question 5: What are your views on Microsoft Partner opportunities in the United Kingdom?
Microsoft has been providing 8-10x the opportunities for partners in recent years. Microsoft has provided a plethora of opportunities for partners to carve out their own niche and focus areas. COVID-19 and the growing demand for remote work have accelerated the move to the cloud.
The United States has tremendous opportunities to accelerate digital transformation. Companies are recognizing the advantages and increasing their cloud adoption plans.
Question 6: A piece of advice that you'd like to share with our readers?
While competition may be top of mind for many Microsoft Gold Partners, the community and broad opportunities available are truly geared to foster collaboration, transparency, and openness.
Influencers have a tremendous potential to lead and provide guidance to help customers together. A shared vision of helping the world become better with improved communication, collaboration, and insights allows everyone to improve at what they do best, connecting people from all over the world and benefiting organizations and the world as a whole.
More Details
Joel has a wide spectrum of industry experience and a strong passion for Microsoft platforms, services, and ecosystems.