Microsoft Dynamics Influencer Insights
Microsoft MVP, Jens Vestergaard's take on the potential of Azure Synapse Analytics and the Power Platform
Many companies and IT leaders around the world are replacing outdated on-premises system with adaptable, affordable cloud computing capabilities. This will not only provide these businesses significant advantages, but it will also lower IT expenditures, speeding up innovation.
For further insight into how Microsoft is revolutionizing the industry and what are the top technological trends, we spoke with Jens Vestergaard. We bring in top industry experts to discuss P2P relationships, Microsoft Business Solutions, and emerging technological developments in our segment Influencer Insights.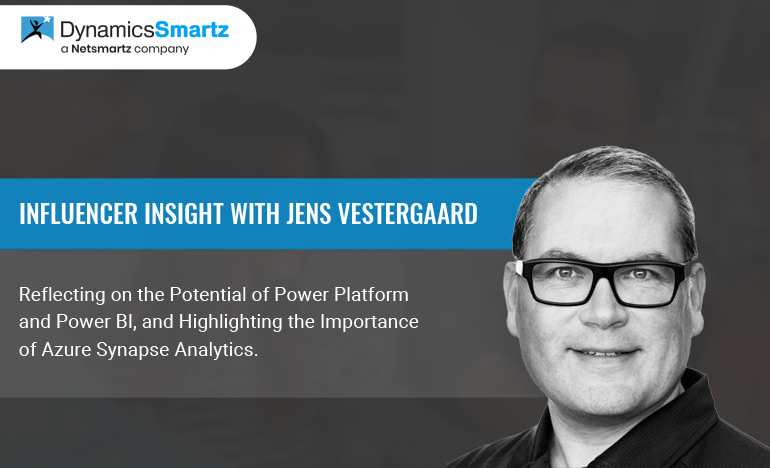 Who did we interview?
Jens Vestergaard is a Microsoft MVP, MCT, and Power BI Captain. His experience with Microsoft Business Intelligence (BI) dates back to 2003. Over the last couple of years, Microsoft Azure has become increasingly important to his work.
Let Us Quickly Get To Our Expert's Point Of View.
Question 1- What according to you are some of the top Microsoft technology trends to watch out for in 2022?
In addition to the Power Platform, I expect Microsoft to continue to emphasize Azure Synapse Analytics, which is getting a lot of love from Microsoft! Knowing the power of the Microsoft workforce, I see a lot of new features coming along.
Inside the Power Platform, the Power BI team is adding a lot of enterprise-grade features to the already solid feature offering as well as more integration with other Microsoft services such as Teams and Viva Goals.
Power Pages may be available in GA by the end of this year. Power Pages enables you to design, configure and publish websites quickly and seamlessly across both web and devices.
Question 2: What are some opportunities you would be looking at this year?
I look forward to exploring more about Azure Synapse Analytics and its integration with Power BI. There is already a great number of resources available and seems like the link between the two products is stable and ready to be explored and used in production setups.
Question 3: Would you like to share some tips on Power BI implementation?
There are some projects that begin before the data needed to implement the solution is available. The best advice I can give is to be familiar with both the business and end-user requirements as well as the data. Only by combining this knowledge can you be a strong enabler of the business partner.
Be sure to be on top of any involved master data and offer an easy way for data stewards to perform their operations. Document your work! There is a good chance that you will be going back to the project at some point or have to hand it over – either to your client, subcontractor, or co-worker.
Question 4: What is the potential for Microsoft Partners in Denmark?
Microsoft has been on a long journey in Denmark and has come a long way in terms of foothold. On the business side, many companies have invested in Office, and thereby a natural extension to that is the Power Platform. On the IT side, Microsoft has made a huge investment in supporting hybrid solutions, which is offering the best of both worlds; on-premises and cloud.
Get to Know Our Influencer
What is the best event that you attended recently? What were your key takeaways?
In Person - Must be the Torshavn, Faeroe Islands, Power BI Community Tour. In such a small community, it was amazing to observe such a keen interest in technology at all levels of the local corporations and government.
Online- I would have to say the MVP Summit, hosted by Microsoft and obviously only for the current MVPs. The sessions are a firehose of information.
What were your key takeaways? What's your success mantra?
"We can't do ordinary stuff and expect extraordinary results" - Mike Tomlin, Head Coach of the Pittsburgh Steelers.