Microsoft Dynamics Influencer Insights
Innovation, Digital Transformation, and IT Project Manager, Jairo Mendes Soares offers advice for a seamless Business Central migration
Building partnerships is unquestionably crucial for business growth. Due to the size and pace of innovation within the Microsoft ecosystem, businesses need to focus on offering top-notch services. The DynamicsSmartz Partner Program enables partners to work together to offer the finest customer service and experiences.
The top Microsoft technology trends and their implementation were covered in our Influencer Insights segment. In today's chapter, we spoke with Jairo Mendes Soares about the top tech trends to watch out for in 2022, and tips for a successful Dynamics Business Central migration.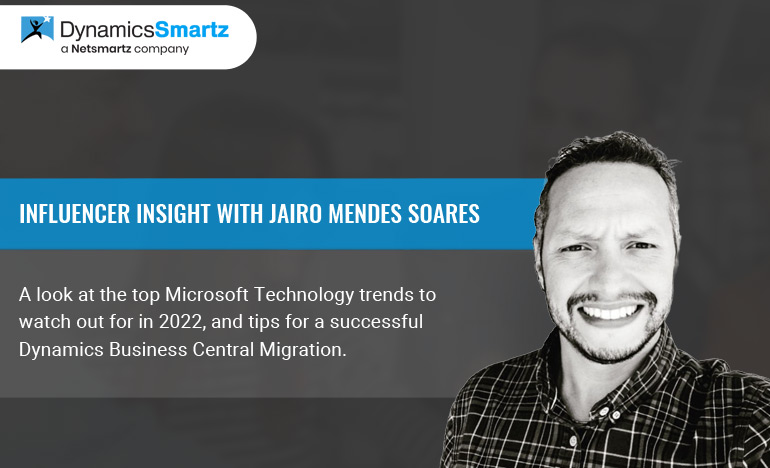 Who did we interview?
Jairo Mendes Soares is a project manager for IT, innovation, and digital transformation as well as a functional consultant for Microsoft D365FO and D365BC.
He has more than 18 years of professional experience, which he has acquired in the industrial and administrative sectors of national and global businesses, helping him to acquire management approaches and different cultural perspectives.
He is a results-oriented expert, constantly concentrating on offering business solutions with a strategic emphasis, on management, productivity, and cost savings, while also providing the greatest working environment for staff.
Let Us Quickly Get To Our Expert's Point Of View.
Question 1- What according to you are some of the top Microsoft technology trends to watch out for in 2022?
When we talk about digital transformation, it's impossible not to remember Microsoft, after all, it has a range of products that is a worldwide trend for 2022.
In addition to Microsoft Business Central, which is a product with the best cost-benefits in the world market for companies that want to generate value for your business and control each step of your production process, we can also highlight the Microsoft Azure artificial intelligence solution, which has the ability to generate in-depth data mining and analysis to get to know your customers better in order to generate business in advance.
And another solution that deserves to be highlighted and that is part of the Microsoft Dynamics line is a solution with Hololens 2 for manufacturing where augmented reality technology is used, generating an absurd cost reduction for customers.
Question 2: Would you like to share some tips on Dynamics Business Central migration?
You can easily migrate your on-premises data to a Dynamics 365 instance using the built-in tools that come with the platform. If you're switching to a cloud instance of your software, you can take advantage of capabilities like Power BI, Machine Learning, and other features.
After establishing your new company, you can start your Dynamics 365 Business Central data migration process. Information companies typically want to migrate includes:
General ledger accounts
Customers
Items
Vendors
Start by going into the Role Center and choosing one of the assisted setup guides. Then, you can add your data to an Excel file, or another format supported by the wizard. For example, you can choose to import information from QuickBooks files, because Business Central provides you with an extension for that file format. If you're using an unsupported file, you'll need to perform a conversion before using it with the wizard.
Next, choose one of the available Business Central templates to handle the import of your data. Business Central comes with default configuration packages to handle transporting master data from other finance systems. They export and set up information within Excel files, which you can then import into your Business Central instance.
There are setup tables within Dynamics 365 Business Central for handling information like:
Shipping
Location
Sales Price
Unit of Measure
One of the interesting things that Dynamics Business Central has for data migration is the "RapidStart" service which allows you to create packages containing configuration data to apply to the new company.
In addition, you can prepare standard master data tables by migrating data from Excel files.
You may choose to use RapidStart services if you need to configure a basic Business Central configuration and have a separate configuration for manufacturing customers. You may also want to use RapidStart services when:
Conducting a mass deployment
Configuring an additional solution
Moving from a test to a production version
Creation of a subsidiary
You can use a .rapidstart file to create a compressed format that contains a package containing the settings for your new company. This package also imports standard staging tables, including their master and configuration data tables.
Question 3: What are some of the best features of Dynamics Business Central?
One of the best features of Dynamics Business Central is how easy it is to export and import data, in addition to:
Improvements in the integration with Excel
Resize columns in a few clicks
Adding links to your navigation menu
Add notes and links to the data
Full keyboard shortcut support
Customizing actions and navigation according to your rules center
Multitasking on multiple pages
Filter fields and options by various values
Customization of a user profile without development
Question 4: Why should you migrate to Dynamics Business Central?
Because in addition to being the best cost-benefit ERP on the market and integrated with Office 365, it provides a 360-degree view of the organization, a more agile process operation, real-time metrics measurement, reports, and dashboards that can be connected to the Microsoft Power BI increased efficiency and productivity and finally has Microsoft quality.
Question 5: A piece of advice that you'd like to share with our readers?
In the deployment phase, do everything you can to have as little customization as possible, leave this step for after the Go-live, so that your deployment project is successful and only after you start making the necessary improvements in Dynamics Business Central.
Get to Know Our Influencer
What is the best event that you attended recently? What were your key takeaways?
The best event that I attended is ERP Summit. This is the biggest event in Latin America of ERP. And my opinion is that Microsoft Dynamics Business Central remains the best cost-benefit for small and medium-sized enterprises compared with others of the same nível.
What's your success mantra?
Be bold - Success does not come easy. If life throws you a challenge, fight back hard. You might fail numerous times to achieve your ambition. But never let failure be an end as there is always light at the end of every tunnel.