Microsoft Dynamics Influencer Insights
MVP & Associate Director at Protiviti, Haniel Croitoru's take on Power Platform
There is no denying that Partner synergy is critical for success in the Microsoft Partner Ecosystem. The DynamicsSmartz Partner Program is designed to help Microsoft Partners collaborate on joint go-to-market strategies to reduce time to market, increase sales, and boost revenue.
With the increased push for digital, our key focus at DynamicsSmartz has been to partner with the right companies across industry verticals and promote partner enablement.
In our segment, Influencer Insights, we invite top industry experts to discuss emerging tech trends, P2P relationships, and Microsoft Business Solutions. In today's chapter, we will speak with Haniel Croitoru about Power Platform and Microsoft 365 solutions.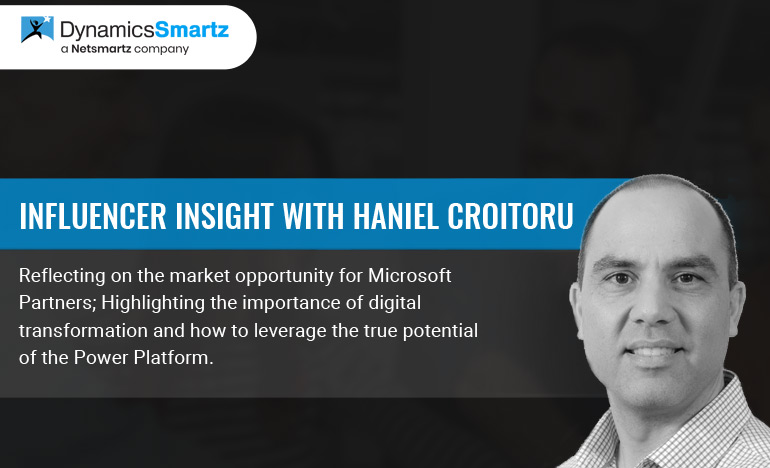 Who did we interview?
Haniel Croitoru is a Microsoft Office 365 MVP and a seasoned consultant with over 15 years of experience in the public and private sectors across a wide range of industries. As a leading Tech Evangelist, he has been focusing on SharePoint, delivering solutions, and contributing as a SharePoint consultant, project manager, business analyst, and trainer.
Haniel has a wide spectrum of industry experience and a strong passion for Microsoft platforms, services, and ecosystems.
Let Us Quickly Get To Our Expert's Point Of View.
Question 1- What according to you are some of the top Microsoft technology trends to look out for in 2022?
With a shift in app creation from traditional dev groups to citizen developers/power users, Power Platform has undoubtedly become a disruptor in the industry.
Question 2: What are some opportunities you would be looking at this year?
We will be finding more ways and newer avenues to integrate Microsoft with non-Microsoft solutions for different clients and help them boost their overall efficiency.
Question 3: Would you like to share some tips on Cloud Implementation/ Migration?
Keep in mind that you're dealing with moving targets. Technology, as well as its adoption and usage by companies changes on a regular basis. If you are attempting to apply a previously used approach to a new customer, proceed with caution.
Question 4: A piece of advice that you'd like to share with our readers?
Microsoft 365 is a collection of tools. It won't help you much until you know what you're trying to accomplish or what problems you're trying to solve. Focus on WHAT you're trying to do, not HOW it will work.
Get to Know Our Influencer
What is the best event that you attended recently? What were your key takeaways?

Most events were held virtually due to COVID-19, which had a different environment and made networking difficult. Over 100 people worldwide attended an information session I organized around using various Microsoft 365 apps and services to help with digital transformation, which was one of my most successful events recently. Despite the numbers, it's no substitute for face-to-face meetings.

What's your success mantra?

Listen more, talk less. You'd be surprised just how much you can learn and get close to a solution.