Microsoft Dynamics Influencer Insights
Azure MVP & MCT, Gregor Suttie's take on Microsoft Azure and Cloud Transformation
Business and IT leaders all around the world are moving over to flexible, scalable, and affordable computing capacity in the cloud to replace legacy, on-premises systems. There are many powerful reasons for moving to the cloud, from lowering IT expenses to speeding innovation. Without a doubt, the COVID-19 pandemic enhanced the pace of digital and cloud transformation.
In our segment Influencer Insights, we invite top industry experts to talk about new technological trends, Microsoft Business Solutions, and P2P relationships. In today's chapter, we will speak with Gregor Suttie on how to leverage the true potential of the Microsoft Cloud.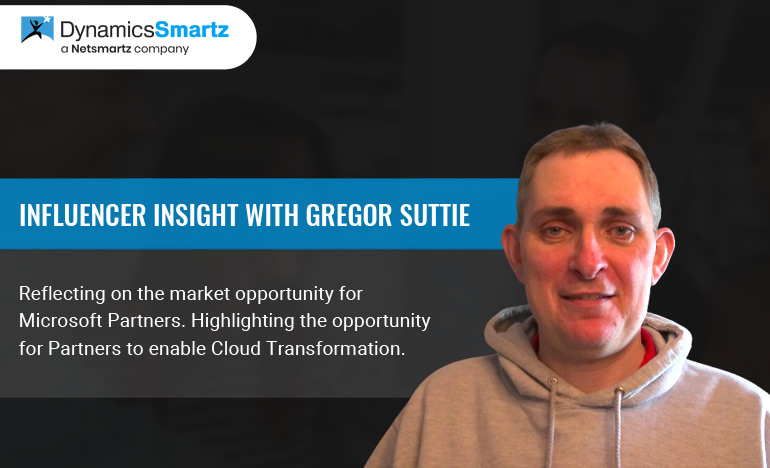 Who did we interview?
Gregor Suttie is an Azure MVP and MCT. He works as an Azure Architect at Intercept and has experience building large Azure solutions employing a variety of Azure services to provide the best solutions to customers. Gregor has a diverse industry background and a strong passion for Microsoft platforms, services, and ecosystems.
Let Us Quickly Get To Our Expert's Point Of View.
Question 1- What according to you are some of the top Microsoft technology trends to watch out for in 2022?
In 2022, I think data and containers are the hottest topics at the moment, being able to host your solution in containers and run them anywhere is an obvious advantage, but data is even more important in my opinion. As the cloud is becoming more mature we have more and more ways to analyze data and gain insights into the data in so many ways. Our customers are all looking at ways to be able to share and analyze data from all sorts of sources in order to achieve a competitive edge.
Question 2: What are some opportunities you would be looking at this year?
I'd take a look at how the data landscape is evolving and how new tools like Azure Synapse, Azure Databricks, and Microsoft Purview make it simpler to perform ETL—extract, transform, and load—as well as add governance to your company's data.
Question 3: Would you like to share some tips on Cloud Migration?
We frequently assist customers with cloud migration, and with the tools that Azure offers in the form of Azure Migrate and Azure Database Migrations, it is much simpler than it was in the past. Tooling makes our lives easier and the tooling provided makes the adoption of Cloud for companies fairly straightforward.
Question 4: What is the potential for Microsoft Partners in the UK?
At Intercept, we work with partners all over Europe and were just starting our journey to partner with companies in the UK. The potential is huge not just in the UK, we have partnerships in several different countries across Europe, so I would say don't limit yourself to only the UK.
Question 5: A piece of advice that you'd like to share with our readers?
Change in the world of IT and especially the Cloud is happening at an astonishing rate, have an open mind, there is no silver bullet technology-wise, also there are opportunities galore both to learn and to grow. If you don't like your job find what you enjoy working on and follow your passion.
Get to Know Our Influencer
What is the best event that you attended recently? What were your key takeaways?
The Scottish Summit was really good because it had a deaf keynote speaker, an accessibility hackathon, and a lot of different types of session content, along with the friendliest people in the community.
What's your success mantra?
I love learning, teaching, and helping others.