Microsoft Dynamics Influencer Insights
Discussing Microsoft 365 and Power Apps with Microsoft MVP, Business Applications, and M365 Development, Fabio Franzini
There has been a significant change in the workplace over the past decade. Business executives constantly need to adjust to new ways of managing and supporting talent due to the rapid advancement of technology and a change in social standards.
Businesses now have a more solid and organized foundation for workplace communication, and Microsoft keeps developing new product features to meet the growing demands of the digital workplace.
As Microsoft 365 transforms from merely a platform of standalone products to a platform of integrated capabilities, it is imperative to comprehend these capabilities and how they interact with one another.
We invite leading industry professionals to discuss emerging technical developments, Microsoft Business Solutions, and P2P relationships in our segment Influencer Insights. In today's chapter, we will speak with Fabio Franzini about how to leverage the true potential of Microsoft 365 and Power Apps.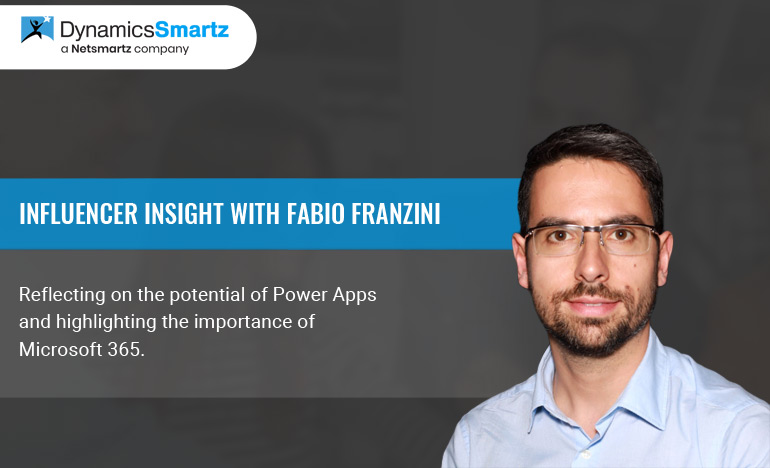 Who did we interview?
Fabio Franzini is a Microsoft MVP in the areas of Business Applications and M365 Development. As of 2018, he is ranked 12th among the top 25 SharePoint influencers in Europe. Working with Microsoft Partners and customers, he develops solutions that help organizations adopt Microsoft 365 and Power Platform.
Let Us Quickly Get To Our Expert's Point Of View.
Question 1- What according to you are some of the top Microsoft technology trends to watch out for in 2022?
Low-code software development and collaboration are two of the main trends Microsoft is focusing on. Of course, I'm referring to Microsoft 365, which is continually updated with new features and services, including Viva, Microsoft's employee experiences suite. In addition, the Power Platform continues to grow, adding new services month after month.
Question 2: What are some opportunities you would be looking at this year?
On the application side, I'm noticing a real explosion in demand for Power Platform applications, and the opportunity to extend the Microsoft Viva platform on the collaboration side.
Question 3: Would you like to share some tips on Microsoft 365 implementation?
Take advantage of Microsoft Viva! The best way to facilitate collaboration in Microsoft 365 is not only in business processes but also in support of the end user. To put it another way, provide a platform that is user-centric.
Question 4: What is the potential for Microsoft Partners in Italy?
With Microsoft being the leader in collaboration and no-code/low-code platforms, the potential for partner companies is even more pronounced. Microsoft's services present partners with two key factors for growth: extensibility and integration.
Question 5: How can we leverage Microsoft 365 and Power Apps for improved collaboration?
Many companies depend on Microsoft 365 for enterprise collaboration, and Power Apps lets you create applications in a low-code mode that can be seamlessly integrated into Microsoft 365, thanks to the countless connectors. With these platforms, developing departmental applications for business processes has become much simpler and faster.
Get to Know Our Influencer
What is the best event that you attended recently? What were your key takeaways?
I recently participated as a speaker at the first Power Platform Conference in Orlando, Florida. It was a very interesting experience for me to connect with the incredible community behind this platform, which, along with Microsoft 365, is redefining not only how we work but also how business processes are organized.
What's your success mantra?
Keep it simple!