Microsoft Dynamics Influencer Insights
Microsoft MVP/MCT, EY Kalman Take on Dynamics 365 and Power Platform
As we know that Microsoft's partner ecosystem is vast, powerful, and diverse. For decades, it has been delivering technology, services, and cloud-to-edge solutions to businesses. It has become a key driving force for transforming businesses and boosting overall profitability.
With the pandemic, several industries encountered geopolitical and economical challenges. However, Microsoft partners across the ecosystem have assisted customers to adapt to changes and build resilience.
As there's an increasing demand for adopting digital technologies, our key focus at DynamicsSmartz has been to partner with the right companies across different industry verticals and promote partner enablement.
To add value to the partner ecosystem, we interviewed top industry expert, EY Kalman to understand his perspective on the ongoing digital transformations.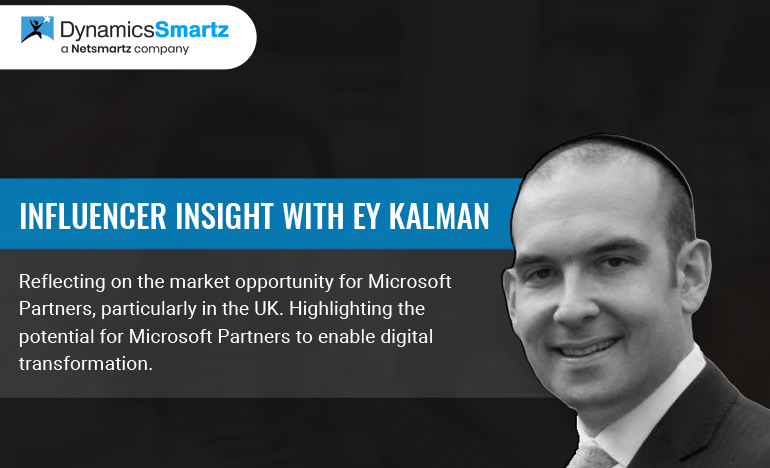 Who did we interview?
EY Kalman is PowerPlatform & Dynamics 365 Evangelist. He combines his decades of experience to help businesses understand software applications and demonstrate how technology can assist in digitally transforming organizations.
Let Us Quickly Get To Our Expert's Point Of View.
Question 1: What according to you are some of the top Microsoft technology trends to watch out for in 2022?
I'm incredibly interested in seeing how the capabilities of RPA (Robotic Process Automation) will continue to roll out and improve. This is one of the technology items that I've been following with great interest, as I really believe that it offers organizations the ability to be able to carry out proper staged digital transformation, without needing to change everything over in a single project. Being able to roll out new technology piece by piece, whilst still interacting with the old/legacy systems that are in place is just so important, and means that efforts can be put into the right places.
I'm also excited by the continual development of the Power Platform Centre of Excellence offers. Being able to empower everyone across an organization is important, but it's equally (if not more) important to be able to have the right approach to governance and support across the platform.
Question 2: What are some opportunities you would be looking at this year?
I'm currently involved with delivering multiple Centre of Excellence projects to customers. Being able to bring together the different key people within organizations to be able to support them properly, along with understanding the technology & the applications it brings is absolutely key to successful implementations. I'm using this to spearhead the adoption of the platform at scale, without needing to focus on specific app implementation, for example.
Question 3: Would you like to share some tips on Dynamics 365 implementation/migration?
Don't just rush into things, assuming that they work out of the box to what you're needing. The Dynamics 365 Customer Engagement apps are amazing, but always ensure that you do a proper gap/fit analysis, as well as a proof of concept. It's saved me numerous times, as people have assumed that there are various technological capabilities, which weren't actually there.
Also, though it's possible to do a lot with tools such as Power Automate, sometimes it is actually best to use custom code or a plugin, as it can be both more performant as well as take much less time to implement. Developers are a key part of projects - don't ignore or neglect them, but use them in the right places!
Question 4: What is the potential for Microsoft Partners in the UK?
The Microsoft Partner space in the UK is currently extremely interesting. There have been multiple acquisitions by some of the larger partners of smaller partners, and seeing how it's all bedding down is interesting to view. I think that there is great potential for some new smaller partners to really pivot and come to market with very agile offerings, being able to deliver quickly yet effectively.
This doesn't need to be specifically for implementations - Proximo 3 is a great example of a small but lean partner focusing on digital transformation and strategic growth, based on their decades of implementation experience.
Question 5: A piece of advice that you'd like to share with our readers
Apart from trying to keep up with the technology, which can be an uphill battle at times given how much there is actually there, as an organization I feel that you should be focusing on your people and skilling them up. Microsoft certifications are obviously important to partners to help them achieve and retain status, but it also shows the expertise of people within that specific subject matter.
Furthermore, I feel that organizations should also look further afield in terms of gaining skills, such as PROSCII for understanding process implementation and change, as well as 'soft skills in being able to deliver properly. People can be very technologically capable, but understanding how to interact & understand customers is often the more critical and important part of delivering a project!
Get to Know Our Influencer
What is the best event that you attended recently? What were your key takeaways?
I've attended many virtual events over the last year, and am slowly getting back into in-person events. I'd say that the best 'recent' event was the South Coast Summit in the UK in late 2021. It was the first in-person Microsoft event in the UK in almost 2 years, and being able to actually see and interact in-person with people was just amazing. Having said that, not everyone can travel to events, so organizers should try to offer hybrid capabilities if possible.
What's your success mantra?
Don't be afraid to fail; rather fail, but fail fast and learn from it to be successful. Also, if you're wanting to move forward, put yourself into situations that you wouldn't normally put yourself forward for. Yes, they can be uncomfortable, but they have immense learning potential.