Microsoft Dynamics Influencer Insights
Cloud Manager and Author, Elkhan Yusubov's take on Cloud Security and Governance
Partner synergy is unquestionably essential for success in the Microsoft Partner Ecosystem. The DynamicsSmartz Partner Program enables Microsoft Partners to work together on joint go-to-market strategies to shorten time to market, boost sales, and increase revenue.
With the rising push for digital, our primary goal at DynamicsSmartz has been to associate with the right businesses across industry verticals and encourage partner enablement.
In our segment, Influencer Insights, we invite top industry experts to discuss emerging tech trends, P2P relationships, and Microsoft Business Solutions. In today's chapter, we will speak with Elkhan Yusubov about Cloud computing and Dynamics 365.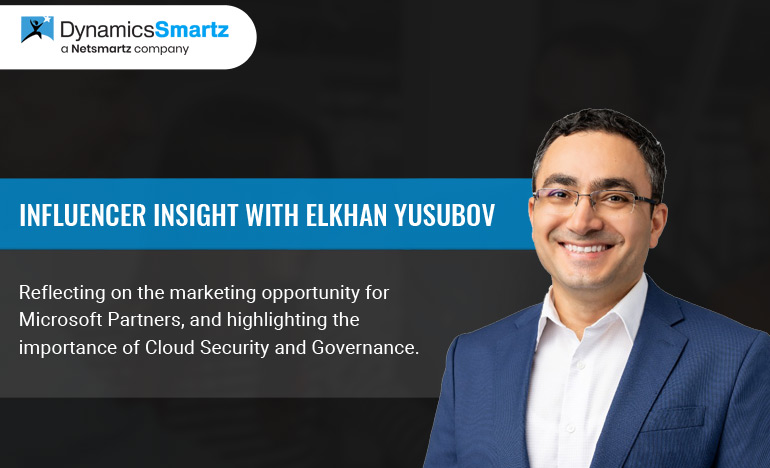 Who did we interview?
Elkhan Yusubov is a senior manager, author, and influencer. Elkhan has led multiple cloud engineering and architect groups. He comes with years of experience in teaching and building teams to provide mission-critical, value-driven, multi-cloud solutions to customers. He has also been a leading member of the T-Rex Center of Excellence (COE), whose mission is to advance multi-cloud strategy, identity, document, develop and communicate capabilities to meet customer challenges.
Let Us Quickly Get To Our Expert's Point Of View.
Question 1- What according to you are some of the top Microsoft technology trends to watch out for in 2022?
The trends in Containerization and App Modernization areas are fascinating. It is an evolving area of cloud computing at a rapid speed while leading cloud solution providers (CSPs) continue their investments to meet evolving business needs.
Moreover, I think those CSPs who simplify the app containerization process and provide the best developer experience will be at the top of this innovation race in the next few years.
Question 2: What are some opportunities you would be looking at this year?
In addition to the App Modernization areas, I am looking to see further improvements in DevSecOps. Industry-leading organizations like Microsoft emphasize the security of application development and deployment processes that follow DevSecOps practices.
In other words, baking safety into the build pipeline via different ways, such as image scanning, static code analysis, code vulnerability detection, and other practices applicable to your case, will significantly improve the security posture of your current and future product releases.
Thus, I am looking into new ways to evolve this mindset across all the organizations I am honored to work with.
Question 3: What are your views on Cloud Security/Governance?
The organizations that started their cloud migration journey a few years ago know that cloud security and governance are essential to enterprise customers. There is a gradual shift in how our enterprise customers evolve cloud resources' governance and security management across hybrid and multi-cloud environments.
The existing Microsoft services such as Azure Arc, Microsoft Defender, and Purview are essential in fulfilling this mission by addressing governance requirements across different solutions. For example, a Microsoft Purview provides a unified data governance solution that helps manage and govern your on-premises, multi-cloud, and software as a service (SaaS) data.
In addition, I look forward to further improvements in Azure Arc, as this essential service simplifies governance and management by delivering a consistent multi-cloud and on-premises management platform.
Question 4: What is the potential for Microsoft Partners in the USA?
Microsoft has a broad network of partners and is looking into ways to empower them. The Microsoft partners' success is also a crucial metric of Microsoft's global success. They consistently evolve this program as partners seek innovative ways to team up and deliver mission-critical solutions to the customers. Thus, I expect further growth in this program that amplifies the importance of the partners and the community.
Question 5: A piece of advice that you'd like to share with our readers?
There has been a significant shift in how to reach people in the last two years due to the COVID-19 pandemic. One thing that works well for me is the continuous learning and sharing of cloud technologies with the community. The constant learning mindset with an openness to experiment, network, and challenge the norms will always help you and your organization to drive innovation and win new business.
Get to Know Our Influencer
What is the best event that you attended recently? What were your key takeaways?
I have not had a chance to attend any live events yet this year, but I have participated in many virtual events. And the Microsoft MVP Summit was one such event that was full of new announcements and a fantastic opportunity to network and learn from leading community experts. My key takeaway was to connect and collaborate with professionals and help to build a stronger community.
What's your success mantra?
I try to follow two basic mantras that work well for me.
The first one is to be kind, as every person is most likely going through some hardship, and by providing compassion and positive energy/vibes, you will create a welcoming environment to overcome challenges.
The second one is: never stop learning, as it will keep you competitive and in the loop.