Microsoft Dynamics Influencer Insights
Q&A with International Executive Board Member at IAMCP: Elena Baeva
Partner synergy is critical for success in the Microsoft Partner Ecosystem. As a Microsoft Gold Partner, working more closely with other Microsoft Partners allows us to observe and learn how they function.
The DynamicsSmartz Partner Program is designed to assist Microsoft Partners in collaborating on joint go-to-market initiatives in order to shorten time to market, increase sales, and grow revenue.
P2P( partner-to-partner) empowers you to expand reach and drive scale through your partnerships. In today's chapter on Influencer insights, we will speak with Elena Baeva, Founder and CTO 365 Talent Portal and Diversity & Inclusion Lead at IAMCP.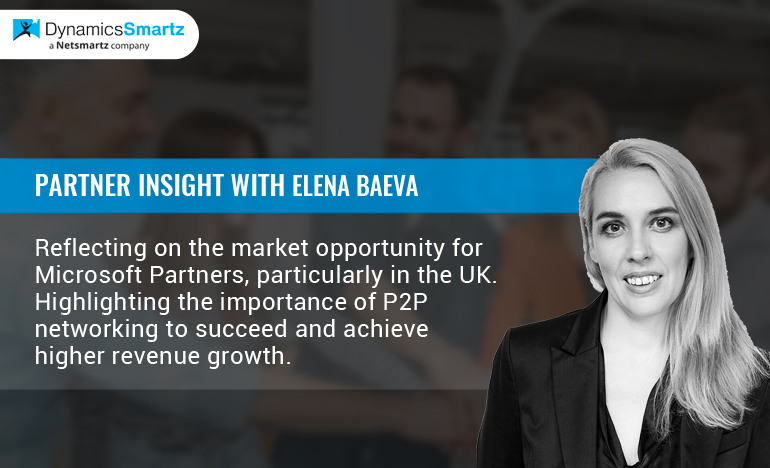 Who did we interview?
Elena Baeva is the International Executive Board Member and Diversity & Inclusion Lead at IAMCP. She is an experienced founder with a track record of success in the Microsoft Dynamics 365 technology staffing, recruitment, and training industry. She is passionate about areas such as Business processes, Sales, Partner Relationship Management, Customer Relationship Management (CRM), Enterprise Relationship Management (ERP), and Go-to-Market Strategy.
Let Us Quickly Get To Our Expert's Point Of View.
Question 1- How big is the market opportunity for Microsoft Partners?
In the Microsoft channel, partners have enormous opportunities. There is enough room for everyone, not just large corporates, but also small and mid-sized businesses. It's all about differentiation and finding your niche.
Question 2: What are the partner benefits of pursuing Digital Transformation?
In today's day and age, Digital transformation has become a business imperative. You are expected to embrace Digital Transformation as a Microsoft Partner in order to bring value to your customer base. If you don't, you will not succeed.
Question 3: How do you benefit from partner-to-partner relationships?
Cultivating strong partner-to-partner relationships is key in the Microsoft channel. Since you can't be exceptional in all areas and solutions that your customer needs, partnering is the only way you can do that. However, simply building relationships isn't enough; it's about a win-win systematic approach and making sure that both parties invest in it.
Question 4: What are your thoughts on the DynamicsSmartz Partner Program? How important is it for you to foster partner-to-partner relationships?
We actively participate in the IAMCP community, where we have a P2P program, tools, and events to foster partner-to-partner relationships.
Question 5: What are your views on Microsoft Partner opportunities in the United Kingdom?
The UK market is a fantastic opportunity for partners, but it requires commitment in terms of resources and skills. Microsoft released their Blueprint for UK Competitiveness, which includes advice for partners on how to seize the opportunity and succeed.
They estimate that Microsoft partners can contribute £6.74 billion to the UK economy this year. I strongly advise any UK partners to read it because it reiterates how partners that collaborate perform better and achieve higher revenue growth.
Question 6: A piece of advice that you'd like to share with our readers?
Be innovative, creative, and leverage the power of P2P networking to succeed.
More Details
Elena Baeva is the D&I Lead, playing a fundamental role in bringing Diversity and Inclusion to the center stage in the Microsoft Partner Community. She is genuinely passionate about the Microsoft platform, Partner Community, services, and ecosystem.