Microsoft Dynamics Influencer Insights
Microsoft Power Platform Evangelist and MCT Einar Lárusson's take on Dynamics 365 and Power Platform
There's no denying that building partnerships is critical to business growth. Because of the size of the Microsoft product ecosystem and the speed of innovation, businesses must specialize in order to provide the highest quality of services. The DynamicsSmartz Partner Program enables partners to share their expertise in specific Microsoft product areas with other partners to help each other develop the best possible customer experience and services.
Our primary aim at DynamicsSmartz has been to partner with the right companies, collaborate with industry experts, and advance partner enablement.
In our segment Influencer Insights, we invite leading industry experts to talk about new technological trends, P2P relationships, and Microsoft Business Solutions. In today's chapter, we will speak with Einar Lárusson on how to leverage the true potential of the Power Platform.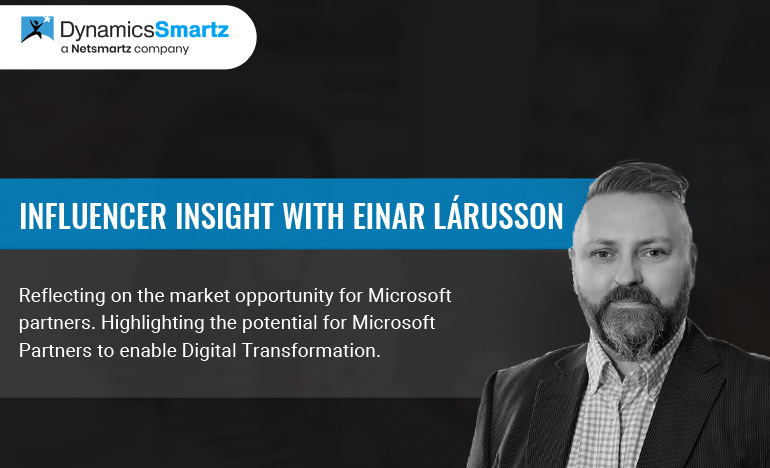 Who did we interview?
Einar Lárusson is a D365 & Power Platform Lead and Microsoft Power Platform Evangelist. He is a Speaker, MCT, and Founder of the Power Platform Iceland User Group. Einar has served as the Product Manager for ISV Development and Lead Developer for a variety of client projects. His primary areas of interest since 2016 have been technical architecture, development, and team management.
Let Us Quickly Get To Our Expert's Point Of View.
Question 1: What according to you are some of the top Microsoft technology trends to watch out for in 2022?
I would say the increased collaboration between various Microsoft products through their platforms. For example how the Power Platform is growing each month as new capabilities are made available. Microsoft launched new features in April 2022 that make working with Power BI and other Power Platform objects much easier for makers. Now the Power BI .pbx files are becoming "solution aware", we can now deploy them with all the other solution components. Additional feature includes the ability to embed various components amongst them. To summarise, the Power Platform is evolving into the go-to solution for enhancing virtually every other Microsoft product and/or suite of products.
Question 2: What are some opportunities you would be looking at this year?
Get involved with the Power Platform and Dynamics 365, if you only work with one, you need to learn more about the other. Those who have been working with Dynamics 365 for years now and haven't gotten up to speed on the Power Platform need to do so right away. It has never been easier to get connected with others in the Power Platform community and to find good training material, both official training material from Microsoft as well as all the community-created content available on social media.
Get involved with your local community and if one does not exist in your country/area then start one. That's what I did when I moved back home to Iceland from England in 2021; one of the first things I did was to start a Power Platform user group in Iceland. If you grab these opportunities now then you can grab one of the thousands of job openings with Dynamics 365 and the Power Platform.
Question 3: Would you like to share some tips on Dynamics 365 implementation/migration?
- Don't skip the analysis and design phases. No matter the nature of the implementation/migration the analysis and design phases are the critical ones and during these phases, you have the opportunity to spot potential risks, pitfalls, challenges, and more. You can't go in blind, you need to get as good intel as possible from your client.
- Take your time and don't overpromise on deliveries. Work closely with your client and keep them involved in all stages of the project and inform them why it is better to use the time to deliver top-notch quality rather than finishing as many user stories as possible. You should end up with fewer days spent on the project, but even if you would use some more time than estimated the time spent on the project should be focused on building. No one wants to spend weeks or months shutting down fires all over the system just because you wanted to deliver something two or three months earlier. It is all a matter of setting you and your team up for success and not failure.
Question 4: What is the potential for Microsoft Partners in Iceland?
The domestic market and partner network in Iceland is very mature. Iceland has historically been at the forefront in using the legacy ERP and CRM systems. There is a lot of shared history with Iceland and Denmark on Concord XAL, Damgard Axapta, Navision, Microsoft CRM 1.0, etc. There are many outdated systems in use in Iceland that need to be upgraded and in many cases reimplemented.
I work with many partners in Iceland and the dialog with the clients is on the cost of the past implementations where tons of time was spent on customizing the standard system to cater to special needs. But the standard systems today cover almost all if not all of these special needs and cases, but no the clients/companies need to adapt to the standard system processes.
Question 5: A piece of advice that you'd like to share with our readers?
Get involved with your local community and/or user groups, connect with others on LinkedIn, join groups on LinkedIn, and follow the people from Microsoft that are responsible for Dynamics and the Power Platform in your region.
Get to Know Our Influencer
What is the best event that you attended recently? What were your key takeaways?
My favorite event was the last in-person event in January 2020 when I attended Microsoft Ignite in London. I tried to spend as much time meeting others from the Dynamics 365 and the Power Platform community in addition to attending sessions. I've met a lot of wonderful folks, and we keep in touch and follow one other in social circles. All that matters is the people.
What's your success mantra?
Be honest
Be humble
Never stop learning.