Microsoft Dynamics Influencer Insights
Discussing Microsoft Power Platform with Power Platform Specialist, Ee Lane Yu
The digital age has made us incredibly reliant on data - and the amount of data that companies create is only increasing. Despite the inevitable nature of all this data, the value it provides companies will be intangible unless they can gain insights from it.
This is what makes the Power Platform so exciting. Power Platform enables data democratization - ensuring that digital information is accessible to the typical end user (non-technical).
We spoke with Microsoft MVP and Power Platform Specialist Ee Lane Yu to gain further insight into the potential of Power Platform and to learn about the latest technology trends. In our section Influencer Insights, we feature top industry experts to talk about P2P relationships, Microsoft Business Solutions, and cutting-edge technological advancements.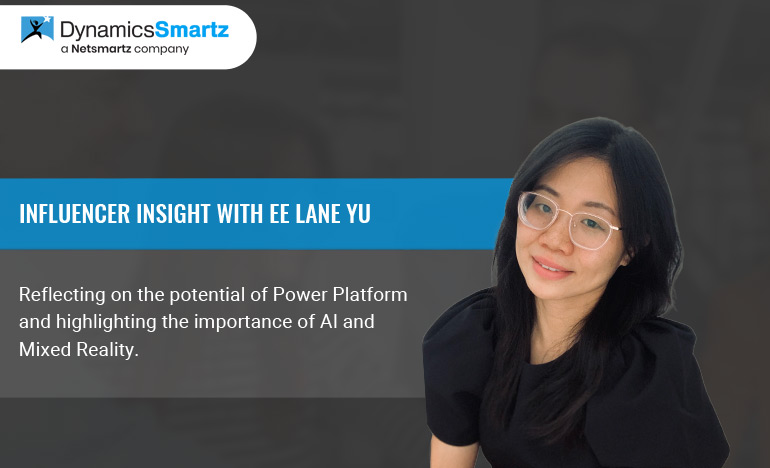 Who did we interview?
Ee Lane Yu is a Microsoft MVP, Power Platform Specialist, and Power Apps Evangelist. Her expertise lies in the Microsoft stack, primarily the Power Platform, for helping customers with digital transformation. Her primary focus is Power Apps, Power Virtual Agent, and CE.
Let Us Quickly Get To Our Expert's Point Of View.
Question 1- What according to you are some of the top Microsoft technology trends to watch out for in 2022?
Artificial Intelligence and Mixed Reality. Throughout this year, we will see more and more AI technology incorporated in Microsoft products, including Azure Cognitive Services, AI Builder, etc., as well as AI tools and solutions for developers to incorporate AI into their applications.
I am also excited that there's a lot of development in the Mixed Reality and Hololens area. In my opinion, Mixed Reality could disrupt the workplace and benefit a wide range of industries in the future.
Question 2: What are some opportunities you would be looking at this year?
major concern of every nation this year is climate change. Various states in Australia are facing floods due to the massive amounts of rain from La Nina. Increasingly, organizations recognize the value of investing in application tools that can collect data to track and develop ways to reduce their carbon footprints. The Microsoft Cloud for Sustainability is an example of a Microsoft offering to assist organizations in their sustainability journey.
Power Platform adoption is another area I am looking into. Governance is the key to the adoption of the platform. Microsoft constantly releases new tools i.e Center of Excellence toolkit, Power Platform Admin Analytics, Microsoft Purview, etc to make Power Platform governance easy and effective for everyone. There are many organizations that require assistance on how to leverage these tools to help them achieve their strategic goals.
Question 3: Would you like to share some tips on Dynamics 365 implementation/migration?
The first tip is to ensure that the chosen Dynamics 365 application is the best fit for the organization in terms of business needs, scalability, and ROI.
The second tip is to prioritize leveraging Out-of-The-Box (OOTB) functionality over customization during development.
The last tip is to have an effective change management process to ensure that the transition from the current to the new system is smooth with minimal disruption.
Question 4: What is the potential for Microsoft Partners in Australia?
There are a lot of opportunities here for partners. Many companies are in the midst of cloud adoption and digitization. My opinion is that Microsoft Partners need to specialize in a specific area to differentiate themselves from others, such as industry focus or product focus, as well as move away from being system implementers and have a more consultative approach.
Question 5: How can we leverage Microsoft 365 and Power Apps for improved collaboration?
Microsoft Teams is definitely the go-to collaboration tool. Microsoft Teams is now tightly integrated with other Microsoft tools, Microsoft Dynamics 365, Power Platform, and other 3rd party productivity software i.e Miro, Jira, etc. Microsoft is also constantly rolling out improvements to enhance users' experience.
Get to Know Our Influencer
What is the best event that you attended recently? What were your key takeaways?
I have minimized my participation in virtual events and social media since the pandemic lockdown in order to focus on my mental health and self-development. However, I am looking forward to Microsoft Ignite which would be happening in October 2022. I think there will be lots of exciting announcements and demos to look out for.
What were your key takeaways? What's your success mantra?
It is okay to fail and we should not be afraid to fail. If I want to try something new, I would rather do it and fail rather than not knowing and always wondering about the outcome if I would have pursued it.