Microsoft Dynamics Influencer Insights
Microsoft MVP & CISSSP, Dwayne Natwick's take on Cloud Security and Governance
Due to the many benefits of the cloud, businesses are continuing to embrace cloud technology platforms at an accelerated rate. By 2023, it is anticipated that the public cloud service industry would be worth $623.3 billion globally. The maturity of cloud security varies despite significant cloud transitions.
Organizations can operate in the cloud with new levels of agility, efficiency, and cost savings thanks to cloud security governance. It helps protect resource privacy, makes data compliance easier, and avoids budget overruns.
In our segment Influencer Insights, we invite top industry experts to talk about new technological trends, P2P relationships, and Microsoft Business Solutions. In today's chapter, we will speak with Dwayne Natwick about Cloud Security and Governance.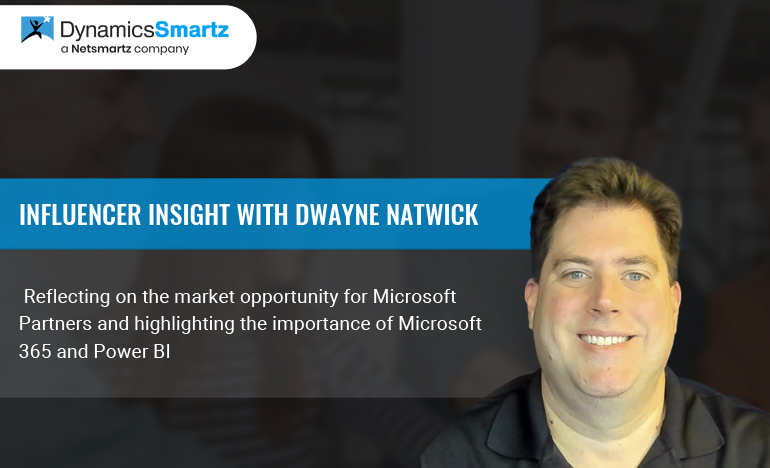 Who did we interview?
Dwayne Natwick is a Microsoft MVP and Certified Informations Systems Security Professional. As Atos' Principal Cloud Security Tech Lead, he is involved in training and content development, as well as product and service strategy. He is an accomplished leader with a track record of successfully managing the full lifecycle of IT products and services, including sales and marketing.
Let Us Quickly Get To Our Expert's Point Of View.
Question 1- What according to you are some of the top Microsoft technology trends to watch out for in 2022?
I have been keeping up with the continued expansion of 5G around the world. The IoT edge and subsequent intake of more and more raw data grows as more and more devices are connected to 5G. Microsoft has positioned itself with IoT solutions and is prepared to handle this data and transfer it to data pipeline solutions like Azure Synapse Analytics. This data can then be passed to Power BI for useful dashboards and visualizations. Additionally, it becomes crucial to be able to secure and manage this data, and Microsoft has security solutions in the form of Defender and governance tools with Purview for all of the data being ingested.
Question 2: What are some opportunities you would be looking at this year?
Over the past six months, I have been working on portfolio budgeting. A substantial amount of that budget was marked for data analytics, artificial intelligence, machine learning, IoT, DevSecOps, and managed security. These are continued growth areas as more companies adopt cloud services such as Azure and Microsoft 365.
Question 3: What are your views on Cloud Security and Governance?
Besides people, data is a company's most important asset. A significant amount of that data is personally identifiable information (PII) of employees and customers. Securing and governing that information is extremely important. Microsoft has positioned itself with a full set of solutions for extended detection and response and security operations with Defender solutions and Microsoft Sentinel. Microsoft Purview provides full governance for Microsoft 365, Azure, and multi-cloud.
I mention in many of my talks that if you have not done a security risk analysis since starting to use Microsoft 365, you should perform one now and discover security solutions offered as part of Microsoft 365 Enterprise licensing that have a substantially lower total cost of ownership.
Question 4: Would you like to share some tips on Microsoft 365 implementation?
The most crucial piece of advice I can give is in relation to the earlier query. When choosing your licences, don't cut corners. Fully assess the scope of security and governance capabilities included in Microsoft 365 Enterprise licences, as well as the potential for these solutions to replace current third-party expenses. The increased capabilities might also improve the overall company's security and governance.
Question 5: What is the potential for Microsoft Partners in the USA?
Microsoft is still one of the best cloud providers to work with as a partner. They have developed their partner network and rely on it more than any of the other hyperscalers, though AWS has gotten a lot better in recent years.The Microsoft Partner Program is undoubtedly one of Microsoft's strengths, and the community is the best.
Question 6: A piece of advice that you'd like to share with our readers?
Make sure you are doing your research before adopting or expanding your use of cloud services. Each cloud provider has strengths and you really cannot go wrong in whichever direction you choose. The advantages of continuing to use the Azure cloud if you are using Microsoft 365 are substantially greater.
Get to Know Our Influencer
What is the best event that you attended recently? What were your key takeaways?
I have not had an opportunity to go to any in-person events but have attended and participated in many virtual events over the past couple of years. Most recently, I was part of the virtual studio office for a Power Platform session at Microsoft Build that was very interesting. The community around all of these events is always welcoming and helpful.
What's your success mantra?
I have a few mantras that I try to live by and feel contribute to my success. The first is to be yourself. Being genuine and kind always comes through and people will gravitate to you. The second is always be learning. Continue to learn and better yourself, and success will follow.