Microsoft Dynamics Influencer Insights
Discussing Digital Transformation and Power BI with International Keynote Speaker, Dr. Joe Perez
The workplace of today is significantly different from the workplace of the last decade. Due to the rapid growth of technology and a change in social norms, organizations are scrambling to find solutions that will enable them to cooperate more effectively, maintain their competitive edge, and move quickly to meet the requirements of both customers and employees. This has given rise to the digital workplace.
Companies now have a better and more streamlined foundation for workplace collaboration, and Microsoft continues to expand product capabilities to address expanding needs of the digital workplace. It's crucial to understand these capabilities and how they interact with one another.
In our segment Influencer Insights, we invite top industry experts to talk about new technological trends, Microsoft Business Solutions, and P2P relationships. In today's chapter, we will speak with International Keynote Speaker Dr. Joe Perez on how to accelerate Digital Transformation and leverage the true potential of Power BI.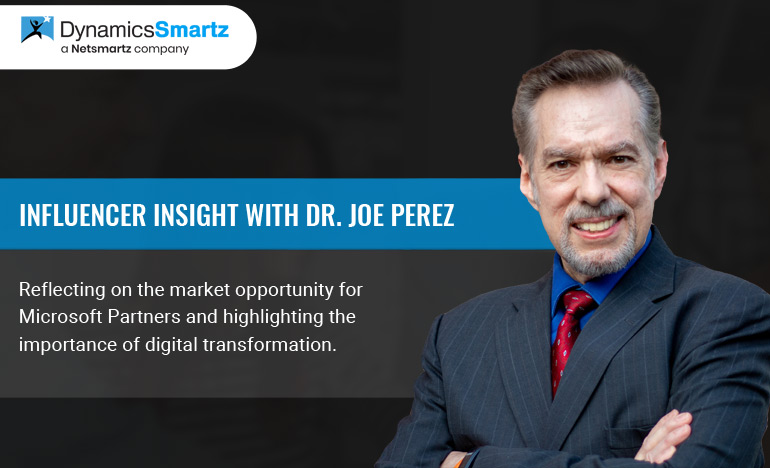 Who did we interview?
Dr. Joe Perez is a Senior Systems Analyst, International Keynote Speaker, and Certified IT Professional. He has a diverse industry background and a strong passion for Microsoft platforms, services, and ecosystems. He has also been awarded 2021 Thought Leader of the Year.
Let Us Quickly Get To Our Expert's Point Of View.
Question 1- What according to you are some of the top Microsoft technology trends to watch out for in 2022?
Technology blogger Archer Charles wrote an interesting article in May 2022 on this very topic, and his research, along with that of a great many individuals whom I admire and respect, seems to express a pretty widely agreed-upon consensus of those trends, ones that I have been advocating myself over the last year or so. Having said that, I believe that a more holistic, dynamic approach is warranted, rather than trying to round out a specific list. For example, in the data management space, one could talk about other specific technologies like Data Mesh, Augmented Analytics, Data Literacy, Data Fabric, Data Lakehouse, and the like (things that seem to have become the latest buzz-words in the industry).
However, what I see as gaining the most interest as far as trends in this realm are concerned (and not necessarily specific to Microsoft) among any of these emerging technologies is anything that acknowledges that the "one size fits all" paradigm needs to shift. And with that comes a mentality to adopt approaches that embrace both functionality and flexibility at the same time. Because truly we have learned during this worldwide pandemic over the last couple of years that one size certainly does NOT fit all. Consider all the pivoting that companies have had to do, both strategically and tactically; both in their ideals and in their practice.
A shift to a more agile mentality that often comes with a shift to a more remote, mobile workforce, makes leveraging your technological stance, infrastructure capacity, and forward-thinking plans into a strategy that's constantly looking for ways to improve. A huge part of that depends upon recognizing the evolution of the tools we use to make all that happen. Several of these, I think, can facilitate that shift, but I'll zero in on just one that catches my eye, and I think is one that should rise before any of the others: Augmented Analytics.
The more insight companies and organizations can gain from the increasingly larger and larger mountains of data they generate, the better off they will be. There is no doubt that augmented analytics will continue to climb in prominence and efficiency as methodologies, programming, subroutines, and other technical details continue to be refined and improved.
To summarize, those technologies that can turn the "one size fits all" mentality on its side will continue to leap to the forefront in my estimation.
Question 2: What are some opportunities you would be looking at this year?
The opportunities with which I've been honored and blessed in the public speaking realm over the last few years have been growing exponentially, leaving me totally speechless. The COVID-19 Pandemic brought in-person events to a screeching halt. Traveling to various locations to enjoy face-to-face contact with hundreds of like-minded aficionados in your field all of a sudden became a thing of the past. It stayed that way for nearly two years for some but continues to the present for others to some extent. However, during that time, as a speaker, I chose to focus on the positive and take advantage of the many virtual conferences that sprang up. I was originally scheduled to speak in 14 in-person events in 2020, but after the start of the pandemic, most events decided to either postpone or convert to virtual. Only three events decided to cancel altogether. I spoke at 26 total events in 2020. The end of 2021 saw the return of in-person events for me, so out of the 42 speaking engagements in 2021, six of them were in-person.
The current year, 2022, is shaping up to be another record year as in-person events now top virtual events in number, with 18 out of my 30 speaking engagements being either in person or hybrid and 13 out of 30 being hosted by a country other than the USA as of this writing.
Crowning all this to my utter amazement and surprise is having been inducted into the prestigious Thought Leader communities at DataManagementU and the Global AI Hub. This came on the heels of winning the Industry Insights Thought Leader of the Year award in December 2021. I am convinced that the best is yet to come for the rest of 2022 and beyond.
Question 3: Would you like to share some tips on Microsoft Power BI implementation?
It is my contention that for any business intelligence implementation to be successful, whether it has anything to do with Microsoft or not, it must achieve balance. But before talking about what works, I want to share what does NOT work. Any mindset in an organization that fails to take the needs of its current employees into account is bound to fail. The human element should always be a consideration, even in the BI world, for people are the ones who not only drive business intelligence, but also design, refine, and implement it as well. The human element in any BI implementation should be viewed as an asset to be invested in rather than a cost to be justified.
With this in mind, I believe the glue that binds everything together for an effective business intelligence implementation is balance. First of all, you need a balance between the strategic and the tactical. It's important to have a good, overall "big-picture" mentality that can paint with broad strokes and look at long-term strategy. Such a mindset helps you formulate long-term goals; that is, ones in which you focus on your destination - where you want to be by the end of this year, for example. That's strategic; the LONG term view.
At the same time, however, that long view needs to be tempered and informed by a way of thinking that focuses on the day-to-day steps you need to take to get there. The daily execution of the long-term plan. That's tactical; that's the mindset that keeps tabs on your incremental progress; the SHORT term view.
The balance comes for your BI implementation when you are able to leverage the strategic with the tactical. That is, long-term goals should be informed by short-term goals, and short-term goals should reinforce the overall direction of the long-term goals.
Lastly, a healthy balance of instinct and logic is necessary for proper decision-making. However, to the extent that you have data available, and that data can be analyzed, collected, aggregated, summarized, and reported on, that's data from which you can draw valuable insight.
Bottom line, the balance comes when you get to the place where logic (the data) informs your instinct, and your instinct enhances the logic (the data). Only then can true, effective data-driven decision-making take place.
These factors, when taken into consideration, used to their fullest potential, and kept in their proper balance, should prove useful in developing an effective business intelligence implementation.
Question 4: A piece of advice that you'd like to share with our readers?
If you want to be successful and enjoy life, especially if you're big into the world of "all things data" like I am, I would recommend you stick to what I'd like to think of as the three L's of success and fulfillment: LEARNING, LOVING, and LIVING. Here's what I mean by each of these.
First of all, LEARNING. The only way you'll be able to deliver business value is if you know your data; learn what you're doing with it. Especially if you're looking at a large number of reports and you're trying to tease out some sort of meaningful pattern to drive your decision-making. If you see some anomaly in that pattern that doesn't quite look right or doesn't fit what you're expecting, you should question it. Dig deeper; look at the underlying data.
Secondly, LOVING. People need to LOVE what they're doing. Steve Jobs once said, "The only way to do great work is to love what you do." I'm a firm believer in this, along with the adage that a job worth doing is worth doing right, and if it's something you care about, you'll do it even better.
Last of all, LIVING. Does the work you do add practical value to life? Does it help people to make a decision, answer a question, or solve a problem? How do you add value? What practical, actionable benefit is there from relying upon the data you are producing and/or the way it's fulfilling the mission, vision, and goals of your organization? This is where the rubber meets the road, so to speak. This is where you can tell the difference between fact and fiction; between form and function; between something that may or may not enhance the bottom line and something that will make your team better off in the long run. To keep yourself a step ahead and a cut above the rest of the crowd, rising above mediocrity, I think it's important to view it with this mindset and LIVE it.
Get to Know Our Influencer
What is the best event that you attended recently? What were your key takeaways?
The best event I attended recently was the CodeStock conference in Knoxville, TN this past April. I was the keynote speaker for that two-day event and it was absolutely the best-run event I have ever attended. I was completely blown away by the smooth efficiency with which every aspect of that conference was executed.
What's your success mantra?
Seek to do better today than I did yesterday and do even better than that tomorrow. Look at each day as another opportunity not to one-up the other person, but to one-up myself. Jot down specific ideas, steps, goals, and actions that I can take to help me get there. Make sure they are SMART goals and whatever you do, keep moving forward, and keep looking up!