Microsoft Dynamics Influencer Insights
Head of Microsoft Alliance, Bradley Orluk's take on Partner Program
Partner synergy is critical for success in the Microsoft Partner Ecosystem. As a Microsoft Gold Partner, working more closely with other Microsoft Partners allows us to observe and learn how they function.
The DynamicsSmartz Partner Program is designed to assist Microsoft Partners in collaborating on joint go-to-market initiatives in order to shorten time to market, increase sales, and grow revenue.
P2P( partner-to-partner) relationships empower you to expand reach and drive scale through your partnerships. In today's chapter on Influencer insights, we will speak with Microsoft Alliance Director, Bradley Orluk.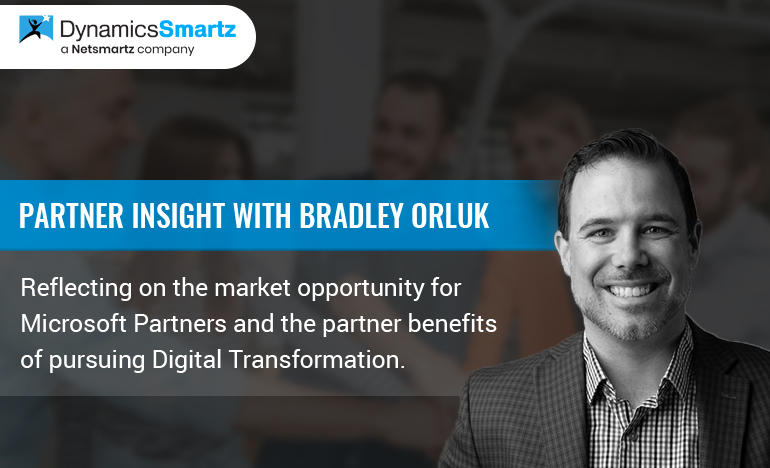 Who did we interview?
Bradley is a Technical Evangelist and the Head of Microsoft Alliance at OwnBackup. He is a channel partner and technology champion with extensive experience in selling, solution architecture, and partner channel sell-with/sell-through in corporate and government industries at the enterprise level.
Let Us Quickly Get To Our Expert's Point Of View.
Question 1- How big is the market opportunity for Microsoft Partners?
To put it clearly, Microsoft Partners have a massive market opportunity worth billions. While Microsoft's BizApps solutions presently account for a lesser share of their cloud revenue, due to their focus and investment in the market and technology, they provide a higher possibility for both Microsoft and Partners in terms of growth percentage than other areas. This reasoning is supported by the fact that both the CRM and ERP sides of Dynamics 365 have grown in market share in recent years, as well as how the Power Platform and data platform (Dataverse) have been woven into the fabric of Microsoft's Office 365 collaboration and productivity story, which includes Teams, SharePoint Online, and Graph.
Question 2: What are the partner benefits of pursuing Digital Transformation?
The partner benefits of pursuing Digital Transformation are myriad. Many partners are seeking new ways to engage prospects and convert them into customers. To be honest, there is no better way to accomplish this than by employing cutting-edge technologies and tools in both the front and back offices.
If your business is not driving transformation internally then the market is going to pass you by. Competitors, that do embrace transformative initiatives will be better equipped to deal with unforeseen challenges (like COVID-19) and the resulting disruptions. Moreover, they will be able to turn those challenges into competitive advantages and leave their contemporaries in the proverbial dust.
Question 3: How do you benefit from partner-to-partner relationships?
In my experience, the net benefit of a strong Partner to Partner (P2P) relationship is a shorter time to value for joint customers and more wins for partners. And, it is critical to success in the Microsoft Partner Ecosystem. This is because consultants and system integration (SI) providers have built strong partnerships with customers and often act as their "trusted advisors". For example, for an independent software vendor (ISV) to be incorporated into a larger Digital Transformation initiative, they will be more successful in telling a meaningful, customer success story if they are doing it together with an incumbent partner in the account. However, it's worth noting that P2P is hard work.
Question 4: What are your thoughts on the DynamicsSmartz Partner Program? How important is it for you to foster partner-to-partner relationships?
The DynamicsSmartz Partner Program follows the standard 1+1=3 formula for success. The DynamicsSmartz team understands that collaborating with partners reduces friction for customers, resulting in increased value. Furthermore, they help their partners scale in a way, that they would not be able to do if they were "going it alone" in the market.
Question 5: What are your views on Microsoft Partner opportunities in the US?
Microsoft's US partner team is a class act, and Lani Phillips's leadership has materially improved not only the number of opportunities for partnership but also the quality. While there are still challenges for partners to get the time and attention of the MSUS team, it has become so much easier to partner effectively and Microsoft's investments (including the reduction of marketplace fees for partners) are proof that Microsoft's leadership (all the way up to Satya Nadella himself) believes that partnership is critical to sustained growth and customer success.
Question 5: A piece of advice that you'd like to share with our readers?
Partner to Partner is a complex partnership motion that should be added to an existing partnership/ channel motion, not implemented before it. P2P partnerships, especially in the technology space, are hard work.
If you are not successful at first or if you're not seeing the results that you want, take a deep breath, and remember, partnerships are hard work! I can say with certainty that building and maintaining partnerships take time and require a great deal of "elbow grease". But, once you commit to the motion, see it through as it can truly be a force multiplier for both your businesses!
More Details
Bradley has a wide spectrum of industry experience and a strong passion for Microsoft platforms, services, and ecosystems.