Microsoft Dynamics Influencer Insights
Discussing Conversational AI with Microsoft Dynamics Solution Architect, Artur Zielinski
AI is becoming increasingly utilised in our work and daily lives. Machine Learning and artificial intelligence (AI) leverage data to drive better decisions and enhance customer experiences.
For the Dynamics 365 suite, Microsoft has created AI add-ons that transform your data into insights and actions, giving you a unified picture of your customers, products, and people to identify new possibilities and advance your business.
In our segment Influencer Insights, we invite leading industry experts to talk about new technological trends, P2P relationships, and Microsoft Business Solutions. In today's chapter, we will speak with Artur Zielinski about Conversational AI.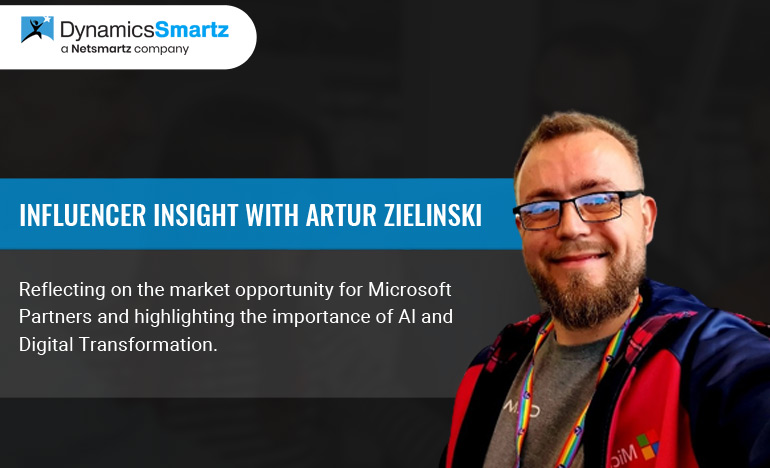 Who did we interview?
Artur Zielinski is a Conversational AI Expert and experienced D365 Solutions Architect. He loves conversational design, chatbots, AI, NLP, and voice first. He has a diverse industry background and a strong passion for Microsoft platforms, services, and ecosystems.
Let Us Quickly Get To Our Expert's Point Of View.
Question 1- What according to you are some of the top Microsoft technology trends to watch out for in 2022?
The continued investment in Teams as a "glue" holding various LoB systems (D365, F&O, Power Platform, Exchange). The roadmap for all D365 products clearly highlights continued investment in AI and productivity analytics for users/employees. Microsoft is making great strides in speech recognition and other AI variants. Cortana is big news and continues to evolve, adoption will pick up as organisations start to realise the value.
Question 2: What are some opportunities you would be looking at this year?
Chatbots, especially 4th generation NLU virtual assistants. It is a great way to accelerate customer engagement processes without heavy investment in web/app development.
Question 3: Would you like to share some tips on Dynamics 365 implementation/migration?
Start small, work with a consultant/partner that understands your needs, and do not get bogged down by a "fixed-price" attitude. Trust in the Microsoft stack, and resist the temptation to build yourself. Make sure you read and understand the roadmap - it's a great tool to inspire thinking about potential solutions.
Question 4: What is the potential for Microsoft Partners in the UK?
Absolutely huge, the demand has never been greater. But skills, basic consultancy skills are at a premium - it's not about collecting technology badges but meaningful project experiences and soft/ business skills.
Question 5: A piece of advice that you'd like to share with our readers?
Go to your community events, it's where the knowledge is at. Grow your network and invest in your team.
Get to Know Our Influencer
What is the best event that you attended recently? What were your key takeaways?
Scottish Summit was an absolutely fantastic experience. I understood much more about Event-Based architecture and Azure Synapse / Stream Analytics.
What's your success mantra?
Never stop learning.