Microsoft Dynamics Influencer Insights
Discussing Dynamics 365 Finance and Operations with Microsoft Business Applications MVP, Adrià Ariste Santacreu
Businesses and IT leaders around the globe are upgrading aging on-premises systems to flexible, scalable, and economical ERP systems. In addition to providing compelling benefits, this will reduce IT costs, enabling these companies to accelerate innovation.
In order to gain a better understanding of how Microsoft's technology is revolutionizing the industry and what the top trends are, we interviewed Adrià Ariste Santacreu.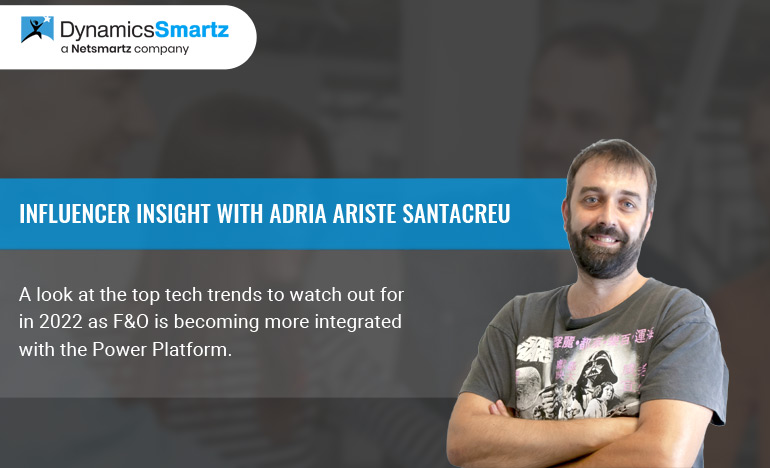 Who did we interview?
With 12 years of experience as a Dynamics 365 F&O Technical Architect and Microsoft Business Applications MVP, Adrià Ariste Santacreu is the go-to person for all Dynamics 365 F&O-related questions.
He has a strong understanding of Application Lifecycle Management (ALM) and automation. He specializes in integration design and implementation as well as ALM. In addition to being an MCT and a speaker at Microsoft-related events, he is a specialist in the field.
Let Us Quickly Get To Our Expert's Point Of View.
Question 1- What according to you are some of the top Microsoft technology trends to watch out for in 2022?
Dynamics 365 Finance and Operations professionals need to keep an eye on the upcoming October release, which corresponds to Release Wave 2 2022. The product team is working on a lot of new features and enhancing existing ones.
And also the One Dynamics One Platform plans! The convergence of F&O with the Power Platform improves the development, administration, and user experiences by removing barriers, tightening integrations, and enhancing cross-platform capabilities.
Question 2: What are some opportunities you would be looking at this year?
As a developer, I'm eagerly waiting for the new developer experience and all the convergence scenarios that will come with it in the next few years.
Question 3: Would you like to share some tips on Dynamics 365 implementation/migration?
Doing a good discovery phase to identify all the requirements, and always try to stick to the standard functionality the most as possible. I know every project wants that and it's sometimes impossible to achieve, but in the long term, it's better to change a bit the processes of the business than try to adapt the ERP to the processes.
Also, having good functional and technical teams, that know how to work together, and also identifying who can be the best key user is something that will make a difference.
Question 4: A piece of advice that you'd like to share with our readers?
Specifically for Dynamics 365 Finance and Operations developers: if you're still stuck with X++ it's time to start learning about two things that will help you a lot: the Power Platform and Azure. Both can help you solve problems without code and enhance your solutions.
Get to Know Our Influencer
What is the best event that you attended recently? What were your key takeaways?
The Bizz Summit, September 2022 in Spain. After three years without an in-person business applications specific event due to the pandemic, it was great being able to meet so many people face-to-face again, see live sessions, and also present in front of real people instead of a screen.
What's your success mantra?
I don't have a mantra, but I think that we should never stop learning. With all the new functionalities that are released each month, and all the possibilities we have in Azure, because Dynamics 365 F&O is a cloud ERP now, we can't forget that everything is changing every day and that we need to be capable of adapting to it, and learning is the way, in my opinion.