Microsoft Dynamics Influencer Insights
Q&A with Microsoft MVP and MCT: Stefano Demiliani
Partner synergy is critical for success in the Microsoft Partner Ecosystem. As a Microsoft Gold Partner, working more closely with other Microsoft Partners allows us to observe and learn how they function.
The DynamicsSmartz Partner Program is designed to assist Microsoft Partners in collaborating on joint go-to-market initiatives in order to shorten time to market, increase sales, and grow revenue.
P2P( partner-to-partner) relationships empower you to expand reach and drive scale through your partnerships. In today's chapter on Influencer insights, we will speak with Microsoft MVP and MCT, Stefano Demiliani.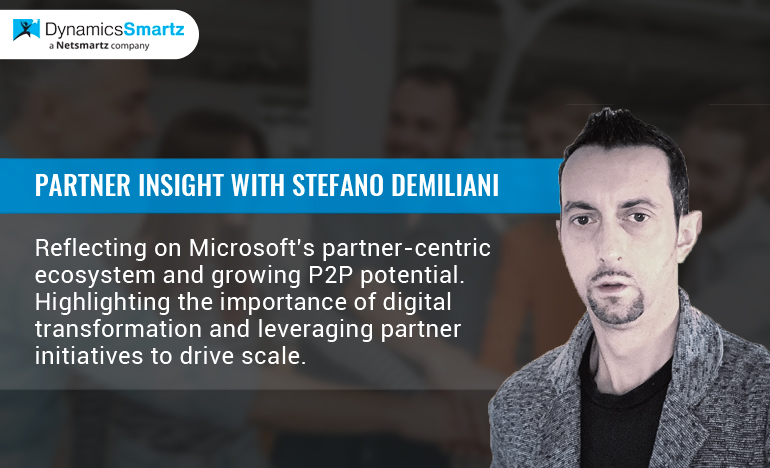 Who did we interview?
Stefano is a Microsoft Certified Trainer and a leading Tech Evangelist (MCT, trainer for Microsoft Italy & Western Europe). He is a Microsoft MVP who focuses on enterprise solution architecture and development using Microsoft Dynamics ERP, Azure cloud services, and the entire Microsoft technology stack.
Let Us Quickly Get To Our Expert's Point Of View.
Question 1- How big is the market opportunity for Microsoft Partners?
We are in the midst of digital transformation and companies should see this transformation as an opportunity. Every sector is looking for ways to embrace digital transformation to empower their employees, better engage with customers, optimize operations and transform their products.
To embrace digital transformation, you need a portfolio of solutions that employ cloud and state-of-the-art technologies and platforms. Microsoft is one of the biggest players in the IT industry (and possibly the top player in the enterprise business world), so establishing a partnership with Microsoft is absolutely a winning choice. The Azure cloud, Dynamics 365, Microsoft 365 open up a world of limitless possibilities and business opportunities.
According to a recent Microsoft statistic, Microsoft partners create $9.58 in revenue for every $1 generated by Microsoft. This number, I believe, is self-explanatory. Working with Microsoft provides you with the ability to sell with Microsoft and other partners around the ecosystem.
Partner-to-partner is a multiplier effect that connects you to the global partner ecosystem. Microsoft has thousands of partners who specialize in various areas of technology and business. By joining this network, you gain access to a much larger customer ecosystem, including markets that you might not be able to reach on your own. The right partnerships can open up a world of possibilities.
Question 2: What are the partner benefits of pursuing Digital Transformation?
Being a digital leader, in my opinion, opens up more opportunities. Embracing digital transformation will undoubtedly present challenges and difficulties in the beginning, but it will ultimately be satisfying and profitable for your company. Gains for partners will be determined by their capacity to evolve and transform their organizations in order to meet their customers' transformation needs.
Question 3: How do you benefit from partner-to-partner relationships?
Partner-to-partner relationships are crucial and can open doors to new opportunities. Having all the necessary talents and resources for enterprise digital transformation in all areas can cost a lot of effort and money.
Microsoft has a big dynamic ecosystem of technical specialists and experts on various business models and technologies and fostering partner-to-partner relationships can help you in overcoming challenges on new projects and speeding up the work. In today's industry, the mantra "together we win" is incredibly crucial.
Question 4: What are your thoughts on the DynamicsSmartz Partner Program? How important is it for you to foster partner-to-partner relationships?
I think that this is an interesting initiative and opportunity to establish more partner-to-partner opportunities and for enhancing technical skills.
The DynamicsSmartz Partner Program is an excellent resource for getting started and expanding a Dynamics 365 business, as well as the most rewarding approach to gain access to gold-level expertise. It covers all of the key components of implementing Dynamics 365.
Question 5: What are your views on Microsoft Partner opportunities in Italy?
Despite the pandemic, digital transformation in Italy is growing, as are the prospects for Microsoft partners. We have a large ecosystem of Microsoft Partners in Italy, but I believe they might accomplish more if they worked together. I don't observe lots of interactions between partners, which is something that could certainly be addressed in the future.
I've personally managed Dynamics 365 ERP technical training on the Italian partner ecosystem for Microsoft Italy for the last three years. I noticed that there are skilling gaps and that there are numerous potential business benefits to building good relationships, but some partners are wary. I believe that a paradigm shift is required.
Question 6: A piece of advice that you'd like to share with our readers?
Microsoft is a strategic key player in the digital transformation revolution. My advice would be to trust Microsoft and its full ecosystem of products like Dynamics 365 and Microsoft 365; become partners, and try to establish strong relationships with other partners.
Digital transformation is often directly linked to cloud adoption. When embracing the cloud, you need the right skills and you need the right architectures and design of solutions. Don't underestimate training, keep up with Microsoft and speak with Microsoft representatives and MVPs. They listen and they can assist you with your projects. Microsoft has a strong community and a robust partner ecosystem.
More Details
Stefano is a speaker and author with extensive industry knowledge, having authored numerous books on Azure and Microsoft Dynamics ERP development.