Microsoft Dynamics Influencer Insights
Engagement Director, James Varn's take on fostering Partner Relationships
There is no denying that Partner synergy is critical for success in the Microsoft Partner Ecosystem. The DynamicsSmartz Partner Program is designed to help Microsoft Partners collaborate on joint go-to-market strategies to reduce time to market, increase sales, and boost revenue.
With the increased push for digital, our key focus at DynamicsSmartz has been to partner with the right companies across industry verticals and promote partner enablement. In today's chapter on Influencer Insights, we will speak with James Varn on how to leverage the true potential of partner initiatives.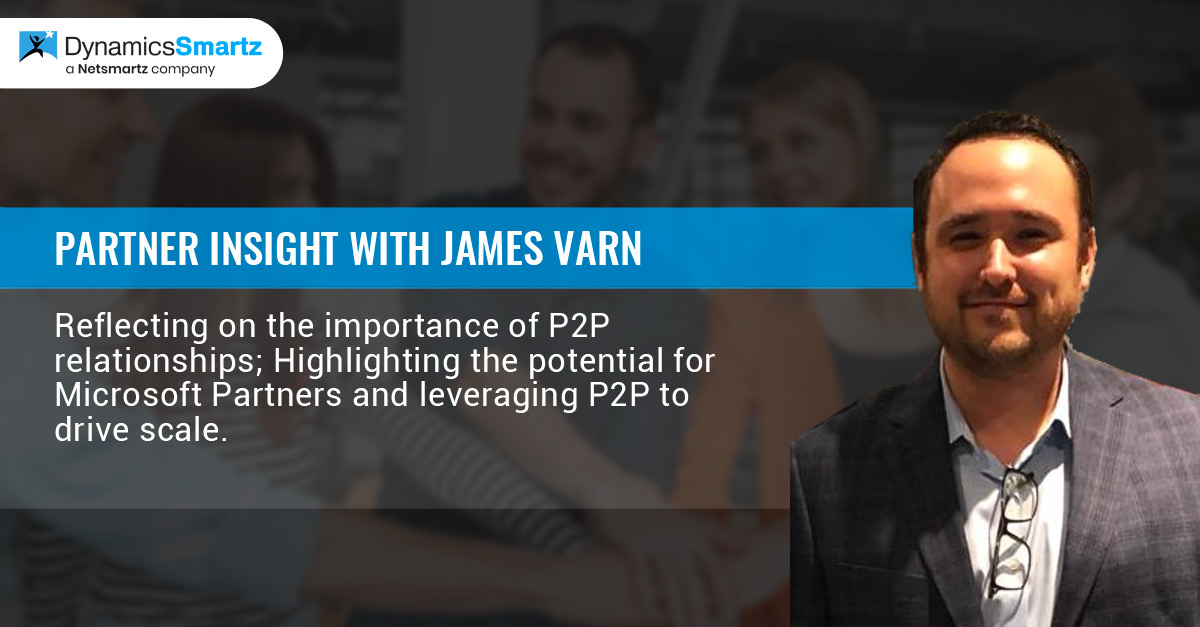 Who did we interview?
James Varn is the Engagement Director at HSO International. He has a proven track record of delivering cutting-edge technology to clients in Europe, the Middle East, Africa, the USA, and Asia-Pacific, and demonstrated success selling in highly competitive areas, focusing on Microsoft Dynamics 365 to solve business problems.
Let Us Quickly Get To Our Expert's Point Of View.
Question 1- How big is the market opportunity for Microsoft Partners?
The potential is enormous. The objective of Microsoft is to enable every person and organization to achieve greater success. There is opportunity in both Enterprise and SMC for technology partners, regardless of their sweet spot.
Question 2: What are the partner benefits of pursuing Digital Transformation?
We've witnessed 20 years of digital transformation in the last 20 months. Partners are crucial in helping customers comprehend digital developments and demonstrating how Microsoft products can help their businesses adapt and prosper in the new world since they already know their customers' missions.
The latest technology benefits both partners and clients, resulting in increased efficiency, reduced redundancies, better communication and collaboration across all business systems, and rapid grow
Question 3: How do you benefit from partner-to-partner relationships?
We benefit from our partner's specific vertical knowledge or solutions, extra set of hands, close relationships with long-term customers, and I am always learning from their individual experiences with the Microsoft toolset. Our clients benefit from the knowledge of our partners, and we gain from the expertise of our partners.
Question 4: What are your thoughts on the DynamicsSmartz Partner Program? How important is it for you to foster partner-to-partner relationships?
It's a fantastic program, and P2P relationships need to be part of the growth mix for every organization. These relationships not only enhance revenue for everyone, but they also make time to value shorter for any project.
P2P relationships allow you to tap into the expertise of teams from other organizations, and partnerships help each other drive scale. The Microsoft ecosystem is a community, and the deeper you can dive into it, the faster you'll be able to learn and contribute value to it while helping your business and your customers thrive.
Question 5: What are your views on Microsoft Partner opportunities in the Netherlands?
There are great tax benefits for organizations who come to the Netherlands to operate. Naturally, many international organizations are already operating or making plans to open offices in the Netherlands.
The Dutch are early adopters of technology and among the world's most sophisticated innovators, creating a significant opportunity to assist organizations in the Netherlands in their transformation. With a large number of exceptionally knowledgeable Dutch MVPs, Microsoft NL also looks after its partners and a thriving Microsoft community. The Netherlands should be at the top of your list if you're new to the community or looking to expand.
Question 6: A piece of advice that you'd like to share with our readers?
Always be on the lookout for opportunities to learn and have a learn-first mindset. The Microsoft ecosystem is a fast-paced, ever-changing environment. However, if you can understand the market and find a place where you fit then the opportunity is massive.
More Details
James has a wide spectrum of industry experience and a strong passion for Microsoft platforms, services, and ecosystems.