Microsoft Dynamics Influencer Insights
Microsoft GTM Director, Christian Buckley's take on building a strong Partner Strategy
There is no denying that Partner synergy is critical for success in the Microsoft Partner Ecosystem. The DynamicsSmartz Partner Program is designed to help Microsoft Partners collaborate on joint go-to-market strategies to reduce time to market, increase sales, and boost revenue.
With the increased push for digital, our key focus at DynamicsSmartz has been to partner with the right companies across industry verticals and promote partner enablement. In today's chapter on Influencer Insights, we will speak with Christian Buckley on how to leverage the true potential of partner initiatives.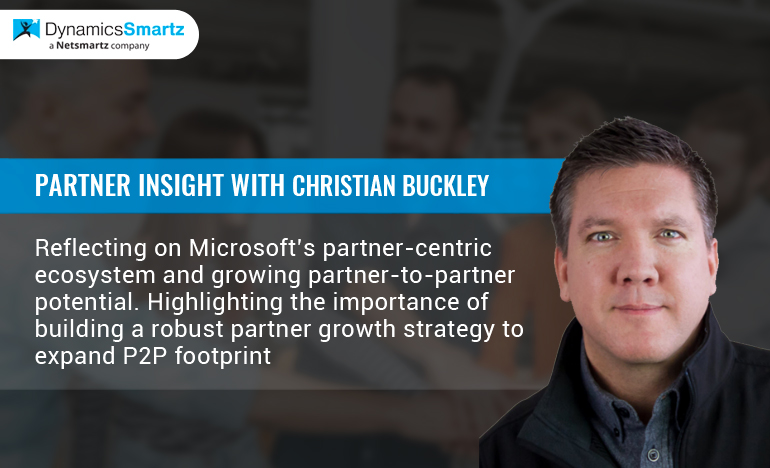 Who did we interview?
Christian Buckley is the Microsoft GTM Director at AvePoint. He is responsible for leading partnership efforts across product engineering, marketing, field team co-sell, and managing strategic Microsoft corporate relationships. He is also a Microsoft Regional Director & MVP and a six-time author with experience in designing and implementing high-growth marketing strategies.
His expertise spans digital marketing technology, enterprise collaboration, and workplace productivity technology.
Let Us Quickly Get To Our Expert's Point Of View
Question 1: How big is the market opportunity for Microsoft Partners?
It's massive. Depending on your areas of expertise as a partner, there are millions of prospective customer organizations, with hundreds of millions of end-users that utilize Microsoft technologies.
Question 2: What are the partner benefits of pursuing Digital Transformation?
Once again, it's such a broad category. What digital transformation means to one firm may not be the same as what it means to another. For many firms, moving to the cloud is the first step in their transformation since it allows them to take advantage of many of the latest solutions and features, as well as the rapid speed of change that can occur once in the cloud. Others prefer a hybrid approach, which allows them to have the best of both worlds by maintaining some on-premises line of business (LOB) applications. Many other organizations have fully embraced the cloud and are now focusing on the automation and optimization of critical business processes.
Within all of these scenarios exist many different partner opportunities, including assisting customers with cloud migration, developing hybrid architectures and solutions, and helping customers harness the power of cutting-edge technology.
Question 3: How do you benefit from partner-to-partner relationships?
The Microsoft Ecosystem has always been partner-centric, with numerous programs and incentives in place to encourage Partner-to-Partner(P2P) collaboration. Our partner strategy is the key to our growth over the next decade. We see the SMC/SMB segments as critical to our long-term growth goal, and we plan to achieve it through the channel. With our recent listing on the NASDAQ and the launch of our new partner program, our primary focus is P2P.
Question 4: What are your thoughts on the DynamicsSmartz Partner Program? How important is it for you to foster partner-to-partner relationships?
Building P2P relationships is the key to growth. P2P has become a necessity in the new digital economy. The DynamicsSmartz Partner Program is versatile and scalable, with many incredible benefits. P2P allows you to create new channels and routes to market, expand your services, reduce time to value for you and your customers, and boost revenue.
Fostering partner relationships is critical and we will continue to expand our P2P footprint with SIs, MSPs, VARs, and others within the ecosystem.
Question 5: What are your views on Microsoft Partner opportunities in the United States?
It's very much the same as our global view on partner opportunities. The United States is our largest region due to its vast technology marketplace, but we are far from seeing any kind of market saturation.
With the rapid pace of innovation coming from Microsoft, as well as the growth and cross-cloud integration with other OEMs and cloud providers, the demand for products and services is outpacing our ability to deliver- which is why we increasingly rely on our P2P relationships.
Question 6: A piece of advice that you'd like to share with our readers?
P2P relationships have a lot of power in my opinion. The International Association of Microsoft Channel Partners (IAMCP) is one place where people can focus right away. As a former chapter president and current member (Utah Chapter), I've worked out partnerships with direct competitors to meet the needs of our shared customers. That is the power of P2P networking.
More Details
Christian is a Technical Evangelist and a Partner Expert with extensive industry knowledge. He is also passionate about leadership development, the advances in productivity automation through AI, decision-support systems, and the science behind social and collaboration platforms.