Microsoft Dynamics Influencer Insights
Iryna Moiseyeva take on P2P initiatives in the new Digital Economy
Partner synergy is critical for success in the Microsoft Partner Ecosystem. Working closely with other Microsoft Partners allows us to observe and learn how they function. The DynamicsSmartz Partner Program is designed to assist Microsoft Partners in collaborating on joint go-to-market initiatives in order to shorten time to market, increase sales, and boost revenue.
P2P enables you to broaden your reach and drive scale through your partnerships. In today's chapter on Influencer Insights, we'll speak with Iryna Moiseyeva about the partner benefits of pursuing digital transformation.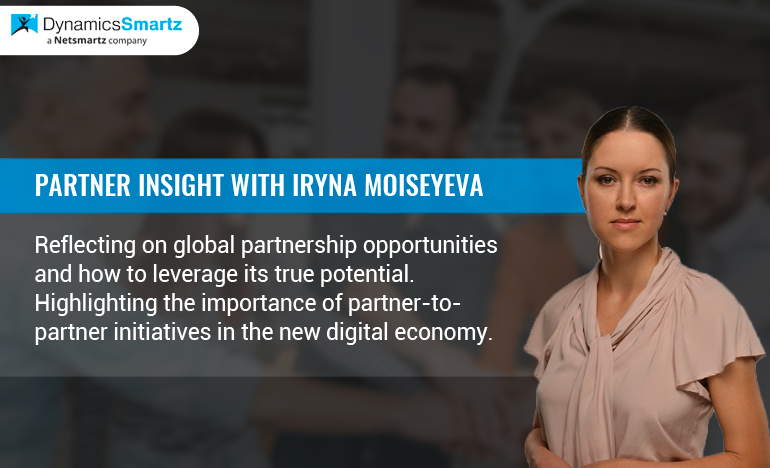 Who did we interview?
Iryna is the CEO of Cloud Services. She is a seasoned professional with over 12 years of experience in retail and consumer goods management at the middle and upper levels. She is a self-driven professional with a broad range of industry experience who is really enthusiastic about Microsoft platforms, services, and ecosystems.
Let Us Quickly Get To Our Expert's Point Of View.
Question 1- How big is the market opportunity for Microsoft Partners?
Because of Microsoft's stature and popularity, partner opportunities on a global scale are enormous, worth billions of dollars. These opportunities can be seized through a variety of programs, including ISV, AMMP, Advanced Specializations, Azure Expert MSP, and so on.
Question 2: What are the partner benefits of pursuing Digital Transformation?
The key benefit is that a partner can get a competitive advantage through digital transformation, allowing the company to avoid price redemption competition when selling Microsoft products. It could be a managed service, a consultancy, or a migration service. At the end of the day, it will result in a higher profit margin and a more solid customer base.
Question 3: How do you benefit from partner-to-partner relationships?
We are always on the lookout for relevant opportunities to partner with other companies. So far we have benefited a lot working with ISV partners- we have been able to help each other diversify service offerings, consult on Azure services and assist with uploading software products on the Azure marketplace.
Question 4: What are your thoughts on the DynamicsSmartz Partner Program? How important is it for you to foster partner-to-partner relationships?
In today's fast-paced business landscape, cultivating partner-to-partner relationships is crucial. When partners collaborate across a global network, they can devote more time to building the solutions and ideas that they are most passionate about.
In the new digital economy, partner-to-partner (P2P) has become a necessity. The DynamicsSmartz Partner initiative is versatile and scalable, offering many incredible benefits. P2P enables you to build new channels and routes to market, expand your services, reduce time to value for you and your customers, and increase revenue impact.
Question 5: A piece of advice that you'd like to share with our readers?
Stay curious, and after you've decided to digitally transform your services or processes, be persistent and willing to let go of dead wood when it gets in the way of your progress.