Microsoft Dynamics NAV Upgrade: Here's What You Need To Know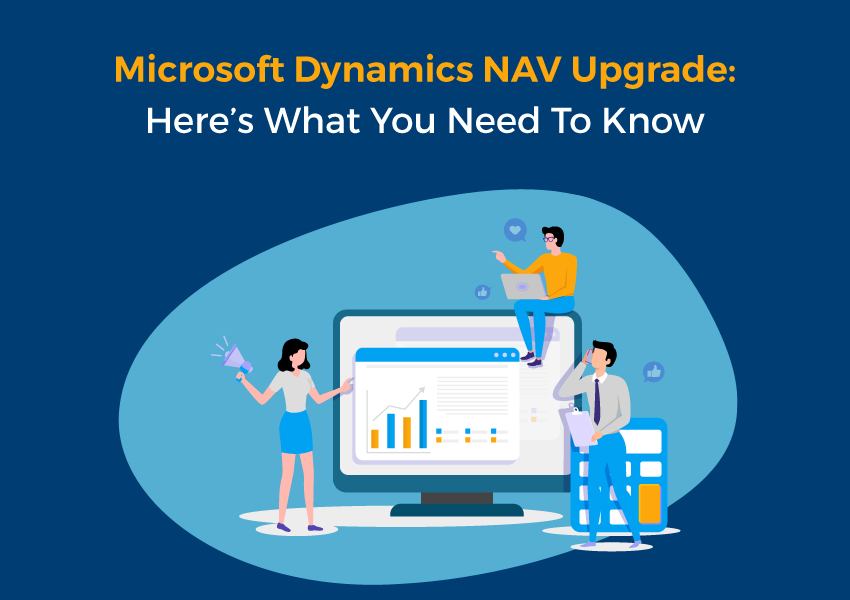 Have you considered upgrading your outdated Microsoft Dynamics NAV system to one that will better serve your business?
Dynamics NAV (Navision) is renowned for its universal functionality and flexibility to fit almost any organization, and it is one of the most popular ERP solutions in the world.
Your Dynamics NAV system may have served you well for years, but the costs of maintaining it may have been adding up. You need a system that can handle more and saves you time as your business grows.
Why Dynamics Business Central?
For Dynamics NAV users looking to update and move forward with their systems, we recommend Microsoft Dynamics Business Central. The solution is practical and sustainable, and it can grow with your business.
In addition, it is an evolution of Dynamics NAV. Microsoft has invested millions in developing this technology, in response to the business owner's specific needs, and is focused on helping organizations succeed.
There is far more to this technology than just being an ERP platform. With ultra-customized software systems, easy automatic upgrades, and personalized add-ons, developers can better meet users' unique business requirements.
The goal of Microsoft Business Central is to help businesses achieve their own digital transformation.
Here are 6 key things you must know before making a Microsoft Dynamics NAV Upgrade:
1. Benefits of Upgrading
Dynamics Business Central offers the latest technologies and features at a much faster rate than Microsoft Dynamics NAV. Besides, Business Central now offers bi-annual updates instead of annual updates.
Given that Microsoft Business Central already includes pre-built Office products like Power Platform and Office 365, having access to better capabilities also enhances productivity, thereby boosting revenue. Additionally, Business Central complies with international business laws set by Brexit, MTD, and GDPR.

2. Is it Risky?
One of the most common misconceptions about Microsoft Dynamic NAV Upgrade is the risk involved. There is a misconception that upgrading from Dynamics NAV to Microsoft Dynamics Business Central is too risky.
We use the Microsoft Sure Step Methodology to ensure that the process runs smoothly. Our trained professionals have already performed many upgrades while communicating with the team, ensuring speedy upgrades.
3. Customizations
If a business uses ERP solutions, it is likely to have its own customizations, which can be carried over to Business Central.
The process of upgrading Microsoft Dynamics NAV to Dynamics Business Central is seamless with our team of experts assessing the existing functionalities and then making a proper plan to upgrade those customizations to Business Central.
With Business Central Extensions, all customizations from Microsoft's previous ERP can be carried forward.
4. Can be scaled for future Growth
Based on NAV's legacy, Business Central offers the full functionality of the world's most popular mid-market ERP system. Your business can grow with Business Central as you do.
It's literally the last system implementation or upgrade you'll ever need. Implement as much or as little as you want now and roll out more in the future when needed.
5. Flexible Deployment Options
The Business Central application is available in both private and public cloud deployments, and it is designed to integrate seamlessly with other Microsoft applications.
With Microsoft's proactive move to the cloud, users no longer have to worry about expensive hardware upgrades, operating systems, or maintenance costs associated with on-premises ERP systems.
It is still possible to deploy Business Central on-premise, but you might miss out on cutting-edge integration with Dynamics and Azure.
6. Can I rely on Cloud-based services?
Having a high-security ERP solution with advanced technology is essential for every business. Cloud-based ERP solutions have the highest level of security and advanced technology, which actually makes storing your data in the cloud safe.
With the current development, it is actually more cost-effective to use cloud services than to maintain your own physical servers. Cloud solutions are also much safer and scaleable.
Conclusion
Upgrade to Dynamics Business Central- your final Dynamics NAV upgrade and say goodbye to upgrades forever. With Business Central, you can take advantage of all the great features of Dynamics NAV, and your system is automatically updated every six months with the latest features.
DynamicsSmartz is a Microsoft Dynamics Business Central Partner that has assisted many companies with Microsoft Dynamics NAV Upgrade. Get in touch with us if you want to know what upgrading from Dynamics NAV Microsoft to Business Central might mean for your organization.