How to upgrade to Dynamics Business Central and how much does it cost?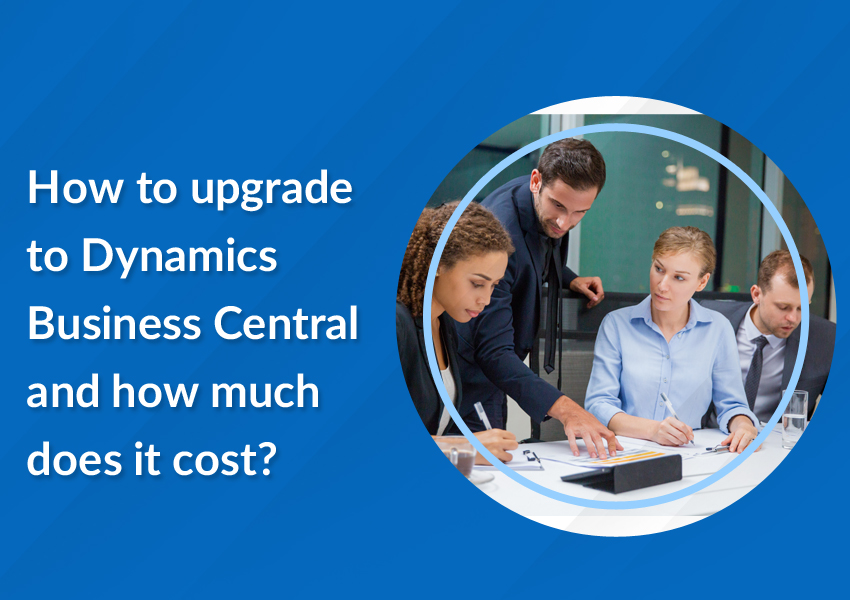 At some point, every organization must evaluate whether the business system that got them where they are today, will continue to get them to where they want to go into the future. This blog poses a similar question: "Is 2022 the right time to upgrade to Dynamics 365?" After all, technology and its adoption are evolving at a rapid pace.
Dynamics 365 Business Central is Microsoft's champion for mid-market business management solutions. Developed on the Dynamics NAV platform, Business Central unifies business processes into a single, user-friendly interface.
Better yet, because Business Central is part of the Dynamics 365 platform, it can be readily integrated with other Dynamics 365 applications like Sales and Field Service to fully synchronize a company's functionality. Organizations that are still on Microsoft Dynamics GP and Dynamics NAV can avail several operational and economic benefits by upgrading to Business Central.
Dynamics NAV and Business Central customers that are looking to upgrade to Business Central on-premise or SaaS must evaluate the long-term costs (at least 3 to 6 years) to make an informed decision.
It's critical to understand the upfront expenses as well as the hidden expenditures that increase over time. The costs to consider are the costs of upgrading the solution as well as the price of maintaining the software after the update.
Upgrading from Dynamics NAV to Business Central
With Dynamics NAV on-premise, you probably paid a licensing price and an annual maintenance fee. Not to mention the additional hardware infrastructure, SQL Server licensing, backup, and IT resources that make up a significant portion of your IT bills and operating expenses. All of these expenses will be eliminated when you move to a Cloud-based subscription model, thereby receiving automated updates. In most cases, our clients report an average of 45 percent savings in IT costs.
Costs of Using Dynamics Business Central SaaS vs On-Premise
The monthly subscription cost is the largest expense of the Business Central SaaS model. It will almost always be more expensive than paying the on-premises solution's ongoing license fees. However, the supplier covers all hosting and server maintenance costs as part of the monthly subscription charge for the SaaS solution.
There are no hidden costs: no server maintenance personnel fees, no hardware investments, and so on. User training and the time it takes to set up and operate the solution are the only remaining costs, which are the same for an on-premises installation.
Unlike SaaS, an on-premise Business Central solution includes several hidden costs that aren't immediately apparent. Customizations and implementation, as well as hardware, IT workers, maintenance, and training, all add to the overall cost. In general, customers who choose an on-premises solution over Business Central SaaS wind up paying significantly more.
Upgrading to Business Central SaaS and On-premise: Technical Considerations
There are two technical upgrade methods for upgrading from Dynamics NAV, both of which can be applied to SaaS and on-premise upgrades:
Upgrade only the data, not the modifications; in other words, perform a Clean Start. After the upgrade, you can create customizations from scratch if necessary.
Upgrade to Dynamics 365 Business Central SaaS or on-premises and migrate data and customizations.
Upgrading from Dynamics GP to Business Central
Microsoft Dynamics GP is a tried-and-true ERP solution that will continue to remain the same for the next few years. Business Central achieves the same objectives for the same target audience as GP, but it does so more quickly and with a more modern interface.
Interrupted batches and Check links, which are common GP issues, do not exist in Business Central. Transactions can be automatically merged into the ledger without the need for batch processing and Series Post, as seen in GP because Business Central's data is processed entirely online. Similarly, Business Central's ability to edit data in Excel simplifies large record modifications.
Cost is a major distinction and a significant deciding factor for businesses. Software as a Service(SaaS) is one of the license options for Business Central. Companies that use SaaS pay per user per month for a Business Central environment hosted on Microsoft's cloud. This monthly fee is less than the cost of hosting a private Azure environment.
Updating to Business Central( SaaS) makes more sense if you're currently hosting Dynamics GP on-premises. Cloud hosting eliminates all costs associated with server upkeep and updates. On Business Central, software and server updates are deployed automatically, so the company doesn't have to worry about it.
If you're not quite ready to make the transition to Business Central, at the very least, upgrade to Dynamics GP 2018R2 to gain access to the Intelligent Cloud. The Intelligent Cloud will make the final data migration to Business Central much easier.
How can I prepare for an upgrade?
To make your switch as smooth as possible, you should plan ahead of time. Dynamics 365 has a lot of tools and gives businesses a lot of ways to improve their processes, but every company is different, so figuring out what those needs are before you go live with your new software will help you get up and running quickly and allow your consultant to deliver a Dynamics 365 solution that is tailored to your needs.
Consider the following:
What is the size of the data you need to import?
Do you have any customizations that you'll need to transfer? Is Dynamics 365 already supporting the functionality enabled by these customizations?
Do you have any third-party apps or services that you need to integrate? Are these automatically supported by Dynamics 365, or would they need to be customized?
How many users do you currently have? How many, and at what levels, will be required in the new solution?
How much storage will you require? Will you require additional storage?
Moving from an on-premise version of Dynamics to Dynamics 365 is technically a migration as well as a software upgrade. You're changing your deployment strategy from a locally hosted application to a cloud-based solution, so you'll need to migrate your data from your legacy system to the cloud environment where Dynamics Business Central will run.
If you clean up your legacy data before moving it into a new solution, you'll save a lot of time (and thus a lot of money).
Not ready for an upgrade?
If your company isn't quite ready to transfer to a new ERP system, there are some choices that can help you save money now while also making the transition to Business Central easier in the future. Migrating your existing Dynamics GP or Dynamics NAV system to Azure is a wonderful way to replace an outdated server or reduce system maintenance costs without having to completely overhaul your system.
Dynamics 365 Business Central is a mid-market ERP system that provides organizations with an astounding breadth of capability at a fraction of the cost of its predecessors. Its user interface has been simplified, and it integrates with other Microsoft business applications as well as a variety of add-ins and customizations. Maintenance and upgrade charges are no longer an issue with SaaS subscription options.
Why you should consider an Upgrade?
All versions of Microsoft Dynamics NAV are approaching End of Life
Microsoft has announced the start and end dates for its NAV Support lifecycle. The implementations of NAV 2013, 2015, and 2017 are nearing their end of life. This may be the first reason why planning for an upgrade should be at the top of your priorities unless you are dead set on paying significant sums for support and help.
Microsoft Dynamics 365 Business Central is the successor to all of Microsoft's mid-sized business ERP products. It has features that can help your company shift to the cloud more quickly, increase sales, improve customer service, improve financial visibility and performance, visualize insights, optimize inventory and supply chain management, and more.
Microsoft is making it Cost-effective to switch.
Microsoft's new 'Bridge to Cloud' promotion is a good example of this. Existing Dynamics NAV users can renew their Enhancement monthly and enjoy a 60% discount on Dynamics 365 Business Central online licenses for up to four years. Microsoft is well aware that upgrading is the best option for SMBs and enterprises, therefore they are making it easier for you.
Microsoft's 'Bridge to Cloud' promotion launched on September 1, 2021. Customers that renew their Dynamics NAV Enhancement on a monthly basis will receive a 60 percent discount on Dynamics 365 Business Central online licenses for up to four years. Customers who sign up for this program can utilize their on-premises product alongside Business Central online while keeping their on-premises license's Enhancement features for the duration of the promotion.
With the convergence of this pricing incentive, business change, and technological improvement, 2022 may be the appropriate time to consider an upgrade.
Are you ready to embark on your upgrade journey?
Upgrading to a new version can be a lengthy and complex process, but it can also be straightforward and quick if done by experts who have the necessary Dynamics 365 Business Central upgrading experience.
Start with an upgrade assessment to gather all of the information you'll need to plan and execute your move to the Microsoft Cloud. When you're ready to begin your upgrade to Dynamics 365 Business Central, our specialists can handle everything from start to finish to ensure a flawless upgrade and deployment.