What are the most important metrics for a successful Cloud Migration?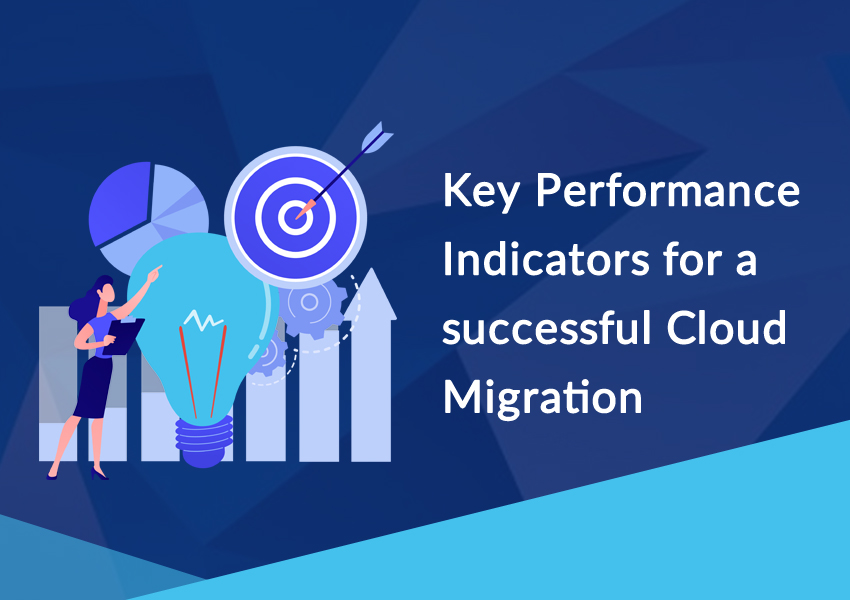 Cloud transformation initiatives are driven by a number of factors that encourage enterprises to migrate infrastructure resources from on-premises to the cloud. Measuring your progress towards your objectives during and after a Cloud migration can guarantee that no stone is left unturned in terms of minimizing disruption, driving user adoption, and staying on schedule and on budget.
KPIs are used by businesses to measure the success of various initiatives. Applying this approach to your cloud migration strategy can help you achieve your objectives while safeguarding your data.
The significance of performance indicators for successful Cloud Migration
Cloud migration supervisors can utilize specific metrics to identify which components of the service are performing well and which are not, whether in terms of performance, infrastructure, security, or user experience. These metrics can assist your company in anticipating or resolving common problems before they cause significant damage.
These metrics also help significantly with cloud adoption and engagement. When Corporate leaders show apprehension or resistance to changes in operations, data demonstrating the benefits of cloud technology can be persuasive. A cloud migration approach can be easier to test and adjust with more support from the entire company.
Fundamental Cloud Migration KPIs
Given the complexity of cloud migration, there are several indicators that can be used to measure success. Keep in mind the KPIs that are most suited to your business when you develop a cloud migration strategy. Following are some of the most common indicators:
1. Business Impact
Your most pressing concern may be the impact of the migration on your business. Are there any advantages you've noticed? Isn't that why you wanted to migrate your activities to the Cloud in the first place? Consider the following:
What were the challenges you wanted to overcome?
What functions or features did you want to see?
What were the consequences of not making these changes? Are you confident that those risks have been reduced?
Did your costs align with your expectations?
Do you have confidence in your disaster recovery and backup plans?
Is your team now able to function efficiently from anywhere?2. 2.
2. Migration Timeline
To seamlessly transition to the Cloud, you must define and track timelines, as well as decide whether or not they were met and why. A target go-live date, delays, and any specified time periods to avoid are all examples of this.
Your Cloud partner can set milestones and goals for you based on that timeline, such as preliminary deployment, QA (quality assurance) and testing, and a projected go-live date.
3. Adoption and User Experience
Good user adoption is a prerequisite for successful cloud migration. When you move applications to the cloud, you have the benefit of having a backup in the event of a disaster. However, if your users are unhappy with their application experience, the migration may not have gone smoothly. Users who are dissatisfied with the new environment are less likely to fully accept it, and productivity may decrease as a result.
The good news is that user adoption is fairly simple to measure. If users use the Cloud solution, the migration was successful. If users don't like something, they will always find a way around it.
But, as we are aware, that buy-in isn't always guaranteed. You should monitor the user experience from the beginning of the migration process to the end to maximize the odds of high user acceptance. If you're upgrading or deploying a new solution, you must first understand how people utilize it, from how applications are accessed to how tasks are completed in the Cloud. You can't measure the impact of the move on your users without a baseline.
4. Performance
At the user, server, and application levels, performance metrics should be monitored. Memory and CPU usage, network response times, processing delays, and application availability are all examples.
The quality assurance (QA) process, which encompasses all departments that will work on the platform, is one area of migration that helps measure performance. By testing the system, QA can determine whether the solution is performing as expected. When moving an ERP solution to the cloud, for example, the QA process can determine:
How long does it take for the system to launch an application?
How long does it take to complete a task, such as submitting a purchase order or running a monthly report?
Your team must thoroughly test the app and report on their findings in an open and transparent manner. Before the migration is complete, any necessary adjustments can be made, such as adding resources or fine-tuning databases.
5. Disruption
Even if it appears like everyone is moving to the cloud, it may not be the right time for every business. The process, in some situations, may affect essential operations applications. You can determine how much migration will disrupt normal business operations using the right KPIs. Evaluating downtime and the availability of critical cloud migration services can be used to establish a ballpark baseline for disruption.
6. Governance
For long-term success and scalability, a proper governance framework is important. It's easy for businesses to overlook duplication and normalize data transfer to the cloud without proper governance, resulting in lower productivity and an increase in obsolete data.
Conclusion
A Cloud Migration Partner can assist you in developing a well-rounded strategy for migrating your data and applications from on-premises to the Cloud. At DynamicsSmartz, we assist our customers and help them seamlessly navigate the migration process and resolve any issues that arise.
You should work with a reputable Cloud partner, such as DynamicsSmartz, that has the expertise and a proven process based on years of the successful cloud migration experience. We work with you to ensure that the process runs smoothly, and that checks and balances are in place to meet your expectations. To know more about our cloud migration process, drop us a line.