In-house Team vs Microsoft Dynamics Partner: Which is Better?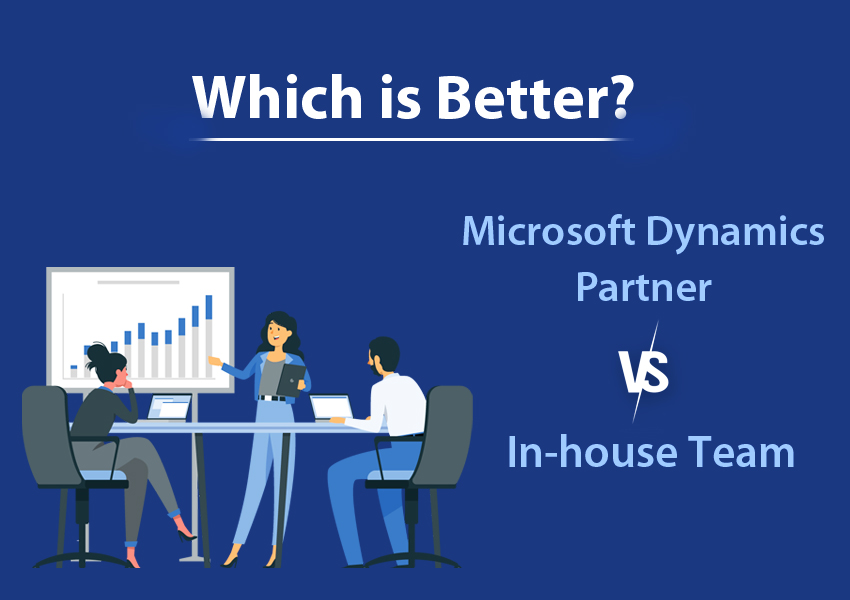 The importance of selecting the right ERP system can not be overstated. While your choice of ERP is important, it is not the only aspect that determines your company's success.
You must also ensure that the system is effectively implemented, which begs the question, whether it's better to implement an ERP in-house or outsource to a technology partner.
According to a survey by Deloitte and Forbes, poor implementation strategies, finding the right resources, training, and quality are among the top technology implementation issues that most organizations encounter.
Once you select a Microsoft Dynamics Solution that best suits your business needs and current budget, it is critical to assign the implementation project to the right resources or technology partner.
Building an in-house team or outsourcing to a Microsoft Dynamics Partner is one of the most difficult decisions when it comes to software implementation.
This blog will provide you a side-by-side comparison of both the approach and help you find out the optimal model for your software deployment project.
In-house Implementation
While you may have ERP users and excellent technological resources, you are unlikely to have the expertise from multiple ERP implementations.
Here are some things you must consider:
Do you have the right balance of technical, business analytical, and project management abilities to implement ERP/ CRM in-house?
Will your team be able to set aside enough time to complete an integrated CRM/ERP implementation without it impacting their daily tasks?
Do you have developers on staff who can handle more complicated customizations?
Pros of having an In-house Team:
You're collaborating with folks who are the most knowledgeable about your industry and business processes.
It can be easier to schedule face-to-face meetings, track project status, and accelerate development.
Since the company's goals tend to be aligned, your staff may be more motivated to see the project through. However, this means that you'll need to effectively manage change and get your team's support.
Employees assigned to the project will have the opportunity for personal and professional growth, which will boost their morale.
All resources and knowledge remain with the company when the project is completed.
Cons of having an In-house Team:
You'll need the right people working on the project. If you don't already have the manpower, you'll need to hire some. Since your new hires are unfamiliar with your industry and business processes, they will require time to become acquainted, which will slow down your implementation project by months.
Recruitment is time-consuming and costly (finding, interviewing, waiting out notice periods and onboarding can take some time).
Top talent can be costly, so keep that in mind as you go through the hiring process. If you already have the resources, they may request a raise in pay.
The time your employees spend working on the project is the time they could be working on their day-to-day activities. You'll need to backfill the positions that they leave vacant in their departments and get new hires on board.
You're in charge of the project from start to finish, including chasing down and supervising the team. This is on top of your regular responsibilities.
You may not be familiar with the software and may make implementation decisions that require rework. This can add time and costs to a project that is already long and complicated.
Working with a Microsoft Dynamics Partner
Most businesses choose to engage with a Dynamics 365 partner to simplify and rapidly deploy the tools they require, freeing them from the hassles of hiring, training, and project management.
You don't have to spend as much time and effort hiring, onboarding, and managing a new workforce if you choose to work with a Microsoft Dynamics 365 Gold Partner.
Other benefits of partnering with a technology company include lowering upfront infrastructure and development expenses, accelerating implementation and time-to-market at a fair cost, and allowing internal employees to focus on mission-critical work.
Pros of working with a Microsoft Dynamics Partner
You gain access to a team of professionals who are more extensively versed in implementations across specific sectors like yours since Dynamics 365 Partners are often industry-aligned.
These professionals will work as an extension of your team and will bring with them immediate expertise and knowledge.
Having done this before, the partner will have a checklist and methodology in place that has proven to work with your software of choice. As a result, your team can concentrate on other important duties while learning from these specialists.
Trusted business partners are known for both their skills and customer service. Since they are experts in the specific ERP solutions, they will advise on early decisions knowing its impact later in the project.
After implementation, partners often assist all of the ERP's maintenance needs, from round-the-clock monitoring to proactively identifying and resolving issues.
You won't spend your precious time managing the project. You'll remain in charge and sign off on the plan, progress, and governance activities, with the partner being in charge of their own deliverables and time.
Cons of working with a Microsoft Dynamics Partner
They won't be as well-versed with your business as you are. The right partner, on the other hand, will endeavor to understand your business, from processes to difficulties, while keeping you involved in the project.
Working with a Dynamics 365 Partner may be a no-no for your team. This is where change management plays a critical role.
Face-to-face meetings may be more difficult to schedule. The right partner, on the other hand, will keep you informed and collaborate closely with you so that your entire staff feels engaged.
Clients that implement Dynamics 365 In-house usually encounter a few challenges:
1. Everyone on the project team is exhausted
Once your new system is up and running, who will initiate starting phase 2 or 3? Some key functions may be transferred to subsequent phases in order to go live within an acceptable time frame. You will not gain the desired advantage from your systems unless you go back and implement those processes.
2. No one on the internal IT staff is familiar with Dynamics 365
While training internal IT resources sounded excellent on paper, the team may be overwhelmed. They're scouring the internet for solutions and trying to find answers as quickly as possible.
3. They feel stuck in first gear
Your team could be losing momentum and not have the time to start or implement all of the features as planned, because they are busy with assisting and training new users. They could be experiencing little issues and not tracking them, which snowball into bigger problems over time.
On the other hand, when you work with a Microsoft Dynamics 365 Gold Partner:
1. You have a team you can turn to for any problem, and that staff is well-versed in Dynamics 365.
2. Moving from development to test to production settings, you have a regular cadence of sprints to improve the system, as well as the enforced discipline to do it right.
3. Rather than major upgrades, you'll stay current with incremental improvements.
4. You won't have to worry about unexpected support bills because everything is covered.
What's it like to be working with a Dedicated Team?
A dedicated development team is a long-term collaboration model with an outsourced development team. This is a popular collaboration mode that is comparable to the fixed pricing (FP) and time and material (T&M) models.
Working with a dedicated development team means you will be working with a team of experts who have been hand-picked to meet your business objectives.
Unlike employees, with a dedicated team, you don't have to worry about administrative, HR, tax, or social benefit challenges. Instead, you may concentrate on strategic business work while your development partners take care of the rest.
To summarise, a dedicated team model provides you with a hand-picked professional team that is solely responsible for implementing your project, while the Partner company is responsible for all administrative costs.
The Dedicated Team approach has the following advantages:
The budget is predictable and well-defined.
Complete command over the team's management.
Dedicated team members that have a thorough understanding of the project and business objectives.
Continuous communication with the team using Skype or other tools of your choice.
The team is dependable and committed to the client.
Build Your Team with Microsoft Dynamics Dedicated Resources
Also known as "Your team, Your Terms", we make sure that the resources are synchronized with your time zone and IT infrastructure. With no setup price, we can set up a Remote Team in under a week.
Hire Microsoft Dynamics Consultants on flexible contracts. As a Microsoft Dynamics 365 Gold Partner, we offer a great customer experience that is aligned with your long-term company goals. Our seasoned consultants collaborate with you to understand your specific business needs, recommend the best solutions, and assist you in configuring and implementing them.
DynamicsSmartz has been successfully assisting global enterprises and startups for over 20 years with the BYT approach.
Don't take our word for it! Schedule a Developer Interview and see for yourself. Drop us a line for a quick consultation today.