Dynamics 365 vs HubSpot: Which CRM is right for you?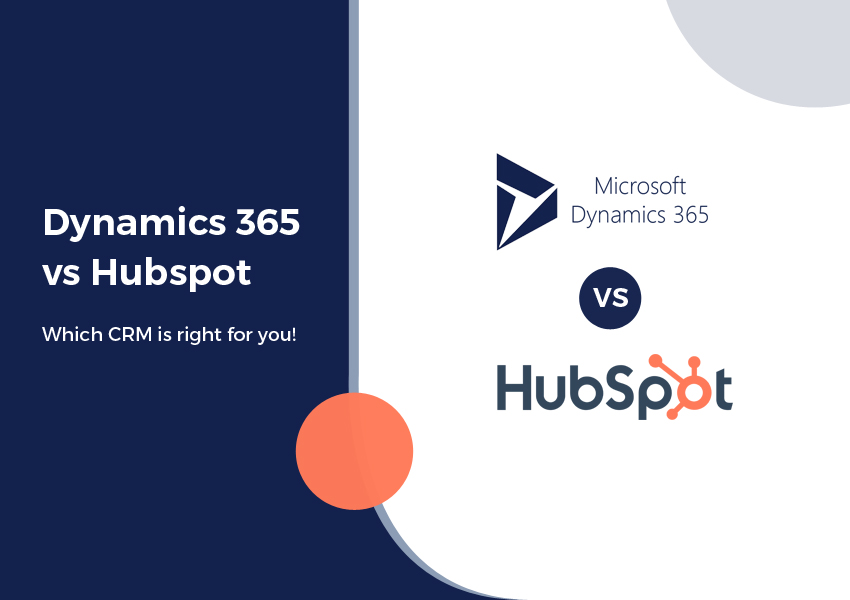 Once you have concluded that your company can benefit from Customer Relationship Management( CRM) software, the next step is to choose the right CRM solution for your business. Given the abundance of CRM tools on the market, this is no easy task.
Microsoft Dynamics 365 and HubSpot are two of the top customer relationship management solutions. Despite certain similarities, there are a number of distinctions that could make one of them a better fit for your company than the other.
Microsoft Dynamics 365 vs HubSpot: Key Differences
HubSpot, inbound marketing and sales platform has been around since 2002 and has long been a major player in the second-wave internet software industry. Over the last decade, HubSpot has acquired numerous companies, expanding its CRM product line to include sales and marketing modules.
HubSpot
HubSpot users can combine and contrast five CRM modules, or "Hubs," in the fields of Sales, Marketing, Customer Service, Content Management Systems, and Operations. To develop a unified system, Sales Hub integrates with other products. Developers can create extra modules by using the openly accessible HubSpot API. Furthermore, HubSpot uses a single code base for consistency and ease of use across all of its applications.
Microsoft Dynamics 365
In 2016, Microsoft announced Dynamics 365, an updated, cloud-based unification of its well-known Dynamics CRM and ERP products. Since 2003, Microsoft's CRM systems have been among the most well-liked and effective CRM solutions available. Dynamics CRM is still at the top of the industry and is now provided as a component of Dynamics 365's comprehensive business software platform.
Dynamics 365 is a collection of CRM tools from Microsoft that includes applications for Sales, Marketing, Customer Support, Field Service, and more. The sales force automation offered by the Sales solution can be used with other Microsoft CRM programs. Along with Microsoft 365 and the Power Platform, Dynamics 365 Sales integrates seamlessly with other Microsoft products.
Sales and Marketing: Inbound vs. Outbound
HubSpot is known for its commitment to inbound marketing and sales techniques. These strategies entail drawing customers to a brand through interesting content and discussions. For the purpose of generating leads and prospects, HubSpot's inbound sales methods are centered on content-driven marketing.
Because inbound lends itself to a strong marketing emphasis, marketing-focused firms benefit greatly from HubSpot's adaptable Sales Hub and easy-to-bundle Marketing Hub. Email templates, snippets, and conversation routing are aspects of the Sales Hub that make marketing-focused sales operations simple and automated. Despite the limited customization options, HubSpot is hard to match for out-of-the-box inbound sales and marketing.
Microsoft Dynamics 365 CRM is based on conventional sales strategies including B2B and outbound sales and marketing. While not fully outside of its purview, Dynamics 365 is best at outbound capabilities. The software appeals to Microsoft-focused firms because of its highly customizable reports and dashboards, sales goalposts, deep drill-down features, and numerous ways to arrange sales information. The firms that prioritize sales data over content marketing efforts will benefit the most from Dynamics 365.
Although HubSpot is a newer software designed exclusively for inbound, Microsoft Dynamics 365 can effortlessly manage inbound sales strategy. HubSpot is a terrific option if your business needs advanced inbound features. The Dynamics 365 platform offers a more comprehensive solution if you want to experiment with inbound, outbound, and everything in between.
Business Type: Small, Midsize, and Enterprise
The optimal solution for you will depend in part on the size of your business. Long and expensive implementations might not be feasible for small and low-range mid-sized businesses because they frequently operate on tighter budgets. Due to its "freemium" pricing strategy, HubSpot Sales Hub is a great choice for these companies. Although the software's free functionality is somewhat limited, it provides a useful preview of HubSpot Sales Hub's features. It would be difficult to find a better value for organizations looking to test-drive software before investing money in implementation.
Of course, larger mid-sized and enterprise businesses may need complete capabilities right away, and their higher spending on software reflects this. Since the Microsoft Platform needs a partner to assist with implementation and customization, Microsoft's Dynamics 365 applications are excellent choices for these businesses. Larger firms have the financial, time, and resource capacity to manage the necessary touchpoints for a Dynamics 365 CRM setup.
Which would you choose: a flexible on-premises or hybrid implementation, or large cloud deployment? For modern businesses looking for high levels of security and data accessibility, cloud deployment is intriguing. Hybrid and on-premise choices are more enticing because some businesses aren't equipped to handle a cloud infrastructure or don't want that level of accessibility.
HubSpot Sales Hub is only available on the cloud. The program is effective and offers robust capabilities anytime, anywhere because it was designed for the cloud. The software can be accessed through a web browser or a HubSpot mobile app.
Microsoft Dynamics 365 Sales can be deployed on-premises, in the cloud, or via a hybrid deployment strategy. Although Microsoft's CRM was primarily designed for on-premise implementation, it has now developed to include powerful cloud capabilities. When it comes to flexible deployment options, Dynamics 365 CRM is a great choice for your business.
How many software updates would you like yearly? Do you want to explore new features at a faster or slower rate? What time and resources are available to you to manage these updates?
Every month, HubSpot updates its range of solutions. Every update is accompanied by a blog post that highlights the new features. Due to the fact that HubSpot is set up in the cloud, upgrades happen automatically and quickly.
Microsoft releases upgrades to its Dynamics 365 CRM software twice a year for cloud-based users and once a year for on-premise users. While upgrades for on-premise solutions require participation from Microsoft or your software provider, updates for cloud solutions happen automatically. Each release and update is highlighted for customers on the Microsoft website.
It is obvious that HubSpot is a distinctive product due to its concentration on inbound marketing strategies. But is it sufficient for it to effectively compete with advanced CRM solutions like Dynamics 365 that are more feature-rich? Let's see why Dynamics 365 takes the lead.
Dynamics 365 vs HubSpot: Why Dynamics CRM takes the Lead
Dynamics 365's new Marketing app was built in collaboration with Adobe as a brand-new offering with today's marketers in mind. Users will have new alternatives for generating inbound leads thanks to new tools, like webinar creation and event administration.
LinkedIn is natively integrated with Dynamics 365. Microsoft Relationship Sales, which uses LinkedIn data to discover leads and support relationship building through personalized engagement, is the result of the integration of Dynamics 365 for Sales and LinkedIn Sales Navigator.
The seamless integration of Dynamics 365 with other Microsoft products, including Office 365 and Outlook, boosts productivity and user adoption.
Conclusion
While HubSpot Sales Hub is a fantastic solution with a commitment to inbound marketing, it has limited capabilities when compared to the robust capabilities and modules that Microsoft Dynamics 365 has to offer.
Dynamics 365 is a robust, holistic cloud-based CRM software that provides businesses with integrated solutions to improve operations, boost sales, and manage leads. The modules in its system can be used individually or as a whole. As your firm expands, you can purchase additional modules such as Marketing and Field Service and leverage the full capabilities of the Dynamics 365 ecosystem. Dynamics 365 CRM can be seamlessly integrated with a number of programs, including Word, OneNote, SharePoint, and Outlook for increased productivity and collaboration.
To explore Dynamics 365 in greater detail, request a personalized demo.