Dynamics 365 Bootcamp 2022: Key Takeaways from the Event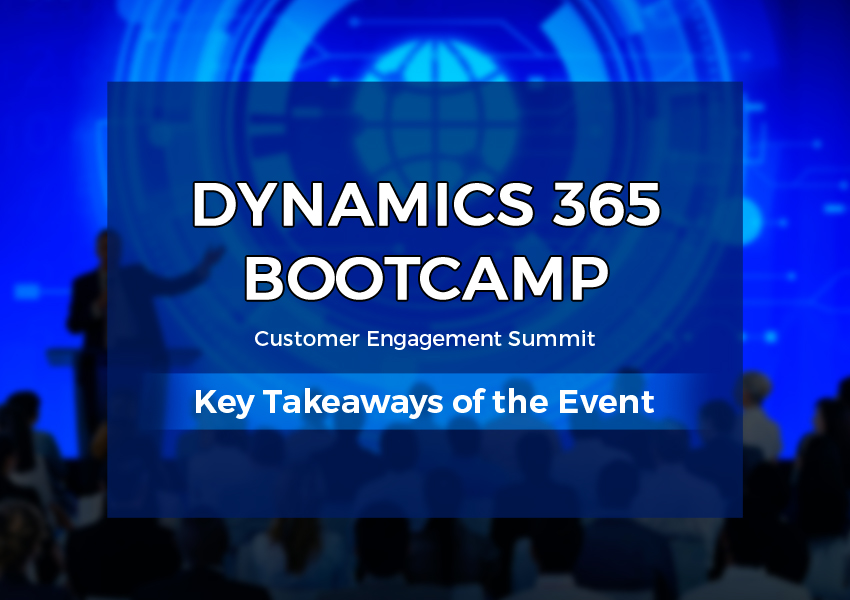 The Dynamics 365 Customer Engagement Summit began on June 23, 2022, and we couldn't be more excited about it. The 3-day Live Bootcamp organized for the Global Dynamics 365 Customer Engagement Community aims to share strategies and approaches for resolving your organizational customer experience challenges.
Attending Dynamics 365 Bootcamp guarantees that you are up to date on Dynamics 365 most recent developments. Sessions at the Bootcamp offer unique access to the most recent information and advancements.
Attendees at the Dynamics 365 Bootcamp witnessed some of the best sessions and seminars for the Dynamics 365 community. Sales, Marketing, and Customer Insights were the main topics of discussion on Day 1. A series of sessions on Customer Services, Omnichannel, and Chatbots were presented on Day 2. Day 3's sessions focussed on Unified Scheduling, Project Operations, and Field Services.
Scott Sewell presented a session on 'Bringing Power BI into the Dynamics 365 CE'. Dynamics 365 CE contains amazingly valuable data for the end-users and for the organizations' leadership. Additionally, most Dataverse-based apps would benefit from additional data to enrich the '360-degree' view of an entity. He talked about the options and best practices (and how to avoid potential pitfalls) of connecting Power BI with Dataverse.
Dynamics 365 Customer Services and Call Centre Expert, Neil Parkhurst presented a session on 'Omnichannel for Customer Service'. In this session, Neil gave a demo of how the new Omnichannel voice channel operates, including a demo of how easy it is to create a voice IVR using Power Virtual Agents.
Microsoft MVP, Baris KANLICA presented a session on 'Customer Experience with AI'. It is easy to add intelligence to your business and create tailored AI models to automate processes and find insights. In this session, he demonstrated how AI models are designed to optimize your business processes to achieve better customer service.
Microsoft Dynamics 365 Consultant, Gabriel Dias Junckes presented a session on 'Advanced Field Service Configurations'. Dynamics 365 Field Service provides flexibility to fit different business processes. In this session, he deep-dived into advanced configurations.
Microsoft MVP, Dian Taylor presented a session 'Let's get cracking with Power Virtual Agents!' In this session, Dian unleashed Power Virtual agents and all the components that make up PVA.
Mihir Shah presented a session 'Enterprise Feedback Management App for your organization'. Microsoft Dynamics Customer Voice is an Enterprise Feedback Management App. He talked about setting up the Customer Voice App. He also discussed some of the considerations when deploying Customer Voice.
Sree Yeggina presented a session on 'End-to-end customer service with the all-in-one contact centre'. Sree talked about delivering omnichannel engagement, finding the best-suited agents through intelligent unified routing, modernizing case management & resolution, and leveraging data-driven processes and analytics.
Microsoft MVP and MCT, Geoff Ables presented a session on 'Revenue Engineering: 5 Steps to a CRM-Ready Sales Process'. In this non-technical session, he talked about how to create a sales process that your users will adopt, your leaders can manage, and that drives measurable results. Attendees also received a free copy of the Amazon best-seller "Revenue Engineering."
Some of the key takeaways from the session were: Define your first sales process, or capture pointers for refining existing processes; Learn how best-in-class sales teams design processes to align with their buyer's processes; Develop a process that you can map to your CRM solution; Get your team on board with following the process.
Sergio Macia presented a session 'Prepare your Sales and Marketing Team for Customer Journeys'. In this session, Sergio shared some best practices based on experiences on how to onboard your Sales and Marketing Team and how to prepare different teams when implementing Dynamics 365 Marketing.
Sebastian Zack presented a session 'Delivering Kick-Ass Customer Experience: Business basics for D365 Marketing and Customer Insights. He talked in greater detail about how business and IT can work together to foster success – all aiming at uniting the power of Dynamics 365 Marketing and Customer Insights.
Devikumari Krishna presented a session on 'Implementing Unified Service Desk for Delivering Call Centre Operations'. She talked about how Unified Service works and how it is implemented, from the solution framework to its components allowing CTI integration, Multi-session case management, and customer 360 agent scripts to support global call center requirements using Dynamics 365.
Dynamics 365 Bootcamp 2022 was highly successful and offered great insights into the latest developments within the Dynamics 365 ecosystem.