How much does Microsoft Dynamics 365 Business Central Cost?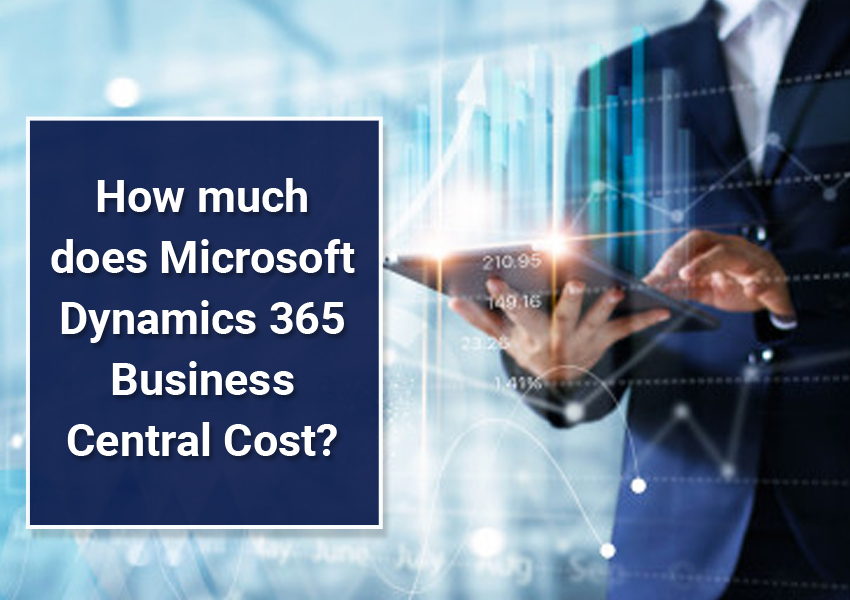 Dynamics 365 Business Central is an ERP solution by Microsoft designed for small and mid-size businesses. Business Central is a cloud accounting software that combines an array of functionalities and helps businesses streamline their financials, sales, operation, and services.
Business Central, as the successor to Dynamics NAV, brings together rich functionality with cloud flexibility. Business Central is easy to use and adapts to the needs of each organization, allowing you to connect your business and make informed decisions.
If you're thinking about making the switch from Dynamics GP to Dynamics 365 Business Central, getting answers to licensing and pricing questions is essential. This blog will go over Microsoft Business Central cost, licensing options for D365 Business Central, various kinds of users, software as service deployment, and some long-term benefits.
There is always the possibility to choose between perpetual and subscription licensing. The distinction between these two types is that a perpetual license requires upfront payment and provides permanent usage rights, while subscription licensing allows you to use the software only for a set period of time, which is secured by periodic payments.
Business Central is available on a subscription basis, where you pay a monthly license fee for each user. Here's a rundown of different Business Central package features, as well as Dynamics 365 pricing.
Microsoft Business Central Pricing and Licensing
There are subscription licensing options for Dynamics 365 Business Central. Let's take a look at the differences between Business Central Essentials, Premium, Teams licensing, as well as Full Users vs. Additional Users.
There are three types of licensing for Dynamics 365 Business Central:
Business Central Essentials (Full user)
Business Central Premium (Full user)
Team Members (Additional User)
Customers must license at least one Business Central Essentials or Business Central Premium license, which means that at least one license, must be purchased.
Full User vs. Additional User
Full User
Full users are those that require the full functionality of the business application. Salespeople, customer service representatives, finance workers, controllers, and supply chain managers are some examples of full users. These users have also been referred to as professional or full-use users in the past. Both Essentials and Premium customers have full access to Dynamics 365 Business Central and are accredited with a Dynamics 365 Business Central subscription.
Additional User
Additional users make up a large percentage of users in a company that consume data reports from line-of-business systems, perform light tasks like time or cost entry, and update HR records. Additional users may use the system more rigorously, but they do not need full user privileges. With Team Members, you can add more users to your account.
Business Central Essentials Edition
Essentials licenses are intended for mid-sized enterprises that require resource management software with robust capabilities.
The Dynamics 365 Business Central Essential license costs $70 per user per month and covers financial, distribution, supply chain management, CRM, project accounting, HR, and other features. There is no limit to the number of users you can have; however, Premium and Essentials cannot be deployed together.
What's included in Essentials?
Supply Chain Management
Financial Management
Project Management
Human Resource Management
Warehouse Management
Business Central Premium Edition
The monthly cost of a Premium license for Dynamics 365 Business Central is $100 per named user. It comes with all of the features found in Dynamics 365 Business Central. Business central Premium Edition covers everything in the essentials license plus service order management and manufacturing.
What's included in Premium?
Service Order Management
Dispatching
Planning
Management of Service Contract
Service Item Management, Service Orders, and Service Price Management
Manufacturing
Agile Manufacturing
Basic Supply Planning
Capacity Planning
Demand Forecasting
Finite Loading
Machine Centers
Production Orders
Version Management
Plus Essentials Capabilities.
Business Central Team Member
Business Central Team Member subscription is a named user subscription designed for users that need basic Dynamics 365 Business Central functionality and is not tied to a particular function.
This license provides read access, as well as some, write access for selected light tasks, across Dynamics 365 Business Central functionality. Depending on the license type, the Dynamics 365 Business Central Team Member is given full read access to Business Central Essentials and Premium Edition. In addition, the Dynamics 365 Business Central Team Member has limited use write access to D365 Business Central Essentials and Premium. The "Power Apps for Dynamics 365 Applications" license is also included with Dynamics 365 Business Central Team Members.
Team Member licenses are affordable at $8 per user per month and are ideal for users who need to run reports, collect data, and perform basic Dynamics 365 functionality.
Users with a Team Member license can:
Approve or reject tasks in a workflow that has been assigned to them.
Create, edit, and delete a quote.
Personal data can be created, edited, and deleted.
Fill out timesheets for jobs.
With a Dynamics 365 license, you can use the Power Apps or Power Automate Use Rights.
Named Users
Subscriptions are named users which implies that customers cannot mix and match Essentials and Premium users. Customers can only license one of the two options: Essentials or Premium. It is possible to switch from one to the other, so if you're on Essentials and want to upgrade to Premium, you can do so easily.
Device Licenses
Dynamics 365 Business Central Device license allows various users to run a device that is licensed with a Dynamics 365 Business Central to operate a point of sale device, shop floor device, or warehouse device. A single device can provide any of the following functions or a combination of each. Device SLs do not include all the features of a Full user.
Software as a Service (SaaS) Deployment
There are many benefits of using Dynamics 365 Business Central software as a service (SaaS), which includes having the most up-to-date cloud-powered capabilities, such as deep integration with Office 365 and Power Platform to ensure optimum business efficiency and employee empowerment. Additionally, by reducing the complexity associated with managing hardware, software, and providing support, IT productivity improves.
Advantages of SaaS Deployment
Microsoft Azure
Keep up with the latest technological advancements.
Reduced costs and freed up resources.
Enhance the security, privacy, and reliability of your system.
Your organization can rest assured that your sensitive data is being stored in a highly secure, state-of-the-art data center managed by Microsoft. This is really important, and thanks to a 99.9% uptime SLA, your data will be available when you need it.
Everything is included in one fee with Dynamics 365 Business Central SaaS. The software, cloud hosting, and management services are all included in one price, rather than being sold separately. There is no additional Azure fee for deploying on Azure. One production environment and three sandbox environments are included in a Dynamics 365 Business Central license at no additional cost. The license provides 80 GB of data storage capacity across all environments, but if more space is required, additional data storage can be easily purchased.
With Dynamics 365 Business Central, Microsoft has simplified its licensing. Dynamics 365 Business Central is sold and implemented by a global network of Microsoft Dynamics Partners with industry expertise.
If you are ready to discuss what a transition to Business Central looks like or if you have any queries about Dynamics 365 pricing and licensing, connect with our Microsoft Gold Certified Experts today.