How can Microsoft Dynamics 365 streamline Accounting Operations in the Manufacturing Industry?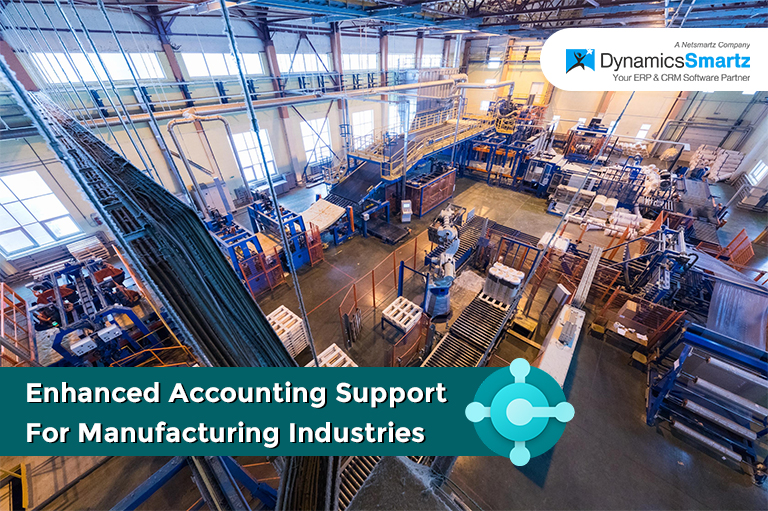 Manufacturers face constant pressure to improve the efficiency of their business operations. From giant corporations to businesses in niche industries, manufacturers need to face down their competition with investments in robust and agile business management solutions to replace legacy systems.
The constant need to outgrow the competition and adding to the project pipeline has made it necessary for the manufacturing industry to improve with their day to day operations, especially finance and accounting.
Though modern-day ERP (Enterprise Resource Planning) solutions such Microsoft Dynamics Solutions can deliver the power of autonomous systems to the industry, manufacturers need a more streamlined accounting process to manage their accounting data such as tracking, storage, and analyzing the information.
Nevertheless, the approach is highly likely to occur when manufacturers are informed of the fact of how fragmented data could hamper the business functions directly affecting the demand for their services amongst the clients.
Thanks to Dynamics 365's intelligent features such as cloud and power BI, which makes it easier to manage and extract information from accounting data, adding value to the financial operations. Moreover, the innovative advantage with Dynamics 365 makes it easier for the manufacturing units to align with changes that can reduce operational costs while improving customer experience with reduced time to market.
Microsoft Dynamics 365: The True Accounting Companion
Dynamics 365 is designed to help businesses of all types which make it a perfect choice for the accounting operations in the manufacturing industry. The progressive functions available with Dynamics 365 Accountant delivers ease of managing the client's data using the dashboard without any added costs to the firm. With an easy to use interface, Dynamics 365 allows the users to easily add clients to the dashboard.
Further, you can simply access any of your client's details to check or manage the cash account balances, cash flow forecast, overdue sales invoices, and overdue purchase invoices.
What Makes Microsoft Dynamics 365 A Perfect Choice for Your Finance and Accounting Needs?
Though Microsoft ERP solutions are very consistent with their performance, it all depends on the user's needs to choose between Finance & Operations or a fully integrated solution like Dynamics 365 Business Central. However, the most common concern which newcomers to Microsoft technology have with Microsoft Dynamics 365 for their accounting needs related to the manufacturing industry is the benefits they can reap with the service.
To Align with Operational Timeline
With improved accounting operations on upcoming software like Microsoft Dynamics 365 Project Operations, manufacturers can have access to easier budget management while aligning with the progress timeline. Also, the advantage to have access to customer dashboards makes it easy to track invoices and plan operations to improve profitability and deliverables using real-time data.
Streamline Supply Chain
With Microsoft Dynamics 365 Supply Chain Management, users can have better control over the accounting which allows adjusting inventory and supplying chain needs for maximized productivity with manufacturing operations. Moreover, the advantage of keeping a check on available inventory through dynamically updated inventory makes it more convenient to automate the process for added financial control.
Improved Customer Experience
With accounting data made more workable to the manufacturers, Dynamics 365 Customer Relationship Management makes it easier to interact with the customers and find the chances of up-selling, cross-selling, and order renewal opportunities adding to the sales opportunities.
Finance Management
With end-to-end experience on Microsoft Dynamics 365, users can easily access accounts, generate financial forecasts, and reconcile accounts for enhanced fiscal management.
Optimized Operations
With Dynamics 365, you can quickly sneak-peek to your manufacturing and warehousing process which not only helps to reduce costs but reduces the amount of steps it takes to control the product's time to market. Also, it makes it easier for the manufacturers to handle with unexpected stock-out by retaining cash flow for production and purchase orders.
Overall Accounting Improvement
Dynamics 365's accountant's hub is designed to manage the accounting process with added access to the client's information utilizing the easy-to-use dashboard. Such an arrangement is a simple and straight forward way for the user to manage the entire accounting process.
The Crux
Microsoft Dynamics 365, with its extreme ERP capabilities, has always proven to be an asset for businesses and their accounting needs. With its reliability and market-leading programs, Microsoft Dynamics brings everything that can prove to be a benefit to the manufacturing industry.
Microsoft Dynamics 365, with all the features from its predecessors i.e. Dynamics GP and other Microsoft Dynamics solutions, brings everything necessary required to meet the accounting needs of a manufacturing firm that has outgrown the entry-level accounting features, including payroll integration and other comprehensive requirements related to finance and operations.
An added benefit of working with a solution partner that is a Microsoft Gold Partner Firm, is the innovative technology along with embedded features, such as Power BI and multi-dimensional analysis options.
Overall, working with Dynamics 365 brings Microsoft's experience with ERP to the users of the manufacturing industry, deriving improved fiscal management through centralized operations. Also, when a manufacturer is looking for a more stabilized solution to meet their growing accounting needs, Dynamics 365 brings a combination of an easy-to-use and robust environment in order to improve your process of fiscal management.
Good Luck!
Let us help you streamline your manufacturing and industry process with the best of Dynamics ERP Solutions.
Feel free to reach our experts for a free consultation!