Key Enhancements in Microsoft Dynamics NAV 2018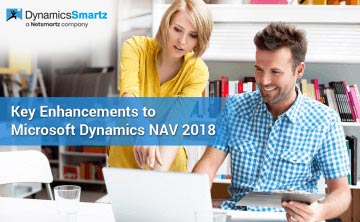 If you have a flourishing business and ready to grab more opportunities, Microsoft Dynamics NAV is there for your help. It is an easily adaptable enterprise resource planning solution [change]for the small as well as medium-sized businesses. It enables them to automate and connect their sales, purchasing, accounting and stock management. Definitely, you need the right ERP solution to get up and run. Get ready to fulfill the unique needs of your business in no time.
Have you ever used Microsoft Office tools? If yes, then you will soon realize that Microsoft Dynamics NAV works quite familiar with these tools. You can expect a consistent and more secure experience across your desktop and the mobile device. Moreover, it comes up with the flexible options to choose from, so that you can get the highest return on your investment. Thus, it is a complete ERP software solution that is quick to implement, easy to configure and quite simple to use.
Be it accounting, inventory and cash flows, control fixed assets or process receivables, Microsoft Dynamics NAV manages everything efficiently. Talking about sales and marketing, it works by managing the customers and sales data.
Offering significant new capabilities, Microsoft Dynamics NAV 2018 provides its clients with a deeper interoperability across the Microsoft ecosystem. Undoubtedly, it is the latest version of Microsoft's end-to-end business management solution. It is designed to enable organizations to come up with more efficiency, thus streamlining the business process and boosting the employees to react to the changing business needs quickly. Indeed, it promises to offer many advanced features that were not available in the earlier versions. Moreover, switching to it will ensure a transition to the cloud version.
Let us have a look at the new features and the functionalities that are available in Microsoft Dynamics NAV 2018 –
More simplified setup
Dynamics NAV 2018 has come up with the new automated setup guide that has simplified the initial set of Dynamics NAV. Additionally, a new user tasks function has been introduced that improves the user productivity. It works by reminding you the task to be done by yourself or assigned to other employees.
Represents a complete business solution
You can expect a great integration of Dynamics NAV 2018 with Office 365 and other business applications. It will enable the users to get a comprehensive set of business tools along with the familiar office interface.
Expect the improved capability
Dynamics NAV 2018 has come up with an improved capability in order to support Extensions. It will make it convenient to customize the application, as all the customizations will become Dynamics NAV Extensions.
Artificial Intelligence enhanced Dynamics NAV 2018
In order to support the cognitive services and the high levels of automation; Dynamics NAV 2018 is going to introduce you with the Artificial Intelligence and advanced algorithms. It includes the automated set up guides that aim to simplify the initial configurations and enables its customers to integrate the product with Dynamics 365 for sales.
Personalize your workspace
The enhancement in Microsoft Dynamics NAV 2018 will enable you to customize or personalize your workspace in such a way that it perfectly suits your work and preferences just by changing the pages, so that they display only the information that you need.
REST API to create connected apps
REST API layer is a set of standards based web services that provide an interface for building the reusable integrations. This API will include 44 entities that will provide access to business entities related to the core financial functionality. Owing to its simplified representation of the underlying data structure, it will allow the developers to create apps with any need of the deep understanding of Dynamics NAV data model.
You can expect Microsoft Dynamics 2018 core functionality along with the enhancements that include-
Sales, Service, Contact and Opportunity Management
Financial Management and Accounting
Project Management, Estimate and Projects
Supply Chain Management, Inventory Control, Manufacturing, Warehousing and Operations
The customers can have a word with their Microsoft partner for a demonstration of what is new in Dynamics NAV 2018 and the benefits that can expect on upgrading it. At DynamicSmartz, there are Microsoft certified experts to help you figure out the enhanced possibilities and potential of Dynamics NAV 2018 for your business. Contact today.